What is SIDBI?
SMALL INDUSTRIES DEVELOPMENT BANK OF INDIA
SIDBI stands for Small Industries Development Bank of India, which plays the role of the principal financial institution for promotion, financing and development of the Micro,Small and Medium Enterprises (MSME) sector along with maintaining a coordination among other such institutions that are involved with similar activities.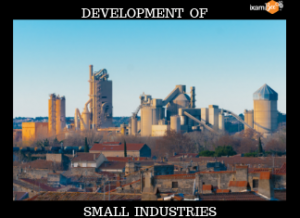 ALL ABOUT SIDBI and its ESTABLISHMENT
SIDBI or Small Industries Development Bank of India was formulated on 2nd April 1990 with its headquarters in Lucknow.
SIDBI operates under the Department of Financial Services, Government of India. It can be called a developmental finance institution and is a wholly owned subsidiary of IDBI (Industrial Development Bank of India), established under the special Act of the Parliament 1988.
SIDBI is one of the four 'All India Financial Institutions' regulated and supervised by the Reserve Bank; The remaining institutions are- EXIM Bank, NABARD and NHB. They play a favourable and important role in the financial markets through credit extension and refinancing operation activities and cater to the long-term financing needs of the industrial sector.
HEAD of SIDBI–
The current agency executive or the Chairman and Managing Director of SIDBI is – Mohammad Mustafa, a 1995 batch IAS Officer. Prior to this he was 'Joint Secretary' in the Department of Financial Services (DFS) in the Finance Ministry.
FACILITIES OFFERED BY SIDBI:
Direct Finance –

SIDBI offers Working Capital Assistance, Term Loan Assistance, Foreign Currency Loan, Support against Receivables, equity support, Energy Saving scheme for the MSME sector, etc.
Indirect Finance –

SIDBI offers indirect assistance by providing Refinance to PLIs (Primary Lending Institutions), comprising of banks, State Level Financial Institutions, etc. with an extensive branch network across the country. The key objective of the refinancing scheme is to raise the resource position of Primary Lending Institutions that would ultimately enable the flow of credit to the MSME sector.
Micro Finance –

Small Industries Development Bank of India offers microfinance to small businessmen and entrepreneurs for establishing their business.
FUNCTIONS OF (SIDBI) SMALL INDUSTRIES DEVELOPMENT BANK OF INDIA
Refinancing –

Small Industries Development Bank of India or SIDBI refinances loans that are extended by the PLIs to the small-scale industrial units and also offers resources assistance to them.
Discounting of Bills –

SIDBI is also responsible for discounting & rediscounting of bills that arises from sale of machinery to or manufactured by industrial units in the small scale sector.
Upgradation –

SIDBI is also responsible for initiating steps that will further assist in the technological upgradation and modernisation of the existing industrial units.
Providing Loan /Credit –

It ensures proper and timely flow of credit for working capital as well as term loans to 'Small Scale Industries' (SSI) in cooperation with commercial banks

.
Other Services –

SIDBI also provides other services like factoring, leasing etc. to the industrial concerns in the small-scale sector.
Marketing –

It also helps in expanding marketing channels for the products of SSI (Small Scale Industries) sector both in the domestic as well as international markets.
Venture Funds –

SIDBI co-promotes state level venture funds in association with respective state government.
OTHER ACTIVITIES of SIDBI
SIDBI has extended its area of work and reach to various other sectors too. Apart from the above mentioned basic functions that SIDBI is responsible and supposed to deliver, it has floated many other entities to perform other related activities,as follows –
SIDBI Venture Capital Limited (SVCL)

– for providing Venture Capital (VC) assistance to MSMEs.

Micro Units Development & Refinance Agency (MUDRA)

– for 'funding the unfunded' micro enterprises in the country.

Receivable Exchange of India Ltd. (RXIL)

– to enable faster realisation of receivables by MSMEs.

SMERA Ratings Limited (SMERA)

– for credit rating of MSMEs, renamed as Acuite Ratings & Research Limited.

India SME Technology Services Ltd (ISTSL)

– for technology advisory and consultancy services.

India SME Asset Reconstruction Company Ltd. (ISARC)

–  for speedier resolution of Non-Performing Assets (NPA) in the MSME sector.
SIDBI also plays an important role in supporting the Government of India in its initiatives and works as a nodal agency for some of the schemes related to development of MSMEs, such as Make in India and Startup India.
Note :- A Nodal Agency is a government or state agency is a permanent or semi-permanent organization in the machinery of government that is responsible for the oversight and administration of specific functions.
Also Read:-
Get Free Online Test Series, GK updates in form of Beepedia, as well as latest updates for Bank PO, Bank Clerk, SSC, RBI, NABARD, and Other Government Jobs. займ безпроцентныйзайм 500рполучить займ на неименную карту