Safety and security don't just happen, they are the result of collective consensus and public investment. We owe our children, the most vulnerable citizens in our society, a life free of violence and fear. – Nelson Mandela
The World Against Child Labour Day is observed on June 12 every year. This day is dedicated to raising awareness for the prevention of child labour that is prevalent in many countries across the world. The objective of this day is to raise awareness and increase activism to end child labour around the world in whatever form it is practiced. Child labour is vastly rampant in under-developed and developing countries.
World Against Child Labour Day- History
The International Labour Organization (ILO) is a body of the United Nations that directs economic and social justice by establishing international standards, with particular emphasis on labour rights. The ILO founded the Day against Child Labour in 2002 in order to create awareness and fight against child labour. On this day, governments, local authorities, activists, international workers and organizations get together to shed light upon the problems of child labour and devise methods to emancipate child labourers.
World Against Child Labour Day 2021 Theme
This year's World Day Against Child Labour focuses on action taken for the 2021 'International Year for the Elimination of Child Labour'. The COVID-19 Pandemic and its subsequent problems, particularly economic problems, threaten to derail the hard work put in through the years to eliminate this social problem.
According to the (ILO), there are about 152 million children globally who are engaged in child labour. Of these 152 million children, 72 million are employed in hazardous work with poor to no safety equipment and abysmal health conditions. While the pandemic is expected to send the world economy into recession, these children now, more than ever, are at a greater risk of facing even more difficult circumstances. Their work hours may increase while wages may further decrease.
World Against Child Labour Day 2021
In June 2021, for World Against Child Labour Day, the ILO and United Nations Children's Fund (UNICEF) will release new worldwide objectives against child labour along the lines of the Alliance 8.7 or the '2030 Sustainable Development Goals'. The report is expected to include an evaluation of how the race toward eliminating child labour is likely to be affected by the pandemic that comes coupled with unplanned economic problems.
This year, World Day Against Child Labour will be observed with a "Week of Action" from June 10 to 17, 2021. During this week, events and activities centred around creating a dialogue to eliminate child labour will provide an opportunity to discuss the new ILO-UNICEF global estimates and trends on child labour. This will also provide an opportunity to exhibit the progress made on the implementation of the "2021 Action Pledges". These pledges for eliminating child labour are expected to be realised by the end of 2021.
World Against Child Labour Day in India
In India, it the responsibility of each and every citizen to ensure the elimination of child labour. So where should we begin?
Do not employ underage children in your home or work establishments.
Boycott products from enterprises such as restaurants, shops, convenience stores that do employ children.
Alongside, the government should ensure that each child at least receives Higher Secondary education so that they can build a better life for themselves.
As we have read above, the COVID 19 Pandemic is expected to further worsen the problem of child labour all over the world. This problem is particularly potent in India. In India, the National Anti-Child Labour Day is observed on April 30 every year that is dedicated to generating awareness and educating the citizens about the problems and ethical inappropriateness of child labour. It is also an effort to bring forth the responsibility we hold toward our children as social citizens.
This is an important General Awareness topic for several exams such as IBPS RRB Office Assistant, NABARD Grade A, NABARD Grade B and RBI Grade B among others. If you want to stay at the top of your General Awareness preparation you can find weekly updates on all general awareness topics on our BeePedia page. Moreover, these BeePedia updates are comprehensive and free and you can download them from the ixamBee website. BeePedia is also available in Hindi.
At ixamBee, you will find all the details that you need to select the exam you want to appear for. ixamBee is here to help you achieve your goal of landing your dream government job. With our expert faculty and reservoir of resources, there is no exam you cannot ace. Aside from our online courses and free mock tests, you can review previous years' question papers to understand the exam pattern.
ixamBee has launched a 'Get Vaccinated, Get Rewarded' offer to provide a flat 18% off to candidates who are preparing for competitive examinations and would like to buy any of our courses. To avail of this offer, all you have to do is upload a picture of yourself getting jabbed.
Stay Home, Stay Safe!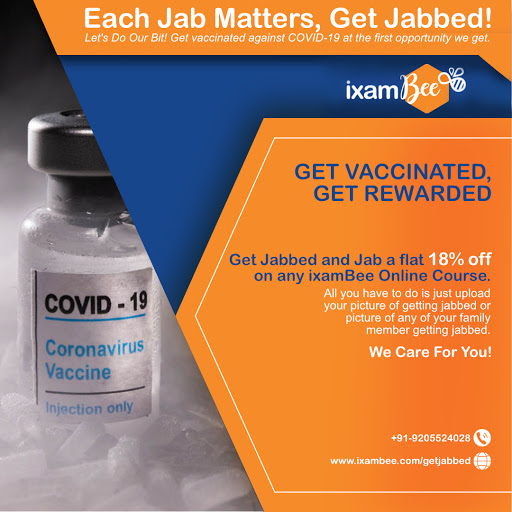 Government jobs after class 12
Top 10 Longest Rivers of the World
At ixamBEE you can find free Online Test Series, GK updates in form of Beepedia, as well as latest updates for Bank PO, Bank Clerk, SSC, RBI, NABARD and Other Government Jobs.