TCS new Social Distancing Norms to conduct online Bank and SSC exams
As the Central Government is trying it's hard to bring the straddle economy back into the track by reopening some activities, relaxing some norms and rules in lockdown 5.0 and also allowing exam conducting bodies to conduct online exams with due precautions, so TCS the sole body to conduct most of the online exam is preparing its iON digital zone exam centres to operate with social distancing and hygiene norms.
                                         This is a sign of big relief to all the aspirants who were worried about the cancelled exams prospects. The rest of the exams which were on hold due to COVID-19 may resume their recruitment process very soon. To prevent community transmission of COVID-19 due to mass gathering during online exams, TCS has come out with a new standard operating procedure called Social Distanced Assessments or SD-Assessments in consultation with the leading medical and public health experts. This will not only help in conducting secure, proctored in-centre assessments for the recruitment and academic admissions in the post-lockdown phase but will also take care of the safety of the candidates and proctoring staff. Let's see what this SD- Assessments is all about and a little insight into TCS.
A Brief Intro about TCS iON 
TCS iON is a strategic business unit of Tata Consultancy Services which focussed on enabling institutions, various government departments and different organizations from the industry sector to be efficient in their recruitment process. They are platforms that overlay digital technologies over physical assets. TCS iON is the official partner of the Banking and SSC exam conducting bodies. It is known for its transparency and speedy conduction of online exams through a unique IT Service model that provides secured, integrated, user friendly and hosted solutions in a build-as-you-grow and pay-as-you-use business model. Now all the exams which are cancelled due to coronavirus can be expected to be held soon online.
Understanding SD-Assessments
With the easing of lockdown rules and slow resumption of people's movement, TCS is now gearing for a rigorous set of rules for conducting online exams. These rules have been named as SD-Assessments and have been designed with vital inputs from health experts from All India Institute of Medical Science (AIIMS) and Public Health Foundation of India (PHFI).
                                                       These SD-Assessments norms will help in the online conduction of exams with precautions, hygiene, and social distancing besides smooth and safe conduct of online exams at various TCS iON's centres. Some of the main highlights are as follows:
Staggered, touch-free entry into the test venue
Aarogya Setu App status verification for checking symptoms for Covid-19.
Sanitization before entry into the exam hall.
Touch-free security checks of document verification and registration.
Non-intrusive, touch-free identity verification before, during, and after the exam.
Multiple hygiene norms for all candidates and exam staff.
Adoption of social distancing norms at all times.
Join ixamBee To Gear up Your Preparation
Since the doubt clouds that were hovering over the conduction of cancelled online exams are now clear to some extent and it can be assumed that these online exams will be conducted shortly, it's time to gear up your bank exam preparation. Utilize the time fruitfully by practising and learning as much as you can because – TIME IS NOT THE MAIN THING. IT'S THE ONLY THING THAT IS NEEDED TO SUCCEED. Also to provide you with all the latest updated content for upcoming bank exams here some initiatives by ixamBee-
BankBee – New YouTube channel that has been exclusively designed keeping the needs of banking aspirants in mind. Keep yourself updated with all the latest general awareness news by subscribing to BankBee.
AgriBee – All agriculture background aspirants who are eager to embark their journey as a banker can keep themselves updated with the short and crisp video on the latest agriculture news by subscribing to AgriBee.
StudyHive – It's a new and unique group study programme started recently for paid users, where all students who sign up will be divided into groups and the leader of that group will present the team views on the topic provided to them a few days before. To know more email on-hello@ixamBee.com
Practice Mocks – Here you get a lot of practice mocks that are absolutely free. These mocks have been designed based on the latest exam pattern and level of question asked. So practice these free mocks and prepare yourself for the battle.
Online Course – ixamBee has comprehensive online courses for various bank exams. The course has been designed by faculty who have vast experience in banking and teaching profession. So what are you waiting for, enrol and get started?
ixamBee Youtube – Here you will get all the details about all the latest happenings around the world besides video lessons on various topics covering Reasoning, Quants, English Language, IT etc. Also, we also have videos of successful candidates telling their strategy and planning to ace banking exams.
Also, we are running a campaign # GharSeStudyKarona 2.0 where you have to send your entries in ixamBee official website telling how you are utilizing your quarantine time effectively.  We have prizes for special Art. A 19% discount is also being offered on all our online courses for your participation in the campaign.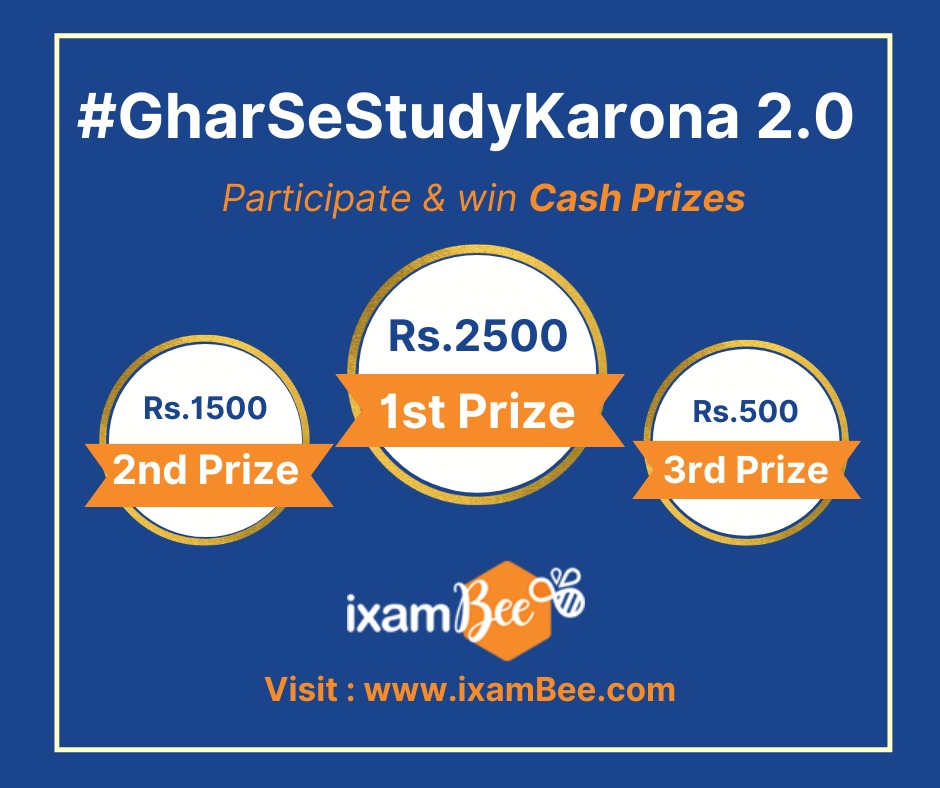 Also Read
Get Free Online Test Series, GK updates in form of Beepedia, BeeBooster,  as well as latest updates for Bank PO, Bank Clerk, SSC, RBI, NABARD and Other Government Jobs.
займ 100 без отказа
займ в улан-удэ
взять частный займ в москве