Consistency, Discipline, Dedication & Hard Work was the Mantra for Manshul Gautam who cracked the code in his second attempt and is finally an RBI Grade B Officer now. The final results of the RBI Grade B recruitment were announced on September 11, 2021. Manshul was among those successful candidates who got the fruit of their struggles & hard work this time. Being a UPSC aspirant, Manshul was strong-headed & prepared for the upcoming challenges.
"Success is the sum of small efforts – repeated day in and day out"!
This quote suits Manshul in every way. He reached the final stage of the RBI Grade B Interview in 2019 but missed it by a decent margin. Being unsuccessful in his first attempt did not make him lose heart. He learned from his mistakes and tried harder this time. He came back with a bang and took his trophy home. Let us know some more about how Manshul approached his RBI Grade B goal.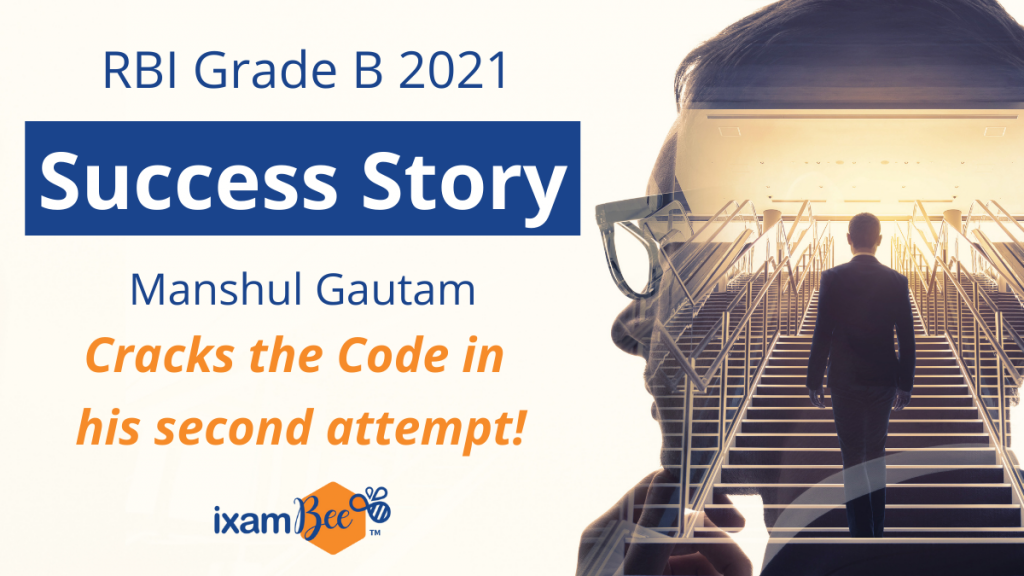 Manshul Gautam – A Small Introduction
Manshul received his B.Tech degree from the Faculty of Management Studies (FMS), Delhi.
He also completed his MBA in Finance from FMS, Delhi in 2018.
He then opted to work in the corporate sector as a Business Analyst for 4 years.
Within 18 months of his job, he realized that he wanted to try for a government job.
The Crossroads
Manshul had two options in mind: (1) UPSC (2) RBI.
After pondering much over it, Manshul decided to also discuss it with his friends who were already working in RBI. He was satisfied to know that the work culture, job profile, facilities & emoluments were all quite attractive if he got into RBI, in case he doesn't clear UPSC.
Thus, he decided to prepare for both UPSC & RBI, while being on the job. In 2019 he reached the Interview stage of RBI Grade B but missed it owing to his written marks being just at the edge. That's where he learned his lesson! And decided to prepare with a whole new strategy this time.
RBI Grade B 2021: Manshul's Strategy for Success
As soon as the official notification for RBI Grade B 2020-21 was out, Manshul decided to give his best shot this time and finally quit his job. He did not want to leave any stone unturned this time. Let us see what kind of strategy did Manshul plan out which led him to success. Some of the quick tips have been shared below:
Read the news to be the 'news' – if you wish to achieve your goal, and be in the news, you should be reading the newspaper on a daily basis. Manshul personally preferred reading 'The Hindu' religiously.
Limit your sources – refrain from using multiple sources while preparing. This will only lead to too much confusion & mess. Keep it less, keep it simple.
Keep your syllabus at hand – always keep your exam syllabus with you, no matter what. Do not, in any case, get deviated from the given syllabus.
Make notes – being a Finance & Management student, Manshul made sure that he prepared enough quality notes for Economics, Finance & Management from the textbooks.
Make reading a habit – according to Manshul, you should read as much as you can.
Regular revision- revising the notes you make, is also an important part of your preparation. Else all your efforts & time you have put into studying will go in vain.
Practice makes perfect – Manshul did not ignore the importance of practice, thus wrote 1- 2 answers weekly from subjects like ESI, Finance & Management. (The Descriptive section was a shocker this time).
Multiple mocks – Manshul also ensured that he set aside some time for regular practice where he attempted multiple mock tests, which helped him in improving his performance.
Master tip – Read current affairs of the past 6 months. Along with that, you can also refer to the PIB highlights, Economic Survey & the Budget for both Phase 1 & Phase 2 of RBI Grade B.
These were some quick tips that might be helpful for those who wish to prepare for RBI Grade B 2022.
ixamBee's Role
Manshul shares his plan that he followed this time, which was his second attempt into RBI Grade B. Practice & revision were the two basic key points that Manshul formed his strategy around. Being an MBA graduate, he was confident about his QRE (Quant, Reasoning & English) section and therefore he devoted most of his time to the General Awareness section this time. For the General Awareness section, Manshul referred to 'GK Today' & ixamBee's Beepedia which proved to be quite helpful.
What Manshul liked about Beepedia?
As per Manshul, ixamBee's Beepedia contained separate sections meant for different kinds of aspirants looking out for specific content. That saved a lot of time for him. He could easily locate what he needed & move on with the preparation. The detailed & segregated content saved the day for Manshul. Beedpedia is one of the sources apart from the RBI Grade B Exclusive Online Course, which is also very well-curated and caters to all the requirements of aspirants preparing for RBI Grade B. 
We at ixamBee are very proud and elated to announce that 126 selections in RBI Grade B this year are from ixamBee!!
For those who missed this chance by an inch and are feeling demotivated, spare a minute and watch this video by Ms. Arunima Sinha who has shared an inspiring story that will surely bring back your confidence & strength to overcome any obstacle that comes your way.
At ixamBee, you can find a number of Online Test Series, GK updates in the form of BeePedia, as well as the latest updates for Bank PO, Bank Clerk, SSC, RBI, NABARD, and Other Government Jobs.
Also, see:
RBI Grade B 2021 Success Stories: Read Manoj's Inspiring Journey to Success
RBI Grade B Previous Years' Papers
RBI Grade B 2021: An Insight into RBI Grade B Salary and Perks