Reserve Bank of India is counted as one of the largest Indian financial organizations in India. It acts as a regulator in the banking industry of India. To be a part of this esteemed organization is a matter of pride for everyone aspiring to join the banking sector. RBI conducts various recruitment drives to recruit bright and eligible candidates for its organization. Some of the posts which are frequently announced by RBI are RBI Grade B, RBI Office Attendant, RBI Assistant and RBI Non CSG.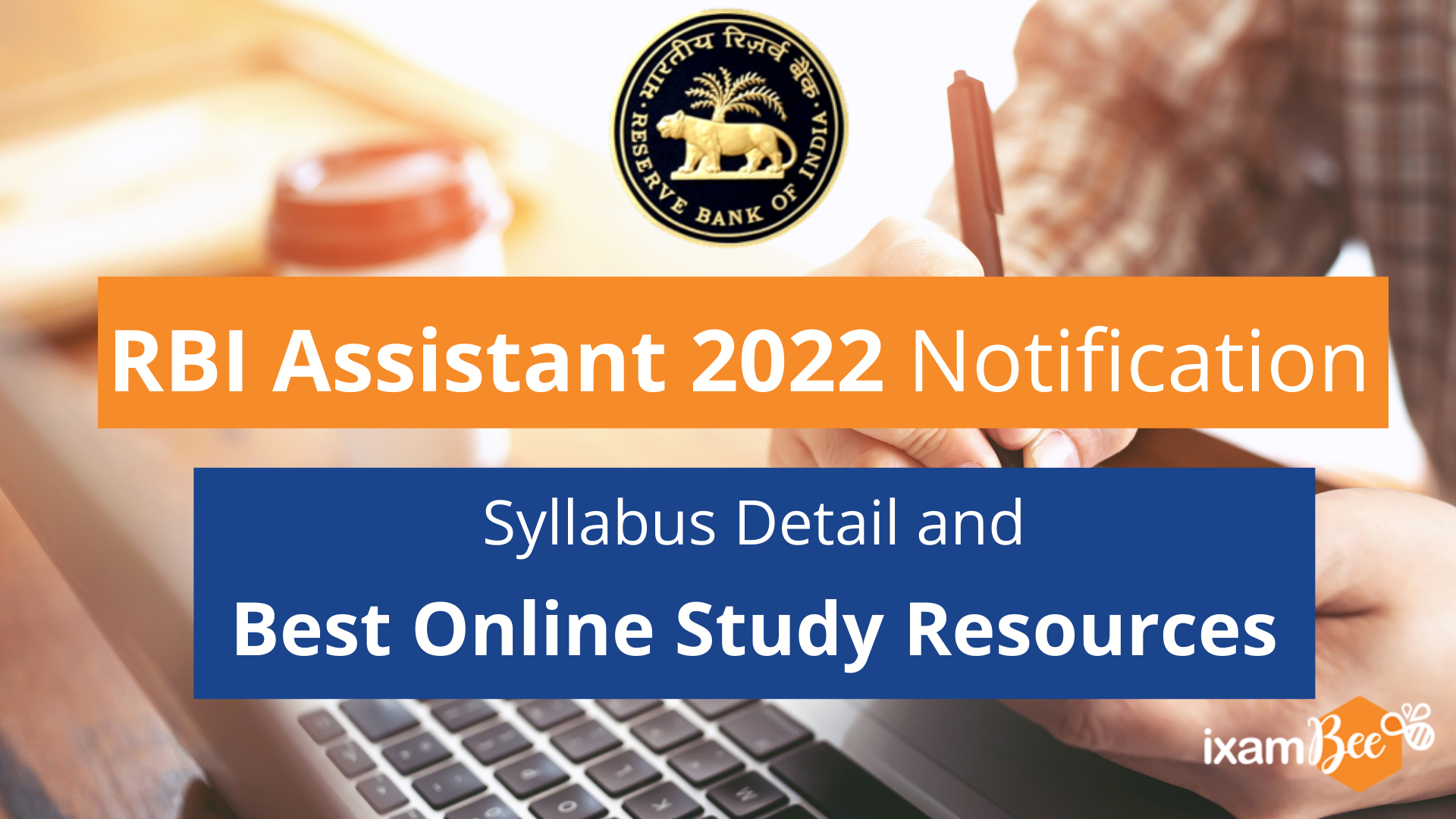 RBI Assistant is one such post that is conducted by RBI almost every year or at least every alternate year. The RBI Assistant recruitment 2022 is out. The online application link for RBI Assistant 2022 is active from February 17 till March 8, 2022. The RBI Assistant Prelims 2022 is scheduled to take place on March 26 and March 27, 2022. The RBI Assistant 2022 Mains will take place in May 2022. RBI Assistant is a clerical level post which is a gateway to RBI and to many opportunities ahead to get oneself promoted to higher positions (RBI Grade B/Grade A).
In this article, we will discuss the detailed syllabus of the RBI Assistant exam and how you can start your preparation by studying online. If you are interested in applying to this exam, kindly check your RBI Assistant eligibility first and then start your preparation as early as possible.
Before proceeding to the syllabus part, we must be aware of the exam pattern to understand the sections that are being asked in this exam.
RBI Assistant Exam Pattern 2022
You will have to undergo two written examinations in order to secure a seat in the final merit list of the RBI Assistant exam 2022. Both exams will be objective type (Multiple choice-based). The first exam will be the RBI Assistant Prelims exam. Please note that this exam is qualifying in nature i.e. the marks obtained in this exam will not be evaluated in making the final merit list.
Please be careful while choosing the answer options, as there will be a negative marking of 0.25 marks or 1/4th of marks. Below is the exam pattern of RBI Assistant Prelims 2022.
S. No.
Subject
No of questions
Maximum Marks
Total Time
1.
English Language
30
30
20 minutes
2.
Numerical Ability
35
35
20 minutes
3.
Reasoning Ability
35
35
20 minutes
Total
100
100
60 minutes
RBI Assistant (Mains) Exam Pattern 2022
RBI Assistant Mains exam will be held for those who clear the RBI Assistant Prelims exam. It is also an online objective test with multiple-choice questions. In order to make it to the final list, you have to answer the questions very carefully and should attempt a maximum number of questions to attain a good score. Please be careful of the negative marking again, 0.25 marks or 1/4th of marks will be deducted for every wrong answer marked.
S. No.
Section
No. of Questions
Maximum marks
Time
1.
Reasoning
40
40
30 minutes
2.
Quantitative Aptitude
40
40
30 minutes
3.
General Awareness
40
40
25 minutes
4.
English language
40
40
30 minutes
5.
Computer Knowledge
40
40
20 minutes
Total
200
200
135 minutes
RBI Assistant Syllabus 2022
Now you have understood the exam pattern, it is time to start preparing for the exam. Before starting your preparation, it is advised to make a note of the RBI Assistant Syllabus and start covering the syllabus topic-wise. Start with the section you think you need more focus on. To analyze your strong and weak topics, simply attempt an RBI Assistant Mock test based on the latest pattern and analyze it in detail. Write your weak areas down and try finishing them first.
In case you are starting from scratch, an ideal situation will be completing your syllabus first and then practising. After completing your syllabus, practice as much as you can. To compete in such high competition, you need to keep yourself one notch higher than others and this can only be possible with expert guidance, consistent practice and hard work. Here is the complete syllabus for RBI Assistant Prelims and Mains. Please jot it down and start your preparation.
Please note that the Syllabus of English language, Logical Reasoning and Quantitative Aptitude is common for both Prelims and Mains. The difference only lies in the difficulty level of the exam. Please attempt one Prelims and one Mains Mock test of RBI Assistant to have a detailed understanding of the exam.
| | |
| --- | --- |
| Section | Topics |
| English Language | Reading Comprehension, Error Spotting/Phrase replacement, Cloze test, Para Jumbles, Vocabulary, Phrase substitution, Paragraph complete/Sentence correction, Synonyms and antonyms, Para jumbles, Miscellaneous, Commonly misspelled words, Double blanks in a sentence |
| Numerical Ability | Simplification, Average, Percentage, Time and Work, Time and Distance problems, Area, Volume, Profit and Loss, Simple and Compound Interest, Menstruation, Time and Speed, Missing Numbers, Fractions, and Ratios, HCF and LCM, Problem on Ages, Data Interpretation |
| Reasoning | Coded Inequalities/Mathematical Inequalities, Syllogisms, Coding and Decoding, Seating Arrangement, Blood Relations, Directions and Distances, Ordering and Ranking, Arrangement and Pattern, Double Lineup, Scheduling, Analogy, Statement – Conclusions/Arguments |
| General Awareness | Banking & Financial Awareness – Banking terms, Current rates (Bank rate, repo rate, reverse repo rate), RBI, Fiscal-Monetary, Policies, Social Functions of Bank, Economic News – Indian and International Economy, Finance, shares, various schemes of Government, Monetary policies, Financial & Economics News, National and International News, Sports News, Awards, Summits and Conferences, Schemes, Agreement and Deals |
| Computer Knowledge | Generations of computer, Basic computer fundamentals, Software and Hardware and their functionalities, Networking, Computer Abbreviations, Internet, LAN, WAN, Security Tools, Virus, Hacker, MS Word, MS Excel |
RBI Assistant Online Study Material
Now, when we know about the exam, eligibility, pattern and syllabus, the next immediate question that arises is how we can access the study material or what study material should we use to prepare for the RBI Assistant exam? We can prepare for RBI Assistant 2022 exam in two ways i.e. Offline or Online. Some prefer to study offline and some use online platforms for their preparation. So, what should one use?
The ideal situation for this is to take advantage of both worlds. To complete your basics, the best way is to study from books. Whereas, to practice mock tests and to keep oneself updated with the trends, one should refer to online platforms. With the exams being conducted online nowadays, one should also keep oneself up to date with the changing scenarios. Here are some Offline and Online study materials that might help you in your RBI Assistant 2022 Preparation Journey. You can also refer BeePedia to keep yourself updated on all the latest happenings around the world.
Subject
Name of Book
Author/Publisher
Quantitative Aptitude
Practice Book on Quicker Maths, 2nd Edition
M.Tyra, K.Kundan / Magical Book Series
Quantitative Aptitude for Competitive Examinations 17th Edition
R.S Aggarwal / S.Chand Publisher
Fast Track Objective Arithmetic
Rajesh Varma / Arihant Publishers
Computer Awareness
Objective Computer Awareness for General Competitive Exams
Arihant Publishers
Computer Fundamentals
P.K Sinha
General Awareness
Manorama Year Book 2021
–
Pratiyogita Darpan
Upkar Prakashan
Lucent's General Knowledge
Lucent
English Language
Objective English 4th Edition
Edgar Thorpe / Pearson
Word Power Made Easy
Norman Lewis / Penguin
Objective General English 2nd Edition
S.P Bakshi / Arihant
Reasoning
A Modern Approach to Verbal and Non Verbal Reasoning
R.S. Aggarwal
Analytical Reasoning
MK Pandey
How to Crack Test of Reasoning: In All Competitive Exam
Arihant Publication
A New Approach to Reasoning Verbal and Non-Verbal
B.S. Sijwali & Indu Sijwali
RBI Assistant Online Course 2022
Even after studying extensively or by watching a few YouTube videos here and there, we feel stuck in our preparation sometimes. We feel an urge for a helping hand that can sail us through the competition. In such difficult times when offline coaching seems to be distant, online assistance comes to the rescue. We in ixamBee believe in making every aspirant's dream of becoming an RBI Assistant come true. You can also simply visit our website section and take assistance from our executive.
We also provide online coaching for the RBI Assistant 2022 exam. For this, you can visit our RBI Assistant Online Course page. To have an idea of what we have to offer in our RBI Assistant 2022 Online course please refer below:
350+ Video lessons covering the entire syllabus for Prelims and Mains exam.
90+ Video lessons out of 350 videos prepared exclusively for RBI Assistant Mains exam covering Computer Knowledge and General awareness sections in detail.
Study notes in PDF format especially for Computer Knowledge and General Awareness Section for easy learning and quick revision.
8000+ Questions divided into Easy, Moderate and High Levels for each chapter for all the subjects to help you prepare systematically.
15 Full-Length practice tests for RBI Assistant Prelims and 8 Full-Length practice tests for RBI Assistant Mains exam.
Live Classes for doubt clarification with the subject experts where you can get all your queries related to any subject clarified.
Also Read
RBI Assistant Previous Year Cutoff
At ixamBee you can find free Online Test Series, GK updates in the form of BeePedia, as well as latest updates for Bank PO, Bank Clerk, SSC, RBI, NABARD, and Other Government Jobs.