The NABARD Grade B 2021 Phase 2 examination is only a few days away now. The exam will be held on Wednesday, November 17, 2021. The hard work and effort that you have put into your preparation in the past months will now be put to test. However, you still have a few days to go and now is as good a time as any to look back and review and revise your preparation in its entirety.
This is why we have curated this article for you, wherein we are going to go over how we can make the most of the time that we have remaining so that we can revise and take adequate rest to ultimately exhibit our best performance on the exam day.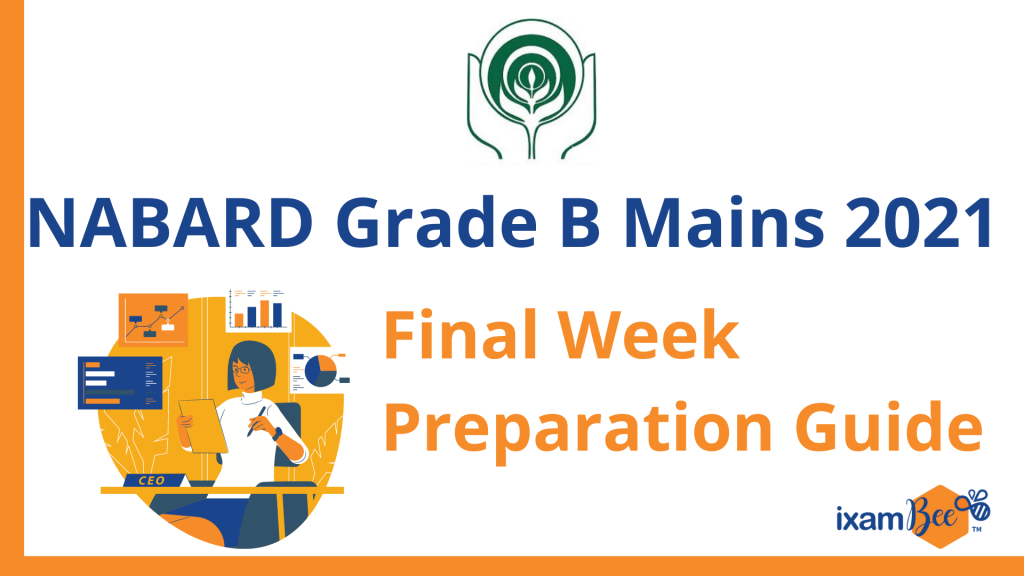 We will approach the papers that you will be writing one at a time in the subsequent sections. Let us quickly glance over what the three papers will entail before we begin.
Paper 1 will assess Descriptive English.
Paper 2 will assess Agriculture & Rural Development and Economic & Social Issues (Objective + Descriptive).
Paper 3 will assess Development Economics, Statistics, Finance and Management (Objective + Descriptive).
Let us now understand what our strategy should be in these last few days.
NABARD Grade B 2021 Mains
Paper 1
Practice onecomprehension exercise every day.
Read the newspaper and watch the news daily. Keeping yourself well-read will allow you to write better.
Write in an active voice as far as possible.
Complete all your answers within the word limit.
Read and write one essay every day on a topic related to current affairs.
Exhibit the strength of your vocabulary in reasonable limits. Write in simple and short sentences.
Do not write any more than necessary.
Paper 2
Read up on the latest information on government schemes and projects for ARD & ESI.
If you have been making notes now would be a good time to use them for revision.
Practice writing descriptive answers on a variety of topics every day.
Always begin your descriptive answer with a brief introduction and wind up with a pleasant conclusion.
Refer to the following resources

ARD Schemes & Reports
Kurukshetra & Yojana Magazine
Newspaper editorials
PIB reports
ixamBee's BeePedia
Learn How to Prepare for Descriptive ARD for NABARD Grade B 2021 Mains examination.
Also read How to Prepare for Descriptive ESI for NABARD Grade B?
Paper 3
Read up on Finance and Economic current affairs.
Watch free study and revision videos for Management and Finance on ixamBee's YouTube channel.
HR and Communication are two very scoring subjects in this paper. However, it is imperative that your basic concepts are clear in order to answer questions on related topics.
NABARD Grade B Mains General Tips
Go through the details mentioned in the NABARD Grade B information handout for Phase 2 thoroughly.
Remember to download your NABARD Grade B Admit Card 2021 and keep it ready in the bag that you will carry to the exam centre.
Take one one mock test every day as you count down to your exam date.
Always prepare a framework for your answer to give direction to your thoughts.
Choose the questions you want to answer from the given options carefully.
Supplement your answers with adequate examples and data.
Follow all COVID-related safety protocols.
Believe in yourself and your abilities. Have faith in your preparation.
Do not wear yourself out. Take proper rest before the exam day.
NABARD Grade B Mock Test
It is always a good idea to take practice tests while you prepare for an exam. It is a great way to combine revision and evaluation in one place. In these last few days, we heartily encourage you to take one NABARD Grade B Phase 2 Free Mock Tests every day.
NABARD Grade B Previous Years Papers
If for some reason you have not yet taken a look at the NABARD Grade B Mains Previous Year Papers for your preparation, it is about time that you do so now.
We hope you will follow this last week's preparation blueprint to maximize and capitalize on the time that you have left before the examination. If you need any other help or assistance, you can always reach out to us.
Make the most of the time that you have now. This is your time to shine.
Team ixamBee wishes you all success.
At ixamBee, you can find free Online Test Series, GK updates in the form of BeePedia, as well as latest updates for SBI PO, Bank Clerk, SSC, RBI, NABARD, and Other Government Jobs.
Also See
NABARD Grade A Mains 2021: Last Minute Tips for You!
How to Prepare for NABARD Grade B Mains
NABARD Grade A/B 2021: Are you Phase 2 Ready?