NABARD Grade A and Grade B exams are scheduled on June 15, 16, 2019. Not much time is left for the NABARD exams and you have a vast syllabus to cover. Being well versed with the syllabus for these exams you should pretty well know that prelims exam pattern for NABARD Grade A and NABARD Grade B is similar and therefore you can prepare for prelims of both the exams simultaneously. When it comes to NABARD Grade A and Grade B exams, Economic and Social Issues (ESI), Agriculture and Rural Development (ARD) play a major role. The syllabus for ESI and ARD is very vast and students often get confused as to "How will we complete such vast syllabus in time"?
ixamBee experts, ex-RBI and ex-Bank PO's, have designed NABARD Grade A and Grade B online course which covers the entire syllabus of NABARD Grade A and Grade B in a comprehensive way.
Let us look at notes provided by ixamBee experts on an important topic of Agriculture:
PM – KISAN
Pradhan Mantri Kisan Samman Nidhi
The government announced an income support scheme, called Pradhan Mantri Kisan Samman Nidhi (PM-KISAN), for the farmer in the interim Budget 2019. The PM-KISAN scheme, aimed at supplementing the financial needs of the small and marginal farmer, entails direct cash support of Rs. 6,000 for farmers. Under the scheme, small and marginal farmers with less than two hectares of land will get cash in their accounts in three installments of Rs. 2,000 each.
The Pradhan Mantri Kisan Samman Nidhi Yojana which was announced in the Union Interim Budget 2019 by Finance Minister Piyush Goyal was inaugurated by the Hon'ble Prime Minister on 24.02.2019 at B.P.Pal Auditorium, Indian Agricultural Research Institute, New Delhi.
Pradhan Mantri Kisan Samman Nidhi (PM-Kisan) Scheme is an initiative by Government of India in which 120 million small and marginal Indian farmers who have less than 2 hectares (4.9 acres) of landholding will get up to Rs. 6,000) per year as minimum income support. The scheme was announced by Piyush Goyal during the 2019 Interim Union budget of India on 1 February 2019. It will come in effect from December 2018. INR 6,000 per year will be paid to each eligible farmer in three installments and will be deposited directly to their bank accounts.
Documents Required
Citizenship certificate
Landholding papers
Aadhaar card
Bank account details
Categories excluded
Former and present holders of constitutional posts.
Former and present Ministers/ State Ministers and former/present Members of Lok Sabha/ /Rajya Sabha State Legislative Assemblies/ State Legislative Councils, former and present Mayors of Municipal Corporations, former and present Chairpersons of District Panchayats.
All serving or retired officers and employees of Central/ State Government Ministries /Offices/Departments and its field units Central or State PSEs and Attached offices /Autonomous Institutions under Government as well as regular employees of the Local Bodies (Excluding Multi Tasking Staff /Class IV/Group D employees)
All superannuated/retired pensioners whose monthly pension is Rs.10,000/-or more (Excluding Multi Tasking Staff / Class IV/Group D employees) of the above category
All Persons who paid Income Tax in the last assessment year
Professionals like Doctors, Engineers, Lawyers, Chartered Accountants, and Architects registered with Professional bodies and carrying out profession by undertaking practices.
After the budget announcement of PM KisanSammannidihi yojana, there was a wave of happiness among farmers of India. Under this scheme, the farmer will get Rs. 6000 in three installments. PM Kisan Yojana is for small and marginal farmers for helping in financial condition for purchase of seed, fertilizers etc. Total of Rs 6000 amount is to be distributed to farmer in 3 seasons. The government of India under the leadership of PM Modi announced about this scheme in Budget 2019-20.
Money is to be distributed from March 2019 and last date to deposit the money in farmer account is 31st march.
| | |
| --- | --- |
| Launched by |  Piyush Goyal (Interim Finance Minister) |
| Announcement date |  1st February |
| Target beneficiaries |  Small and marginal farmers |
| Official portal |  http://pmkisan.nic.in |
| First Installment date |  1/12/2018 to 31/3/2019 |
| Scheme Purpose |  To Provide Financial Support To Farmers |
| Scheme Type |  Central Government Scheme |
ixamBee experts have provided many more such important topics in form of short PDF notes, short and crisp videos.
What are you waiting for??? Enroll for NABARD Grade A/B 2019 online course and be sure of your career in NABARD.
Click here for Free Demo of NABARD Grade A/B Online Course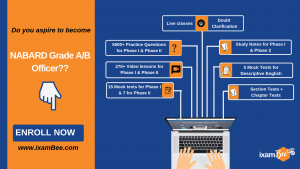 Get Free Online Test Series, Daily GK Update, PIB Current Affairs, Banking Awareness as well as latest updates for Bank PO, Bank Clerk, SSC, RBI, NABARD and Other Government Jobs. займ без процентов на 60 днейзайм срочно без отказасбербанк займ