Reserve bank of India which is also termed as Central Bank of India is responsible to govern the monetary policy of the country. RBI was established on 1st April 1935 under the RBI Act, 1934 and was formed with the recommendation of "HILTON-YOUNG Commission". It was initially established as a privately owned bank and got nationalized on 1st January 1949 after the independence of India. RBI is headquartered in Mumbai but initially, it was located in Kolkata and shifted to Mumbai in 1937.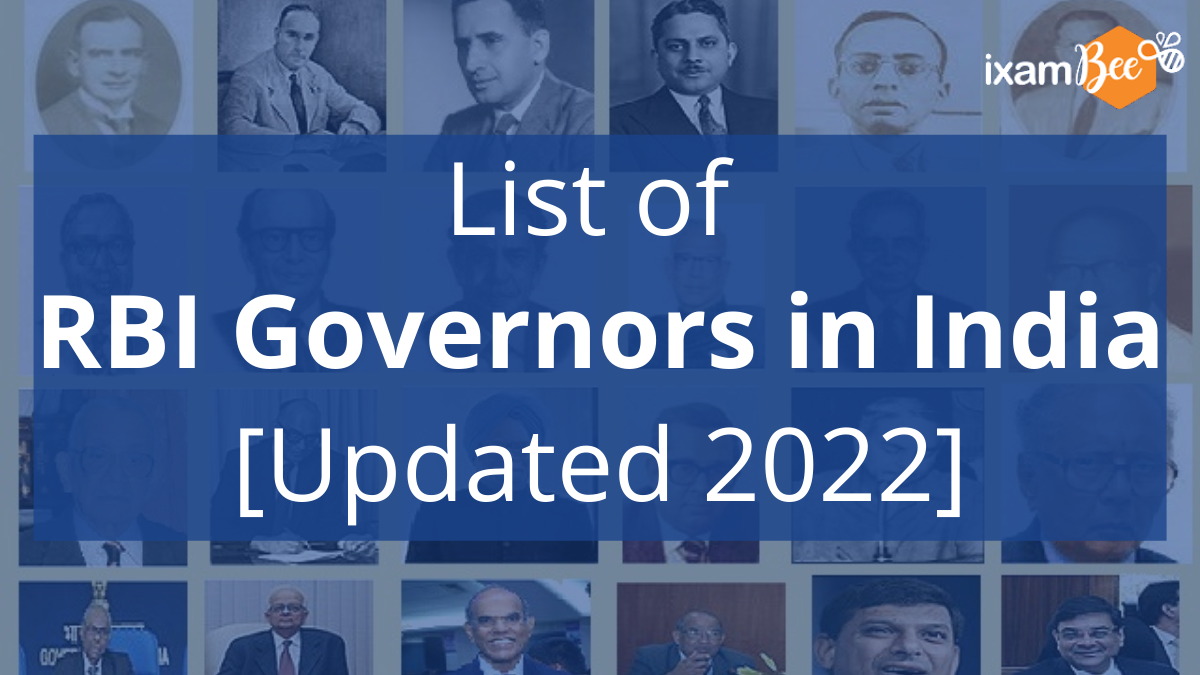 Members of RBI
Governor-1
Deputy Governor-4
Directors-14
Government Officers-2
The present Governor of RBI is Shri Shaktikanta Das. He was appointed on 12th December 2018. Among the ten directors, four are nominated by the local board committee whereas the rest of the ten members are appointed by the Government of India.
Subsidiaries of RBI
NHB(National Housing Bank)
BRBNMPL or Bhartiya Reserve Bank Note Mudran Private Limited
NABARD or National Bank for Agriculture and Rural Development
Deposit Insurance and Credit Guarantee Corporation(DICGC)
Functions of RBI:
RBI issues the currency notes.
It also acts as a Banker to the government.
It holds cash reserves and foreign currency reserves.
RBI is also known as the lender of last resort.
RBI maintains a minimum reserve system of 200 crore rupees in a form of gold and foreign exchange reserves out of which 115 crore rupees must be in form of gold.
RBI Governor:
The Governor of RBI is the chief head of the Reserve bank of India. He implements policies of RBI to the benefit of the monetary status of the country. The status of RBI governor is the same as that of a state minister.
Who can become a Governor?
Initially, RBI Governors were a part of Indian Civil services like C D Deshmukh, Bengal Rama Rao etc. but any individual who holds a Graduate degree/ Post Graduate/Chartered Accountant can become a Governor of RBI provided that he had worked in any of the following institutions:
IMF/ World Bank.
Chairman or General Manager of a Bank.
Reputed Financial or Banking organization.
Ministry of Finance (GOI)
Other than the above any citizen who is 35 years or above than that is eligible. He must not be a member of the Parliament/State Legislature also he must not hold any other office for profit.
Who appoints the Governor of RBI?
The Governor of RBI is not elected but appointed by the PMO (Prime Minister Office) with the recommendation of Union Finance Minister.
Tenure:
Tenure of a Governor is five years however, it can be terminated in two cases and they are as follows:
If dismissed by the President.
Resignation is submitted by the Governor to the President.
Functions of the RBI Governor:
Responsible to administer and monitor currency issuance.
Responsible to issue a license to new private banks and also to foreign banks in India.
To ensure that the policy which is introduced by the RBI is implemented timely for the rural of the society. Responsible for regulation and administration of the Indian financial system.
Responsible for maintaining foreign exchange in India. Regulates and manage (FEMA) Foreign exchange and management Act 1999 Act.
Complete List of the RBI Governors of India.
| | |
| --- | --- |
| RBI Governor Name | Tenure |
| Osborne Smith | 1st t April 1935 to 30th June 1937 |
| James Brend Taylor | 1st July 1937 to 17th February 1943 |
| C. D. Deshmukh | 11th August 1943 to 30th June 1949 |
| Benegal Rama Rao | 1st July 1949 to 14th January 1957 |
| K. G. Ambegaonkar | 14th January 1957 to 28th February 1957 |
| H. V. R. Iyengar | 1st March 1957 to 28th February 1962 |
| P. C. Bhattacharya | 1st March 1962 to 30th June 1967 |
| L. K. Jha | 1st July 1967 to 3rd May 1970 |
| B. N. Adarkar | 4th May 1970 to 15th June 1970 |
| S. Jagannathan | 19th June 1970 to 19th May 1975 |
| N. C. Sen Gupta | 19th May 1975 to 19th August 1975 |
| K. R. Puri | 20th August 1975 to 2nd May 1977 |
| M. Narasimhan | 2nd May 1977 to 30th November 1977 |
| I.G. Patel | 1st December 1977 to 15th September 1982 |
| Manmohan Singh | 16th September 1982 to 14th January 1985 |
| Amitabh Ghosh | 15th January 1985 to 4th February 1985 |
| R. N. Malhotra | 4th February 1985 to 22nd December 1990 |
| S. Venkatraman | 22nd December 1990 to 21st December 1992 |
| C. Rangarajan | 21st December 1992 to 21st December 1995 22nd December 1995 to 22nd November 1997 |
| Bimal Jalan | 22nd November 1997 to 5th September 2003 |
| Y. V. Reddy | 6th September 2003 to 5th September 2008 |
| D. Subbarao | 5th September 2008 to 4th September 2011 5th September 2011 to 4th September 2013 |
| Raghuram Rajan | 4th September 2013 to 4th September 2016 |
| Urjit Patel | 4th September 2016 to 11th December 2018 |
| Shashikant Das | 12th December 2018 onwards |
Attempt full-length mock tests of the RBI Grade B 2022 exam. You can also attempt 1000+ Full-Length Free Mock Test here. You can also enroll in our RBI Grade B 2022 Online Course
All the best for RBI Grade B 2022.
Also Read:
Governors of States and Union Territories of India
Get Free Online Test Series, GK updates in form of Beepedia, as well as latest updates for Bank PO, Bank Clerk, SSC, RBI, NABARD and Other Government Jobs.
займ деньги онлайнонлайн займ на банковский счетзайм через контакт онлайн