The IBPS PO Prelims exam 2021 will be held on December 4 & 11 2021. Now that the exam is so close, it is time to switch your preparation strategy to focus primarily on revision and preparing yourself for the exam day.
We believe that you have used your time constructively over the course of the past few months and will perform your best on the exam day.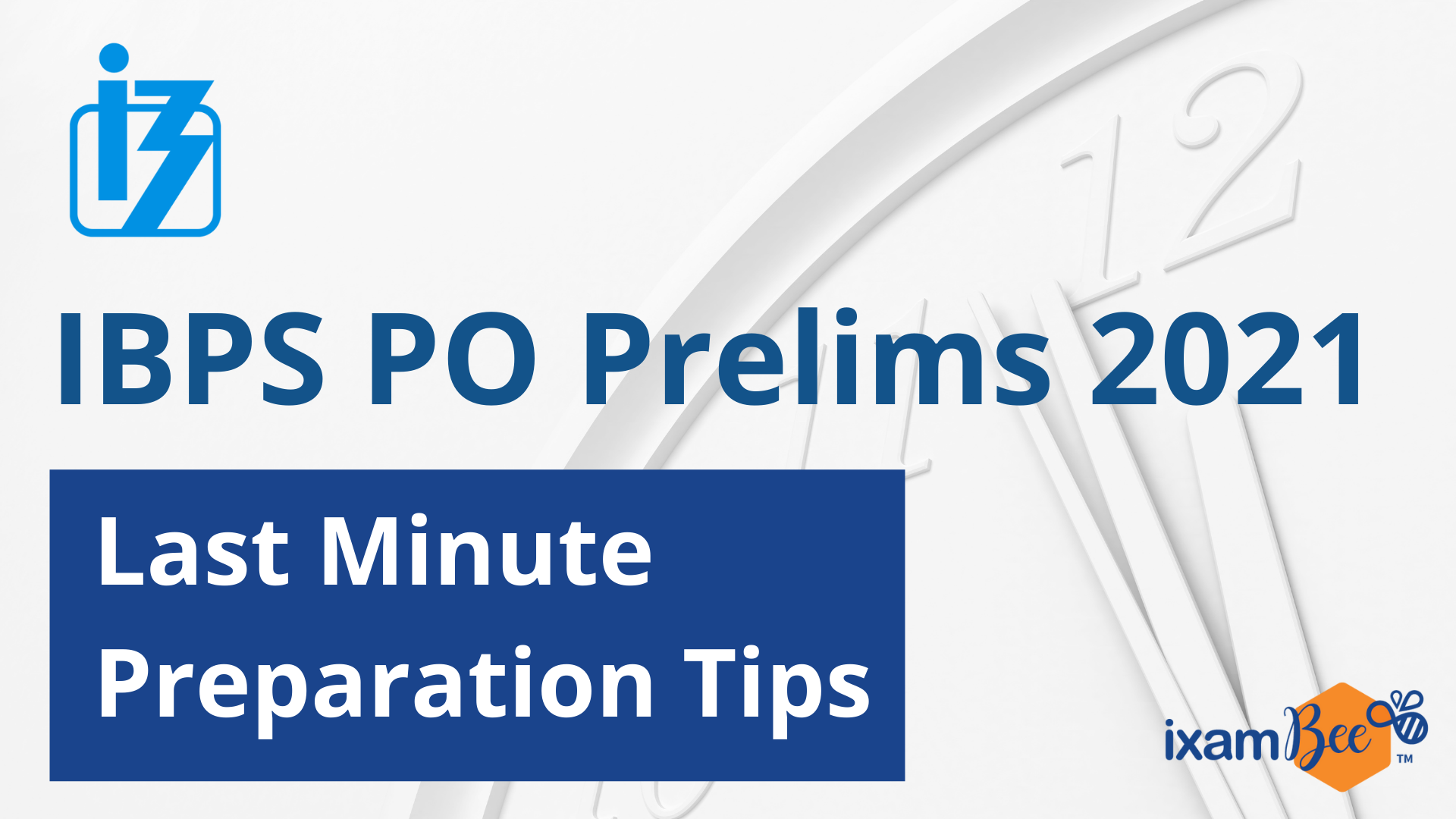 In this article, we have put together some tips that you can utilize over the course of the next few days so that you can not only revise fruitfully but also use the time you have to the brim.
Read the pointers jotted down for you below.
IBPS PO Prelims 2021 Last Minute Preparation
You should take as many IBPS PO Prelims free mock tests as you can make time for until the day of the exam.
As a form of practice, we encourage you to take the same test again, if you feel your performance was not satisfactory.
If you feel any subject needs more of your revision time, please go ahead and plan your schedule accordingly.
Revise with ixamBee's revision videos on YouTube.
Stay up-to-date with the latest current affairs news for the last six months at least on BeePedia. This is a scoring section so long as you are prepared. If for example, you are falling behind in some other subject, you should ensure you do well in General Awareness. 
If you have been keeping notes during your study period, now is the time to revise them from cover to cover. 
If you have not yet watched ixamBee's 0 Se PO series of exam preparation videos, now would be a good time to go through them as a method of revision. 
Get proper rest on the evening before the exam.
Stay calm and believe in yourself.
IBPS PO Prelims 2021 Exam Day Preparation
Download your IBPS PO Prelims admit card and keep it in your exam bag.
Reach the exam center well in time in order to avoid any undue stress.
Be mindful of your health and the safety of others.
Wear a mask at all times.
Carry permissible items such as water bottle, pen, documents and hand sanitizer only.
No electronic devices will be permitted inside the examination hall.
Download the Aarogya Setu App and fill in the details asked. You will be asked to display your risk status at the entrance of the exam venue.
We hope you draw benefit from these tips. These are tried and tested methods and will certainly work for you as well.
All the best!!
Also read
Important Days in November 2021: Children's Day in India, World Vegan Day & More
AIC Recruitment 2021: Vacancy, Eligibility & More
National Housing Bank [NHB] Recruitment 2021: Vacancy, Eligibility and Exam Pattern