NABARD 2019 Exam
NABARD is one of the top organizations that work for rural development and expanding the financial reach there by providing agricultural credit to Indian farmers. A job in NABARD is a dream job for most of the job aspirants who are trying hard to grab a government job. The much awaited notification for NABARD Grade A & Grade B was recently released. NABARD Grade A was conducted in 2018 but NABARD Grade B is being conducted after a long gap of two years and thus the notification being even more important. The registration and application can be done only till 26th May 2019,therefore all those who are interested and have not yet applied yet, please do so, as soon as possible. Talking about NABARD, the exam preparation is equally important as the job itself. NABARD jobs are considered as one of the most coveted jobs in India being a government job and provide maximum facilities to the employees. Looking at all the facilities it is not difficult to guess that the selection process for the job will also not be too easy. Grabbing a job at NABARD might be a hard nut to crack. If done with the right plan and strategy, you can find multiple ways to crack that hard nut easily. The right plan with the right approach can take you places.
NABARD 2019: Grade A & B Prelims
Before you plan to prepare for NABARD Grade A or Grade B, you should know the complete information related to the exam and its pattern. You should know what to expect from the examination before you start preparing for it. The pattern for NABARD Grade A & Grade B Phase I (Prelims) is exactly similar and therefore if you have been planning to apply & prepare for both the exams, it is a great chance of nailing two most important examinations of the year in one go!! Let's first have a quick look at the exam pattern for NABARD Grade A & B Prelims.
NABARD Grade A&B Prelims Exam Pattern 2019
Sections
Marks
Time

English

40

120 minutes

Reasoning

20

Quantitative Aptitude

20

General Awareness

20

Computer

20

Economic & Social Issues (with focus on Rural India)

40

Agriculture & Rural Development (with focus on Rural India)

40

Total
200
There are total 7 sections in NABARD Grade A & B Prelims Examination. As is visible from the table above, there is a differential marking in all sections and the sections with maximum number of marks are Economic & Social Issues (with focus on Rural India), Agriculture & Rural Development (with focus on Rural India) and English. You may find some fixed sources for the first two subjects,through which you can prepare for these. The main issue that has always been there for the candidates is ENGLISH. English has been an issue with most of the candidates giving competitions. Though it seems a hard task at first, but if you commence your preparation at the right time, it will not be impossible to ace this section. Let's discuss about English and some general tips to nail it.
NABARD 2019: English – The Challenges & Tips
When it comes to English preparation of any exam, it takes a whole lot of stress and tension to overcome the challenges that come along with this subject. The stress gets doubled when it is about clearing an exam like NABARD. Also, the weightage given to English section in this exam is equal to the other important subjects of NABARD Grade A & B Examination. Therefore, you should know that you can not escape this section owing to the sectional cut-off in the exam. As the examination is around the corner, you need some quick crisp tips to ace the section in the limited time available.
NABARD Grade A & B English: The Challenges
You are too scared to take up English: A mental block.

Lack of confidence

Too weak in grammar

Too weak in sentence formation

Too weak in forming verb-tense consistency

Lack of fluency

Lack of pronunciation

Lack of comprehension:unable to connect the dots within a topic
And so on…..
The list of English challenges may continue. These are some general issues that most of the students / candidates face.
NABARD Grade A & B English: General Tips to Crack
English section in NABARD Grade A & B Exam 2019 is one of the most important sections which needs special attention as it holds 40 marks. Let's discuss some general tips to overcome the challenges discussed above.
Get IT Out: Stop being scared and get that terror out. You need to be ready to take up new challenges and therefore, it is better to remove the mental block from your mind and start trying.
Speak in English: Having less amount of time at hand, you should find ways to grab the language as fast as possible. Starting to communicate in English,will prove extremely helpful here,as you will be able to find out your mistakes even sooner. It will build your confidence.
Regular Reading: Nothing else would benefit more than a habit of regular reading. Get hold of English newspapers, books, articles online or offline. This will not only improve your abilities of sentence formation but also will gradually improve your grammar.
Read Aloud: Not just reading will benefit you, but reading loudly would benefit you in a better way. You will improve on your pronunciation skills along with fluency.
Practice: Another most important part of English preparation apart from reading is practice. Not unless you practice more and more 'exercises', you will be able to take up things at a faster pace. You will have a better understanding of tenses and how they are being used in a sentence. This will automatically help you with 'spotting grammatical errors' in the exam.
Real Exam Preparation: Whenever you pick up an English newspaper to read, it will be beneficial if you concentrate not just on the grammar, but also taking from the real exam point of view. Whichever newspaper you read, you will come across the editorial section of it and long articles would also be featured there. Try to take up those passages and start reading them with the intention of comprehending the main idea being discussed there. This would increase your comprehension skills and you will be able to take up an RC passage with faster speed, better opinion and improved confidence. Try to understand what is being discussed in the passage.
Jot Down: Whichever new word you spot while reading, immediately highlight it and if possible take note of it in your personal notebook. You can always refer to this collection of new words whenever you are confused.
Take help Online: You can always turn towards online sources like a 'Dictionary' app where you can set reminders for everyday for a new word and you can also check the pronunciation of any new word you spot anywhere.
Stay Confident: The most important tip is stay calm and confident. There is nothing in the world that you cannot conquer. English is just a language. You can easily manage to qualify the sectional cut-off if you follow the basic tips.
"Don't let what you cannot do interfere with what you can do".
All The Best!
Also Read:
NABARD Grade A & B: Important Agriculture Topics
NABARD Grade A & B: Best Books
NABARD Notification with All Details
NABARD 2019: 30 Days Study Plan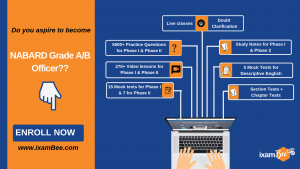 You can also get some useful information related to NABARD Grade A and B Exam preparation through our helpful videos.
Get Free Online Test Series, Daily GK Update, PIB Current Affairs, Banking Awareness as well as latest updates for Bank PO, Bank Clerk, SSC, RBI, NABARD and Other Government Jobs. займ первый раз без процентовзайм по 0займ до зарплаты челябинск