IBPS Interview- Attention Aspirants!
After clearing your IBPS PO  written examination, you are now about to face the most important phase, IBPS Interview  that will decide your future and lead you to the way to your dreams. The competition is going to be very tough, therefore you need to buckle up and start preparing for the Interview now.
Your performance in the IBPS PO Interviews will decide the worth of your attained marks in the written exam. As the competition is relatively high from the preceding years, you have to score extra ordinary marks to see your name in the merit list of the combined scores.
We at ixamBee have prepared a few interview tips for IBPS PO which will help you ace the interview. Below are the important interview tips for IBPS PO which can help you answer confidently and perform effectively in interview.
Know your own CV thoroughly
Questions will definitely be asked from your resume` as it is something which makes the impression of your personality. You need to be thorough with everything you have written in your resume and be prepared for the questions that can be asked. Know your strengths, weaknesses, hobbies, interests etc. Do not write any false information on the resume; this can lead to your direct disqualification. Be yourself, do not use fake accent and do not say something which you don't know or are not confident about.
Know about the Organization :
The first and foremost thing is to do a thorough research on the organization and its position. Visit the organisation website and jot down all the useful information available, like size, history, position of the organisation, main products and services, the names of top executives and current news stories.
Be updated with General Awareness and Current Affairs
Many questions related to General Awareness and Current Affairs will be asked in the interview, so keep yourself updated with at least last six months data. Make a habit of reading news paper daily as they are great source of current affairs. Read standard newspaper as well as financial newspaper to have an eye on the happenings around you. The most important thing to do is read the newspaper thoroughly on the day of the interview .
Know your Region/Locality well:
You might be asked questions about your region/locality and all the places you have lived and worked in. Such questions are asked to know your understanding and to judge your curiosity, ambitions, idea, and experience about world around you. Therefore, have full knowledge about the places you were born, brought up, lived, worked etc. Learn whether your city is having any record in history or is your city famous for any specific thing.
Click here for IBPS PO Exam Notification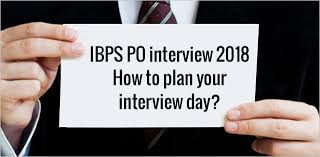 Apart from the above tips, below are general IBPS interview tips you need to follow to ace the interview in a smart way:
Make sure that all your documents are in order as candidates are not allowed to attend the interview without proper documents. You can make a check list of the documents to take to the interview.
The attire of a candidate makes an important impression on the interview panel as it is the first impression. For male candidates, light colored shirts with trousers and a tie is recommended. A suit would be better, but it is not mandatory. Well polished shoes with matching belt should be ensured. Females should go with saree or salwar kurta. In case, you want to wear western attire, then light colored shirts with trousers should be okay.
Ensure that you get a good night's sleep of 7-8 hours the day before the interview. It is always better to have a good rest rather than try to mug up at the last moment. Remember, you have prepared well enough for the interview all these days, so sleep adequately.
Ensure that your cell phone is switched off or on silent mode before entering the interview hall. It makes a very bad impression on the interview panel if your cell phone were to ring during the interview.
Maintain a pleasant demeanor during the interview and make sure to thank the interviewer(s) at the end of the interview for giving you their time.
Remember, the amount of effort that Usain Bolt puts in to prepare for his 10 second dash is largely unseen by anybody. In the same way, all the effort and hard work that you have put in would depend on the final interview round. Hence, make sure that you follow all the tips and guidance suggested by the experts to ensure your success in the IBPS PO interview.
Is Being Proficient in Maths Necessary for a Banking Career
An INTERVIEW IS NOT A TEST OF YOUR KNOWLEDGE BUT YOUR ABILITY TO USE IT AT THE RIGHT TIME. Just go in there and remember….. YOU ARE FANTASTIC!!!!
Practice Free Tests and improve your exam preparation
займ на яндекс кошелек без картызайм онлайн срочно с плохой кредитной историейвзять займ онлайн срочно без отказа