Reserve Bank of India conducts direct recruitment for all the Indian citizens on an annual basis. The selection procedure to become an RBI officer in Grade B cadre is quite intensive consisting of three phases. Each phase scrutinizes your ability to analyze, synthesize and draw some insights from the problem statement. The basic qualities of analysis, synthesis and drawing insights will help you perform the following roles as an RBI Manager under Grade B cadre efficiently.
Regulate, supervise and enforce policies
Contribute to functioning of various departments in financial markets and foreign exchange
Manage banking, currency, payments and financial inclusion
Work in different departments related to monetary policy, research and financial stability
Implement policies related to governance, human resource, support and customer service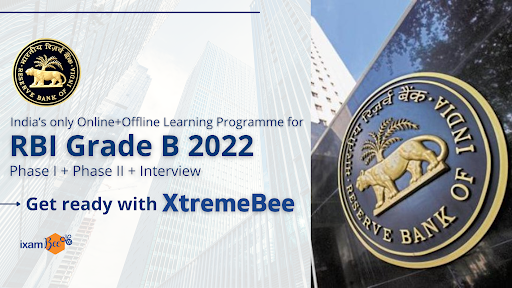 RBI Grade B Exam Preparation
Therefore, you should prepare for this exam only if you are truly focussed on making an impact on the economy. Do you know that for most of the civil services aspirants the next obvious choice is RBI Grade B? Does this mean that every RBI Grade B officer is an UPSC aspirant? Absolutely Not. Can you successfully compete against the aspirants of UPSC calibre? Absolutely Yes.
Although it is good to keep an eye on your competition, it is better to compete with yourself. With the right mix of study materials and preparation strategy to crack the RBI Grade B 2022, you can far surpass everyone's expectations. Top it up with the right guidance and you are bound to succeed in the RBI Grade B exam. If you do choose to prepare under an expert, then you can opt for either RBI Grade B online preparation or offline preparation.
Offline coaching generally entails lots of printed materials with physical sessions by faculty. One-on-one interaction with the faculty does help in building a better connect and the faculty can be attentive to individual doubts and progress. The pandemic threw a lot of challenges for the aspirants who were taking offline coaching for RBI Grade B exam preparation. Therefore, a lot of students switched gears and started RBI Grade B coaching, online.
RBI Grade B online coaching is more about getting lots of soft copies for the study material in the form of pdfs and video lessons. You can interact with the faculty virtually which means your interaction isn't limited to physical classes and that your studies won't be hampered by any pandemic.
Over the past few years, ixamBee has proven its capability to land aspirants into RBI as Managers. We were able to achieve this feat through our two RBI Grade B online courses which catered to different needs and challenges of our students. However, we are even more eager to get you a job in RBI than probably you are. We listened to your desires and have decided to present the third offering to you.
All About XtremeBee
ixamBee has launched a state-of-art program, XtremeBee, which will allow you to taste the best of both the online and offline worlds.
Q. What will be the duration of the course?
Ans. XtremeBee is a one-year course to prepare for RBI Grade B general stream. You get 60 hours of offline coaching in addition to the online coaching offered in our exclusive course.
Q. I am a working professional. I cannot take out 60 hours at a stretch from my work schedule for the offline coaching but am still interested in the program. What options do I have?
Ans. As we mentioned earlier, your wish is our command. The 60 hour offline study program is further divided into 2 sessions of ~30 hours each (it will strictly depend on faculty call). Each session will be spread over a course of 3 days.
Q. Where will these workshops be held?
Ans. These workshops will be held either in Delhi or Dehradun depending on the logistics arrangements.
Q. How will XtremeBee help me amp up my RBI Grade B preparation?
Ans. ixamBee is a known name when it comes to the RBI Grade B exam. We provide the best RBI Grade B coaching in India. We offer a slew of RBI Grade B online courses to help you prepare for the exam. XtremeBee program is further subdivided into modules covering the entire syllabus of RBI Grade B exam. A candidate can prepare each module through online classes and offline classes.
You need to be thorough with your study material and the discussions that happen in the online course before you can participate in the offline workshops. The three day workshops will be quite intense requiring a lot of assignment submissions, group interactions and doubt clearing sessions.
With the offline mode, you will be able to interact with the faculty one-on-one, meet your peer group in a physical set-up and interact with ex/serving RBI officials. Thus, XtremeBee is not a course but an experience that will not only allow you to learn but also leave you enriched for the rest of your life.
Q. What happens if I miss one of the 3-day workshops?
Ans. XtremeBee is a commitment towards your dream job. We encourage you to attend all the physical workshops as these sessions won't be recorded. However, in case of exigency, we will share the assignments that were taken up during the course of the workshop.
Q. I am excited to interact with the faculty face-to-face. But does this mean an extra cost to me?
Ans. Not at all. Your travel, food and lodging are all covered in the course fee.
Q. Ok, now I want to enrol myself in the XtremeBee course. How do I do that?
Ans. We congratulate you on setting your sights at RBI. However, to be a part of the XtremeBee fraternity, you will have to go through a rigorous selection procedure. You will have to take BeeSAT (an MCQ based online test) followed by an SOP submission and an optional interview (depending on the faculty's discretion). The selection procedure will help our faculty assess your preparation levels and your strengths and weaknesses. At no point in time, your score of any stage shall be revealed.
Q. What exactly is BeeSAT?
Ans. BeeSAT is ixamBee's online test to monitor your preparation levels. A total of 100 questions will be asked from the following topics.
General Awareness
Quants
English
Reasoning
ESI
Finance
Management
The level of the questions will be set as per the RBI Grade B Phase 1 and RBI Grade B Phase 2 standard. The score obtained is merely an indicator of your performance in the exam and is not the only criteria to assure you a seat in the XtremeBee program.
Q. What is the course fee?
Ans: Please get in touch with us to realize your dream and other benefits that you will derive from the year-long course.
At ixamBee, you can find free Online Test Series, GK updates in the form of BeePedia, as well as latest updates for SBI PO, Bank Clerk, SSC, RBI, NABARD, and Other Government Jobs.