Upcoming Bank Exams 2021
A major concern for everyone in today's age is getting employed. Employment is a big question in the current scenario as with every passing day, the competition has been increasing and making it difficult for an average person to build a desired career and life. There is a cut-throat competition everywhere, in every field, every sector, for every kind of job, be it of low level or high level. Though based on the current atmosphere, we cannot really single out one job which is best or better than other jobs but we can clearly make out that one sector which has been most preferred by majority of people is 'Banking'. Banking jobs have been the most sought-after jobs since few years, thus increasing the level of competition for everyone. Banks offer two main opportunities: PO (Probationary Officer) & Clerk.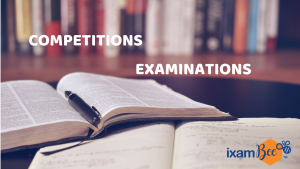 Banks release vacancies every year to recruit eligible graduates in both these posts and IBPS holds that responsibility of conducting these exams like IBPS PO, IBPS RRB PO,IBPS Clerk,IBPS RRB Office Assistant. There is huge demand for these jobs these days and most of the aspirants who are preparing for competitions, opt for these exams. The main reason of candidates opting for bank jobs is the sense of security and dignity that you get with them.But before you opt these, you should be well aware that there are three main types in which you can divide the banks: Regional Rural Banks,Public Sector Banks & Private Sector Banks. While opting for the banking sector, you need to be clear which type of bank you will be more interested to work in.
Regional Rural Banks (RRBs) & Public Sector Banks
The major points that differentiate a Regional Rural Bank and Public Sector Bank are:
Regional Rural Banks or RRBs work closely with the rural sector of India. They were formed with the intention of developing the rural and backward areas and extending the banking facilities there.
Public Sector Banks or commonly called commercial banks were started purely with monetary intention and making profits out of it targeting mainly the cities but working all-over India.
RRBs operate majorly towards agriculture finance, small sector loans, handicrafts and other small sector loans, whereas commercial banks or PSBs provide many other facilities like car loans,housing loans, credit to large companies along with agriculture finance etc.
These are some basic points that throw some light on the work areas of both RRBs and PSBs. Many of the candidates would prefer appearing for both these jobs thinking both are bankin jobs, not realising that there still lies a difference in their operations. Many candidates realize this difference after entering the organization and sometimes also decide to quit their jobs because of one or the other reason. One of the common reasons is workload in the organization. Most of you would wonder if workload in and RRB is less than that in a regular commercial bank /PSB. It's better to clear this confusion right away.
Workload in RRB vs PSB
Regional Rural Banks work in a limited geography and have limited products to offer therefore you can prefer a job in a Regional Rural Bank if you are worried about getting transferred anywhere across India. You may save the pain of moving to far away places.
RRBs primarily provide agriculture loans and rural schemes targetting towards benefitting the rural population of India, therefore we can say to some extent that work load is lesser as compared to commercial or Public Sector Banks as they offer a wide range of products and services.
RRBs function in majorly in rural as well as semi urban areas, whereas commercial or public sector banks operate all over India, in some cases abroad also. This makes it clear that comparatively RRBs function with a lesser workload than the commercial banks.
RRBs' main work area is accepting deposits and granting loans, whereas a commercial bank works on many other areas such as stock broking,merchant banking, insurance services,asset management,foreign exchange etc., thus extending the workload.
In a nutshell, we can say that RRBs have a bit of less workload than the commercial banks/PSBs as the scope of work in RRBs is still expanding. We can expect higher workload in RRBs also in the coming years, but their basic aim of serving the rural population will stay the same.
Though banks have been a hit among the job aspirants but you can always keep yourself open to all options and always stay updated about the upcoming examinations.
Also Read:
Difference Between RRBs and Nationalised Banks
Get Free Online Test Seriess well as latest updates for Bank PO, Bank Clerk, SSC, RBI, NABARD and Other Government Jobs.