Teaching is a very noble profession that shapes the character, caliber and future of an individual. If the people remember me as a good teacher, that will be the biggest honour for me.
Dr. A.P.J. Abdul Kalam
Teachers' Day is celebrated in India on September 5, every year. This year, the day falls on the first Sunday of September. This day is observed to acknowledge the contribution that teachers make on the lives of their students and by extension, on society.
History of Teachers' Day
National Teachers' Day has been celebrated on September 5 since 1967 that marks the birth anniversary of Dr. Sarvepalli Radhakrishnan. Exhibiting his love for teaching and academia, Dr. S. Radhakrishnan himself expressed a desire to observe his birthday as Teachers' Day in India rather than celebrating him in any other way.
Dr. S. Radhakrishnan
Dr. S. Radhakrishnan was born on September 5, 1888 in Tiruttani, Tamil Nadu. He was a philosopher, academic, passionate educationist and statesman par excellence. He served as the first Vice-President and second President of India. He became actively involved in politics at a later stage in his life.
Some of Dr. S. Radhakrishnan's achievements have been listed below.
He served as the Vice-Chancellor at Andhra University and Banaras Hindu University.
He has taught at Madras Presidency College, University of Chicago, Calcutta University and Oxford University among others.
He was a member of the Constituent Assembly of India.
He represented India at UNESCO between 1946-1952.
He was knighted in 1931, but dropped the title after India's independence in 1947.
He was awarded the Bharat Ratna in 1954.
He was nominated several times for the Nobel Peace Prize and Nobel Prize in Literature.
Why Is Teachers' Day Celebrated?
On this day, we honour and acknowledge all the teachers who have played instrumental roles in our lives through the years. Different teachers touch our lives in different ways. While some help us find our true calling, in some others we find unexpected friendship. While some teachers act as guides and mentors, some allow us to discipline ourselves through tough love. Either way, every teacher plays an independent and unique role in all of our lives.
How to Celebrate Teachers' Day?
In schools, colleges and universities, generally, students organize some form of entertainment such as skits, songs, dances and the like. Students find creative ways to let their teachers rest, relax and enjoy their day.
However, the best way to celebrate Teachers' Day is to let teachers know what they mean to you and how they have touched your lives. Often, students make cards and prepare simple gifts for their teachers.
This year, remember to call your teachers and let them know how they have touched your life.
Importance of Teachers' Day
This year, the importance of teachers in our lives has become manifold apparent. Our teachers have worked tirelessly through the pandemic to ensure that their students do not suffer any loss due to the COVID-19 pandemic and its resultant lockdown(s). Teachers have had to adopt a whole new pedagogical approach with online teaching and assessments.
Right from Kindergarten to university-level education has been carried out online. Our teachers deserve a special shoutout to let them know that their efforts have not gone unnoticed.
Movies to Watch on Teachers' Day
If you are a movie fanatic, you will need little excuse to watch a new movie. We have put together the names of some movies that you can enjoy watching this Teachers' Day.
Taare Zameen Par
Secret Superstar
Dangal
Chak de! India
Black
To Sir, With Love
Dead Poets' Society
The Perks of Being a Wallflower
Books to Read on Teachers' Day
Ignited Minds by A. P. J. Abdul Kalam
To Sir, With Love by E.R. Braithwaite
The Catcher in the Rye by J.D. Salinger 
Goodbye Mr. Chips by James Hilton
The Story of My Life by Helen Keller
Teachers' Day in India Trivia
World Teachers' Day is celebrated on October 5. It is a UNESCO-mandated holiday in observance since 1994. 
Guru Poornima is an Indian tradition observed on the full moon day of the Ashadha month of the Vedic calendar. It is a day to honour our spiritual, religious and academic gurus. 
Guru Poornima is also observed in Nepal. 
Meet Our Teachers!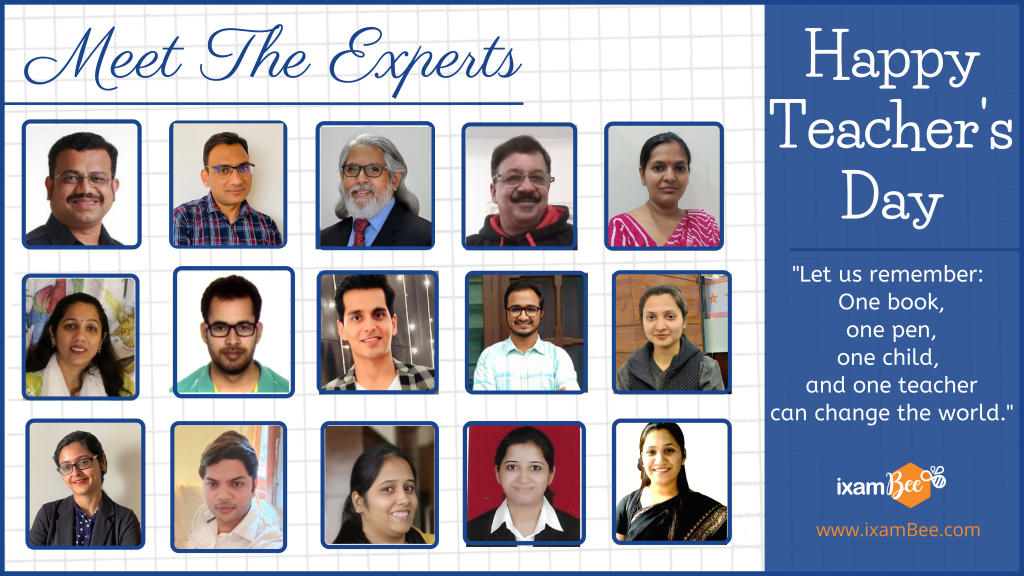 While Teachers' Day is usually celebrated in schools and other educational institutions, we must also remember our coaches, tuition teachers, religious-spiritual leaders and very importantly, our first teachers, our parents, on this day as well. 
Team ixamBee extends a heartfelt thank you to all the teachers out there!
At ixamBee you can find a number of Online Courses, GK updates in the form of BeePedia, as well as latest updates for Bank PO, Bank Clerk, SSC, RBI, NABARD and Other Government Jobs.
Also read
Khel Ratna Award: Selection Process, Awardees, Trivia and More!
Important Days of August: National Handloom Day, Breastfeeding Week & More!