The Narcotics Control Bureau (NCB) arrested Aryan Khan and two others on October 2, 2021 from the Empress ship off the coast of Mumbai following a raid on a rave party.
He was arrested under Sections 8(c), 20(b), 27 and 35 of the Narcotic Drugs and Psychotropic Substances Act (NDPS), 1985.
Subsequently, the NCB invoked Sections 27A and 29 of the said Act on October 13, 2021. The above mentioned provisions are two of the most stringent sections of the said Act.
These two sections were also invoked in Rhea Chakraborty's case in 2020.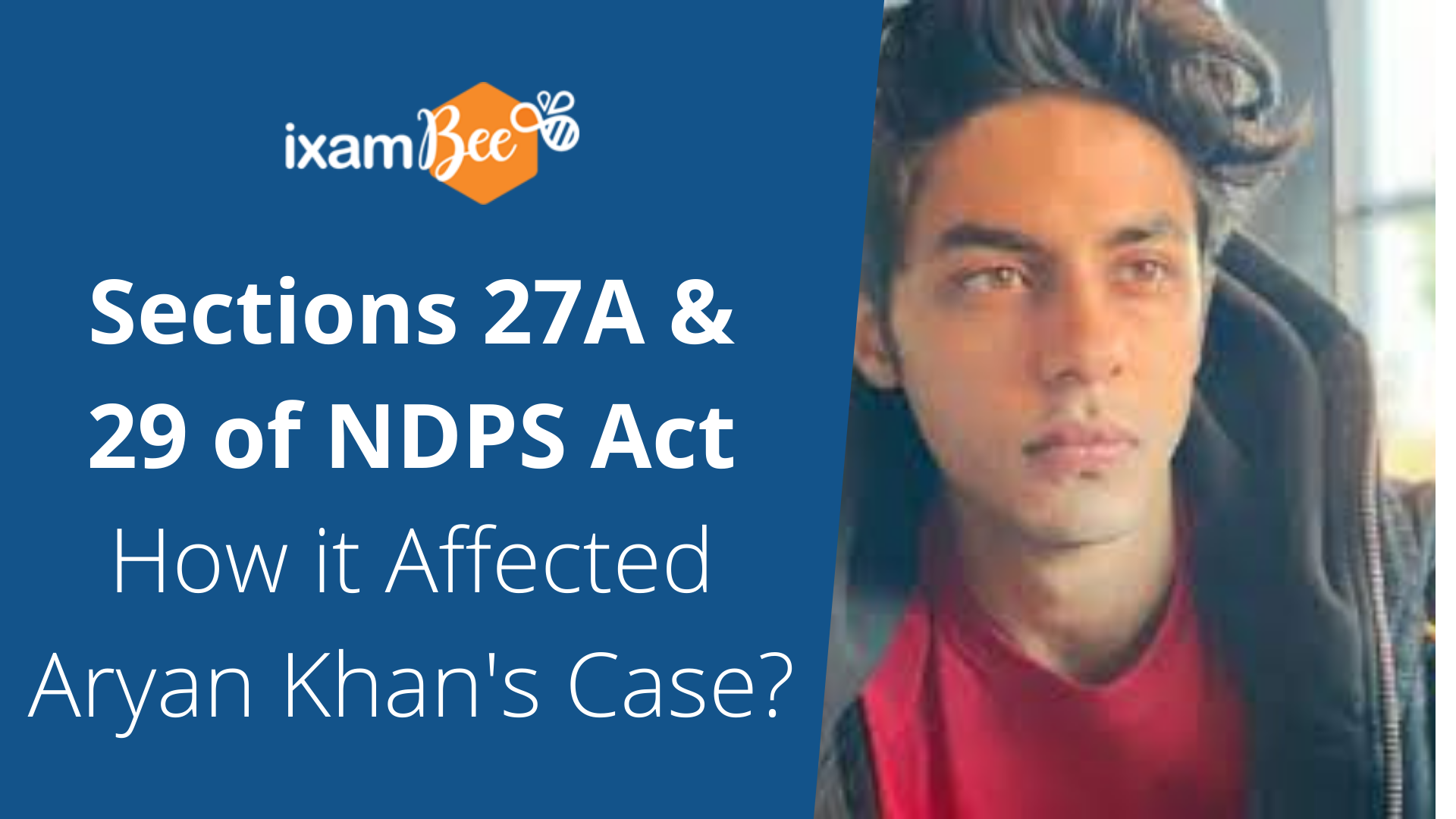 Brief Overview of the NDPS Act
The Narcotic Drugs and Psychotropic Substances Act (NDPS), 1985 came into force on November 14, 1985. It is a special law.
This Act prohibits  any person from the production/manufacturing/cultivation, possession, sale, purchasing, transport, storage and/or consumption of any narcotic/psychotropic substance.
It extends to the whole of India and also applies to all Indian citizens outside India and to all persons on ships and aircrafts registered in India.
This Act sets up Special Courts to deal with cases arising from these offences.
The NDPS Act also set up the Narcotics Control Bureau (NCB) to investigate offences mentioned in the Act.
Note- The major reason for enacting the NDPS Act was to fulfil India's treaty obligations under the Single Convention on Narcotic Drugs, Convention on Psychotropic Substances and UN Convention Against Illicit Traffic in Narcotic Drugs and Psychotropic Substances.
NDPS Act Amendments
Recent amendments in the NDPS Act-
Understanding the Sections of NDPS Act
Before looking at the impact of these sections we must understand what these sections entail.
Sections
What they provide
Section 8(c)
This section has wide provisions for producing, manufacturing, possessing, selling, purchasing, transporting, using, consuming, importing, exporting any narcotic drug/psychotropic substance.
Section 20(b)
Provides punishment for contravention in relation to cannabis plant/cannabis.

Punishment- Six months imprisonment or fine of Rs. 10,000 or both.
Section 27
Relates to the consumption of any narcotic drug or psychotropic substance

Punishment– rigorous imprisonment of one year or fine of Rs. 20,000 or both.
Section 27A
Provides punishment for financing illicit traffic and harbouring offenders

Punishment– rigorous imprisonment of 10 years which may extend to 20 years and a fine of one lakh rupees which may extend to two lakh rupees.
This is a non-bailable offence.
Section 29
Punishment for abetment and criminal conspiracy

Punishment– as per Section 116 of the Indian Penal Code, 1860.
Section 35
Presumption of culpable mental state (intention, knowledge and reason to believe).
The accused has to rebut this presumption.
Impact of Section 27A & 29 of NDPS Act
In the first instance, Aryan Khan was arrested under sections 8(c), 20(b), 27 and 35 but later on he was also slapped with charges under Section 27A & 29 of NDPS Act. These sections provide harsher punishments and are non-bailable.
It was alleged that Aryan had exchanged WhatsApp messages with drug peddlers for procuring "bulk quantities" of hard drugs which would fall under the ambit of Section 27A. In other words, even if he was not committing an offence under Section 27A, he could have been "conspiring" with other accused based on the WhatsApp messages, under Section 29.
Let us understand Section 29 with the help of an example-
An accused drug peddler, gets convicted, the others who were a part of the conspiracy will also get punished even if they did not have an active role in the commission of the offence.
Aryan Khan Case: Controversy
These charges are concerning because they were neither mentioned in the arrest memo nor written in the remand memo. Moreover, there was no recovery of drugs or any banned substance from him. Despite that, these charges became one of the grounds for opposing his bail application.
However, on October 28,2021 the single bench of Justice Nitin Sambre granted bail to Aryan Khan and two others.
The court found "nothing objectionable" in the WhatsApp messages which pointed towards a conspiracy.
Conclusion
Aryan Khan and Rhea Chakraborty cases are instances of an upcoming trend where the investigative agencies are adding the conspiracy angle to high-profile cases.
This trend has become quite extensive. In short, this might be the beginning of a new prosecution tactic which will trap innocent people in its clutches without giving them a chance to prove their innocence.
At ixamBee you can find free Online Test Series, GK updates in the form of BeePedia, as well as latest updates for Bank PO, Bank Clerk, SSC, RBI, NABARD and Other Government Jobs.
Also Read
Ayushman Bharat Health Infrastructure Mission: Objectives & Significance
Padma Awardees of 2021: Brief History and Winner
October 2: Gandhi Jayanti and the International Day of Violence