The SEBI Grade A 2022 exam notification is has been released on January 5, 2022. Now, it is time for us to go over the SEBI Grade A Legal Officer post and exam details. The SEBI Grade A recruitment 2022 application window will remain open till January 24, 2022.
In this article, we will go over the details of the exam such as SEBI Grade A Legal Officer syllabus, job profile and the SEBI study material available for us.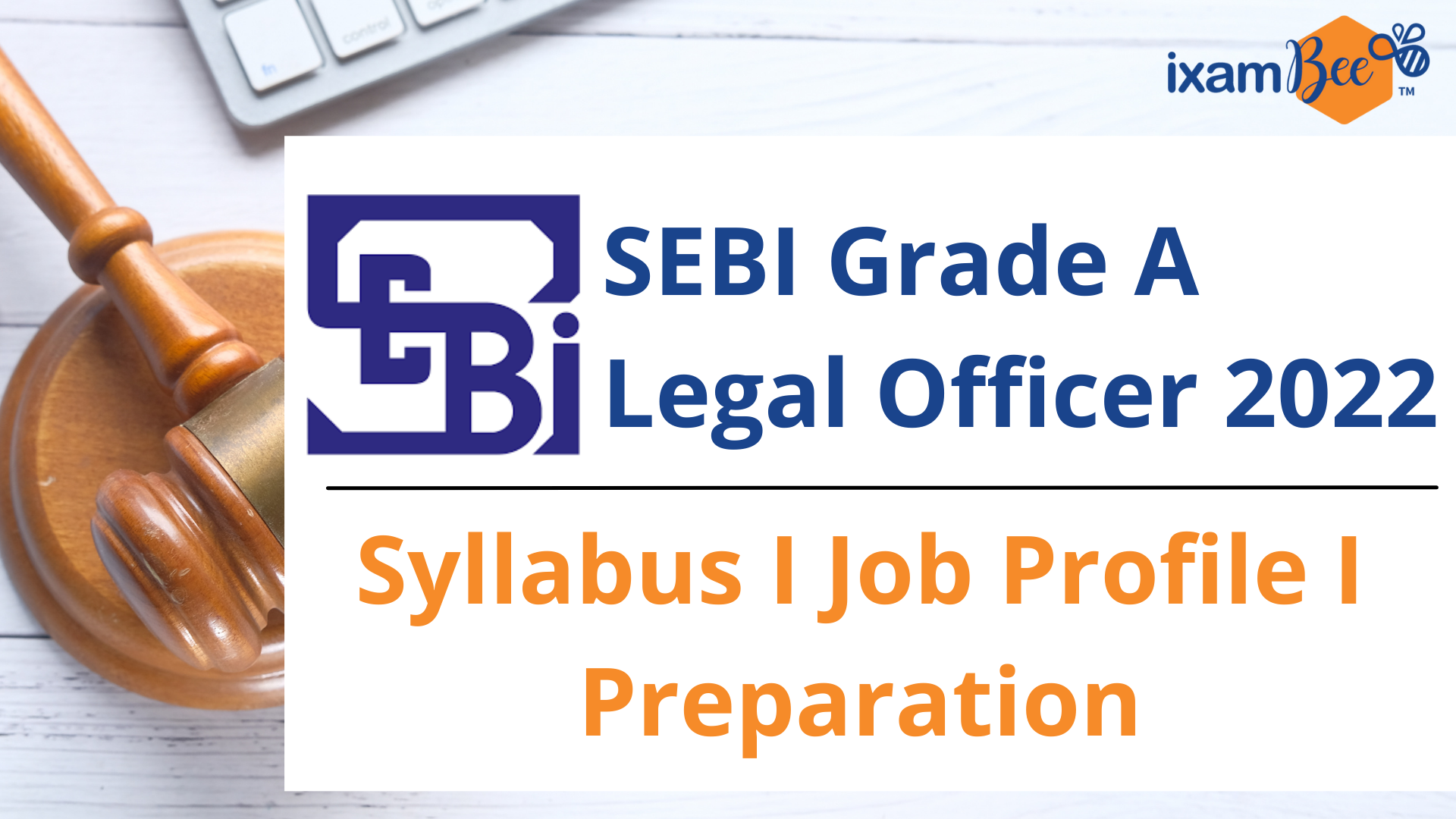 Job Profile for SEBI Grade A Legal Officer
If you want to take the SEBI Grade A Legal Officer 2022 exam, it will be a good idea, to understand what the job actually entails.
Taking care of SEBI's legal matters
Approving and amending stock exchange by-laws
Inspecting accounts of stock exchanges and stockholders
Recognizing and correcting any malpractices within the securities market
Educating investors about the securities market
Suspending security trading of a stock exchange
Allowing and withdrawing recognition of a stock exchange (when required)
Moreover, it is a good idea to learn more about the Role and Functions of SEBI as an organization and its objectives if you are looking to work with SEBI in the future.
Before we move on to review the syllabus, please ensure you are aware of the SEBI Grade A Legal Officer exam pattern. Only then can you understand the syllabus covered under different subjects.
SEBI Grade A Legal Officer Syllabus
With all other subjects remaining common, aspirants appearing for the Legal Officer exam will be required to take 2 papers on Professional Knowledge, one in each phase of the exam. Take a look at the detailed Professional Knowledge syllabus in the table below as directed in the SEBI Grade A 2022 notification.
Topic
Sub-topics
Constitution of India
Preamble
Part I
Part III
Part IV
Part IVA
Part V
Part VI
Part VIII
Part IXA
Part IXB
Part XI
Part XII
Part XIII
Part XIV
Part XIVA
Part XX.
Law of Contracts
Indian Contract Act, 1872 (Chapters VIII to X)
Indian Partnership Act, 1932
Specific Relief Act, 1963
Criminal Law
Indian Penal Code, 1860 (Chapters I, II, III, IV, V, VA, VI, IX, XVII, XXI, XXII, XXIII)
Code of Criminal Procedure, 1973
Law of Evidence
Indian Evidence Act, 1872
Administrative Law and Principles of Natural Justice
Jurisprudence and Interpretation of Statutes
Important Latin terms and maxims
Law of Torts and Consumer Protection Act, 2019
Arbitration and Conciliation Act, 1996
Part I
Part III
Part IV
Transfer of Property Act, 1882
Chapter III
Chapter IV
Chapter V
Law of Trusts
Parties to a Trust Deed and Duties of Trustees
Corporate Law – Companies Act, 2013 (Chapter I to Chapter XXIX)
Limited Liability Partnership Act, 2008
Insolvency and Bankruptcy Code, 2016 (Part I, Part II)
Taxation
General principles
Capital Gains Tax
Securities Transaction Tax
Securities Laws
SEBI Act, 1992
SC(R) Act, 1956
Depositories Act, 1996
Want to study the Aptitude test subjects and English language syllabi in detail? Then take a look at the complete SEBI Legal Officer syllabus. 
SEBI Study Material
BeePedia
At ixamBee, we have various resources that you can derive benefit from, as per your need and comfort. These include, mock tests, previous year papers, online courses and BeePedia for General Awareness.
Mock Tests & PYQPs
Take SEBI Grade A Legal Officer mock tests with ixamBee. These are free and can be retaken as many times as you like.
Likewise, you must review SEBI Grade A previous years question papers as well so you understand which parts of the exam syllabus need more of your attention.
SEBI Grade A Legal Officer Study with ixamBee
Take a look at ixamBee's SEBI Grade A Legal Officer Exclusive Demo Course. Take a look at the features of the course below to understand how it is your one-stop solution for SEBI Grade A exam preparation..
400 + Video Lessons
150+ Study Notes in PDF format
25 Full-length practice tests
Daily Live classes online
Personalized study plan
One-on-One Meetings with Faculty
Interview Guidance and preparation
All time access to mentor
Moreover, if you want to get a feel of our live classes, take a look at the video below.
Get Free Online Test Series, GK updates in the form of BeePedia as well as latest updates for Bank PO, Bank Clerk, SSC, RBI, NABARD and Other Government Jobs.
Also read
How to Crack SEBI Grade 2022 Exam in First Attempt? Best Tips for You!
SEBI Grade A Preparation Strategy for Phase 1 (Paper 1 and Paper 2)
How to Crack SEBI Grade A 2022 Without Coaching?