IBPS RRB PO 2021 Interview Call Letter Out!
Good News Aspirants! IBPS RRB PO 2021 Interview dates have been scheduled to be held tentatively from November 08, 2021 onwards. If you are one of the lucky few who have been invited to an interview, we will strongly urge you to not take any chances with your Interview preparation and ace the IBPS RRB PO Interview with experts of ixamBee. Our experts will make sure that you make it to the end. IBPS has released an Official Notification regarding the dates with the detailed list of selected candidates for interview in Officer Scale 1. You can check the official notification link provided below
IBPS RRB PO (Scale 1) detailed list of candidates shortlisted for Interview.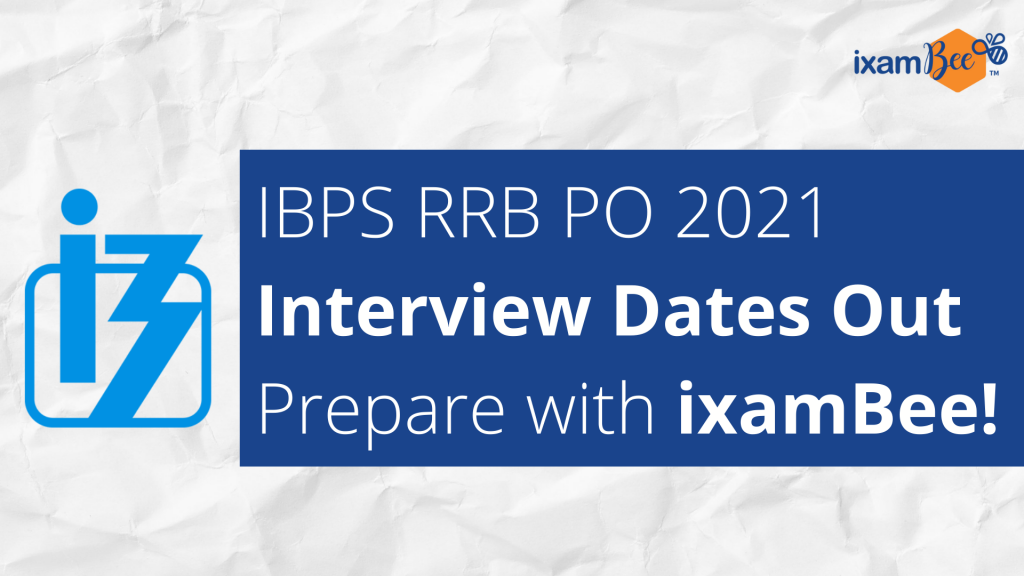 IBPS has also announced the detailed state wise and category wise cut off list for IBPS RRB PO . You guys can check the cut off for the state you applied for and can check your chances on the basis of the cut off. Mains score card of selected candidates will be released after the commencement of interview.
You can check the IBPS RRB PO Sectional cut off and Overall Cut off here.
Now that you have reached the interview stage, here are a few things you are required to take care of while giving an interview. The first impression is the best impression. Therefore, make sure the interview panel pursues you as a decent and confident candidate. Provided below are some tips to be taken care of in the IBPS RRB PO interview 2021.
The first thing is the punctuality. Try to reach the interview spot well before the reporting time. 
How you dress says it all. Follow the formal dress code. Don't wear casual clothes as it gives out a non serious attitude. 
Don't wear sports shoes. This is for both female and male candidates
Female candidates can make a neat ponytail or braid and boys should comb your hair in a neat manner. Try to have a decent length.
You should not take your mobile phone to the interview hall. Before entering the interview hall, put your mobile in silent mode.
Female candidates are advised to avoid using nail polish.
Opt for sober colours on the D-Day. 
How to prepare for IBPS RRB PO 2021 Interview?
Read Newspaper daily
This is the most important aspect an interviewer judges you. Your basic knowledge of current happenings and your views on that is what will be asked by the interviewer. Make it a habit and try to discuss the issues that are in news with your friends and family. Also, don't forget to read the newspaper on the day of your interview. 
Know about yourself in detail
One of the major traits that an interviewer is looking for is your personality. You should know about yourself from top to bottom. If you haven't thought about it till now, maintain a notebook and write about yourself in that. Here are some things you can write about 
About Yourself (meaning of your name) 
About the state you belong to. Major things about the state and city you live in. 
Your strong and weak points. 
Your graduation subjects knowledge. This is the most important thing and you should be fully prepared to answer any question framed about this.
Why you want to join the banking industry (if you belong to a science/Engineering background you should prepare an answer in such a way that can convince an interviewer.
Your hobbies and interests (don't lie about this as the interviewer can frame any question around this)
Have thorough knowledge about the bank as well as profile
IBPS recruits for various regional rural banks. Try to know about the bank you prefer to join. Understand the basic history of the bank, its services, number of branches and the overall rank of the bank. Also, try to know about the work profile of the post you are applying for i.e. Scale 1. You must also be aware of the salary and other allowances of your job profile. This will show your seriousness about the job and will impress interviewers.
Attempt Mock Interviews
Attempting Mock interviews will be of great help for your D-Day. Through mock interviews, you will get to know your weaknesses and you can try to overcome them in due time. It will help you to understand what else you need to prepare for your interview. In case you are interested to avail this from ixamBee, you can enroll in IBPS RRB PO Online Interview Course.
Features of the IBPS RRB PO Online Course
In ixamBee's Online interview Course, you will get the following.
A Live Class will be conducted by various experts to help you prepare well for all aspects of the Interview like:

Preparation Strategy
Technical & Behavioural Skills
Verbal and non-verbal communication
Relevant interview topics
Tricks to tackle tricky questions

One on one Mock Interview will prepare you to face the interview with confidence. One on one Mock Interview will consist of:

Interview Simulation with experts
Detailed Feedback & Suggestions
Identify strengths and weaknesses
Query Resolution
Keep all your documents handy
Last but not least, assemble all the required documents for IBPS RRB PO Interview 2021. Here are a few things you will need to bring to the interview venue.
Printout of your IBPS RRB PO Interview Call Letter (Link is active)
Printout of online application (the link to download this will be active soon)
10th, 12th Mark sheet & Certificate (in original and photocopy)
Graduation Marksheets and Degree Certificate (Provisional/Final)
Identity Proof (Any one among the following-Voter Id, Aadhar Card, Driving License. Passport, PAN Card, Passbook)
Birth Certificate 
Caste Certificate (If applicable)
Work Experience Certificate (If applicable)
NOC (No objection certificate) (If applicable)
We hope you will prepare well for your interview and ace this last leg of your race. Check out our other Bank PO Online Course as well.
All the Best for IBPS RRB Interview 2021!
At ixamBee, you can find free Online Test Series, GK updates in the form of BeePedia, as well as latest updates for SBI PO, Bank Clerk, SSC, RBI, NABARD and Other Government Jobs.