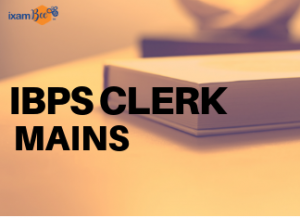 It has been few days since the IBPS Clerk 2020 Prelims result was released and many of us were happy to check the results and many others were sad to see that they couldn't qualify. Well, the ones who couldn't fare well must aim higher and look around for more opportunities, if not this one, and stay motivated enough to not let failure overpower you.
The ones who were able to cross the first step should put a stop to the celebration and start gearing up for the next step. Clearing the first part of the selection process is an achievement in itself and that might surely give some positive motivation which should continue while you prepare for the next stage.
IBPS doesn't give you enough time between the prelims results and the mains examination and therefore you need to be on your toes as soon as the result is announced. Expecting that you might have started your preparation just after the prelims phase ended, we are here to give a final touch to your preparation with a 10 days strategy to make sure you do not leave any stone unturned in the preparation towards attaining a dream career.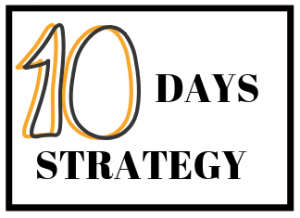 Being directionless or lacking a plan will only add to your misery. Planning helps you in utilizing your time in the most appropriate manner and gives you an edge over others who are randomly and aimlessly preparing for it. Having a plan beside you is even more important when you are left with much less time so that you do not waste even a second of this time left with you.
Each second lost right now would be equal to losing an opportunity.
Before making a plan, what's most important is knowing the examination pattern that will help you best in composing a plan accordingly. Let's look at the exam pattern:
IBPS CLERK 2020 MAINS EXAM PATTERN
| | | | |
| --- | --- | --- | --- |
| SECTION / SUBJECT | NO.OF QUESTIONS | MAX.MARKS | TIME ALLOTTED |
| ENGLISH LANGUAGE | 40 | 40 | 35 |
| REASONING AND COMPUTER APTITUDE | 50 | 60 | 45 |
| QUANTITATIVE APTITUDE | 50 | 50 | 45 |
| GENERAL AWARENESS | 50 | 50 | 35 |
| TOTAL | 190 | 200 | 160 |
According to the weightage given to all the sections, it should be clear that one needs to devote equal time to all of them as you need to clear the sectional cut-off for each section along with the total cut-off.
To start with, you need to analyze your weaker and the stronger sections and allot time in your study plan accordingly.
IBPS CLERK 2020 MAINS STUDY TIPS FOR-  ENGLISH LANGUAGE
English is a common language these days but surely not a 'funny language'! Being common gives it extra importance as you will find this section in almost all the competitive exams these days. It may not be funny but it is also nothing to fear about. Though learning English Language is not a matter of few days or months, but by following some simple steps you can surely imbibe a lot and be ready to face the examination with confidence and a positive attitude. Let's look at some simple ways-
Collect

all the possible material that you can use for practicing grammar exercises. You may find banking-related English grammar material in the books that are easily available in the market.

Read

the newspaper every day till the examination, without fail, especially the editorials. It will not only help in building your vocabulary but also help in brushing up your knowledge of current affairs.
If you will be lucky enough, you might come across a similar passage in the reading comprehension!! Well, that gives you all the more reason to read a newspaper regularly.
Practice

online tests and specifically English sections that will give you the exact feel of the exam and will help you in keeping a time track.
IBPS CLERK MAINS STUDY TIPS FOR – QUANTITATIVE APTITUDE
IBPS CLERK 2020 MAINS 'Quantitative Aptitude' is another important section in most competitive exams. Students with a non-mathematics background may face a bit of difficulty in this section, but it is also one scoring section, where you can find a certain number of approachable questions which an average student may also find easy to attempt. Moreover, it covers mostly 10th level syllabus which almost everyone has studied. What is needed is some practice which gives you an idea about the difficulty level and also the confidence to attempt any kind of question in the actual exam scenario.
"

Knowing

the syllabus" is an important step towards performing well in any section.

IBPS CLERK 2020 MAINS QUANTITATIVE APTITUDE

covers many topics which are mentioned in the syllabus covered by IBPS in most of its exams, consisting of questions from Arithmetic, number system, quadratic equations, simplification, probability, DI etc.           

"Segregate"

the easier and difficult chapters and accordingly make a plan with the timeline of how much time to be given to each chapter in a day. Try to cover as many chapters as you can in the available time and devote a day to each and every section and assign the chapters accordingly.

"Practice"

is the key to nailing the

IBPS CLERK 2020 MAINS QUANTITATIVE APTITUDE

section. It not only makes you strong in your weaker areas but also helps you in realizing your strong areas, with the help of which you can ace this section. With practice, you come to know which type of question you need to attempt/devote your time to and which type of question you DO NOT have to attempt/waste your time on, as in the actual exam scenario, you do not have time to think and then realize later that you were not supposed to attempt that particular question.

Learn some shortcut methods which can give you an edge over others, and help you solve certain time-taking questions in less time. Practice those shortcut methods well on a regular basis, as you tend to forget things once you get out of practice.

Learn all the important formulae from all chapters, by heart.

Learn all tables, squares, cubes, common percentages and their fractional and decimal equivalents, which will help you well in tackling the calculative questions in as less time as possible.

Find good and trustworthy online/offline material to study and practice.

As it is a clerical level examination, the examiner would probably concentrate on testing your calculation skills rather than providing too difficult questions.
IBPS CLERK MAINS STUDY TIPS FOR – REASONING ABILITY & COMPUTER APTITUDE
Reasoning ability is one of the most important topics in IBPS CLERK 2020. It may also prove a tough nut to crack for many of the aspirants as it is more of a test of your natural cognitive abilities as  it is less knowledge based and more practical based. By cognitive we mean, it tests your mental skills, as in how well do you analyse , how well are you able to solve a problem in any specific situation, in as little time as possible.
The reasoning section is a mix of logic and reasoning skills.
By following few simple tips, you can still manage to fare well in less time.
Certain points that you need to keep in mind are-
Divide the chapters according to the difficulty level – Easy / Moderate / Difficult.

Divide the time you have according to your strength and weakness.

Divide the questions according to the probability of your attempting them the least / most accordingly.

Remember not to ignore the easier topics, while practicing the tougher ones.

Keep a track of what you are doing.

Keep a stopwatch while solving a puzzle and try to invent ways to reduce the time in the next attempt.

Try to use least paper space while solving a question, especially a puzzle.

Do not get stuck on a question/puzzle if you cannot manage it in some time and mark it for review to return to it later, if you feel it can be done for sure. By getting stuck, you are eating up your time meant for other questions.

PRACTICE and only practice can save you in the actual exam.
IBPS CLERK MAINS STUDY TIPS FOR – COMPUTER AWARENESS
Computer Awareness forms a small part of the IBPS Clerk 2020 exam. It is usually asked in the 'mains' exam, included within the Reasoning section.
The questions that are asked under this section are normally based on the fundamentals, operational knowledge, questions on software and hardware, keyboard shortcuts, and other miscellaneous topics. Computer Awareness may prove to be one easy catch and a scoring part as it doesn't need very technically detailed knowledge to answer the questions in this section. As the name suggests, it tests your basic awareness of computers.
IBPS CLERK MAINS STUDY TIPS FOR – GENERAL AWARENESS
As 'general' as it may seem by the name, it is as much complex as you can think of. 'General Awareness' is not a cakewalk, if you are not consistent with your efforts to stay in touch with the daily news. General Awareness includes everything from current affairs to your 'general' knowledge which includes static GK. Some basic points to be taken care of are –
STAY UPDATED – Read newspaper daily. Try to at least read all the headlines covered in a newspaper, preferably English ( Will help build your English Language as well).
JOT DOWN THE DAILY NEWS – Reading daily news won't be enough sometimes, so " precaution is better than cure". Always maintain a diary where you record all the daily news on a daily basis. You can do that from various online websites.
NOTE DOWN ALL THE STATIC GK – Having all information in one place saves your time and energy and keeps you concentrated and calm at the last moment. You will not have to run and rush for things at the last moment.
Static GK that needs to be studied is –
IMPORTANT DAYS
IMPORTANT EVENTS
CAPITALS & CURRENCIES (Especially the ones in news)
IMPORTANT NATIONAL & INTERNATIONAL ORGANIZATIONS and THEIR HEADQUARTERS
NATIONAL PARKS / DAMS / RIVERS
AIRPORTS / STADIUMS
RECENT SUMMITS
BOOKS & AUTHORS
SPORTS
ECONOMY / FINANCE
HISTORY/SCIENCE/ GEOGRAPHY
General Awareness can be a scoring section if paid attention to since the start. It is best if you keep making notes and highlight the important news you come across in a newspaper. All the other sections are based on your knowledge and practice.
It would be good to follow some common tips that may help you in any examination that you appear in.
GENERAL TIPS FOR IBPS CLERK 2020 MAINS
Avoid attempting questions you are not aware of.

Scan the paper before attempting.

Practice as much as possible.

Avoid mistakes- avoid negative marking; Maintain accuracy.

Write/solve in clear handwriting, which is readable by you later.

Do not panic.

Take some time out for yourself in order to avoid boredom and monotony in the preparation schedule.
The best preparation for tomorrow is doing your best today.
                                         ALL THE BEST!
Also read:
List of Highest Waterfalls in India [Updated]
Public Distribution System: Objectives, Functioning, Limitations
NABARD Grade A: 60 Days Study Plan for Sure-Shot Success!
IPCC: NABARD Grade A/B Important Topic
Get Free Online Test Series, GK updates in the form of Beepedia,  as well as latest updates for Bank PO, Bank Clerk, SSC, RBI, NABARD, and Other Government Jobs.
займ онлайн без работызайм онлайн без кизайм экспресс екатеринбург