Happy Teachers' Day 2019!
"A good teacher can inspire hope , ignite the imagination and instill a love of learning "- Brad Henry Read
Teachers' Day: Why Do We Celebrate It?            
  Every year the 5th September is celebrated as Teachers' Day to mark the birth anniversary of  nation's second President Dr. Sarvepalli Radhakrishnan. It is celebrated to honour his memory and commemorate the importance of teachers in our lives.
             Teachers definitely play a very important role in one's life.  They inspire us , entertain us and make us understand things which seem difficult to learn. They instill in us the confidence to fight against odds and make us believe that nothing is impossible in the world to achieve if we are passionate about it.  They improve our skill , personality and confidence and are the pillars behind our every success. They are the holder of knowledge , enlightenment and prosperity who always want their students to be academically wonderful and morally good. Source of lighting lamp in our lives and prepare us for every obstacle.
               They are the nation builders  as they build the future and nourish young minds who are ultimately the future of the country. They are the real potters who not only give shape  to their students future but also enable to lit a lamp forever by dispelling the darkness across the world so that the nation can be enlightened and prosper. They help the students to explore their interests and identify their capabilities as well as work on their weakness. They work continuously and tirelessly with the purpose not to create students in their own image but to develop students who can create their own image .
                   A teacher is the best trainee who can help everyone achieve their aim in life. They exert a tremendous influence in the minds of every citizen and upon the society. They have the power to change the path and destiny of every nation .They infuse in us the power to dream and pushes  us hard to achieve it even sometimes making our life tougher and setting strict rules to follow. They open new doors of opportunities by making us realize our true potential and capabilities.They know how to bring out the best part of their students .
                   Teaching is one of the noble professions which is priceless as they want nothing in return except their student success and prosperity.  Teachers are the torch bearers of a nation's growth and prosperity . We cannot return them what they had given to us because it's not our worth but yes can be obliged and grateful for shaping our future and redefining our thoughts . So on this teacher's day not give them a gift but make them proud by doing well in whatever field we are . Our achievements will be a more worthy  and priceless gift that we can ever give to them.
ixamBee tries to play the role of a good teacher by providing crisp and appropriate content to all its students along with free mock tests for all major exams.
Our competent faculty is contributing towards our students' career by providing the best possible content that is crisp and appropriate.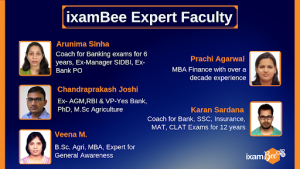 Get Free Online Test Series, Daily GK Update, PIB Current Affairs, Banking Awareness as well as latest updates for Bank PO, Bank Clerk, SSC, RBI, NABARD and Other Government Jobs. частный займ в москве срочнозайм денег без паспортахочу взять займ