Happy Republic Day!
January 26 is celebrated all over India with great enthusiasm to mark the adoption of the constitution by India. To celebrate this day, magnificent parades are organized by regiments of the Indian Army, Navy, Air Force, Police, and Paramilitary forces in New Delhi, India. States from all over India showcase their culture, uniqueness with beautiful tableaus. After gaining independence from British rule (almost after 200 years) on August 15, 1947, India adopted the constitution on January 26, 1950.
Do you know who wrote the first copy of our constitution?
Well, Prem Behari Narain Raizada has written the original or the first copy of the constitution in a flowing italic style with beautiful calligraphy.
An interesting fact about him: Upon asking about the charge to write the constitution, He said, Not a single penny. By the grace of God, I have all the things and am quite happy with my life. But I have one reservation—that on every page of the Constitution I will write my name and on the last page I will write my name along with my grandfather's name.
Prem Behari Narain Raizada's handwritten versions of the constitution (Hindi and English) are stored and kept in special helium-filled cases in the Library of the Parliament of India.
Read Here in detail about the Constitution of India
India is about to celebrate its 72nd Republic day this January 26, 2021 which is going to be held at Rajpath, New Delhi. This republic day will be different in many ways amid the ongoing COVID-19 pandemic. It will be the fourth time in history when India celebrates January 26 without any foreign guests. UK Prime Minister Boris Johnson was about to join the celebration but due to the new strain of coronavirus, he expressed his apology to PM Shri Narendra Singh Modi. The last time when there was no chief guest on the Republic Day was in 1966.
Key Highlights of 72nd Republic Day:
This year, Republic day is about to witness some major changes in the parade as well. National Security Guard (NSG) commandos will march with a safe distance of more than 1.5 meters as per COVID-19 protocols.
No joint parade of India and Pakistan will take place at Attari Border which used to be a major highlight of the Republic day for the nation.
One of the key highlights of this republic day is that for the first time a women fighter pilot will be a part of the parade. Flight lieutenant Bhawana Kanth is all set to become the first woman fighter pilot to participate in this republic day.
In this year's parade, only 401 School children and artists are going to participate. The number is less this time due to COVID-19.  School children participating in the parade are from Delhi schools and artists are from East Zonal Cultural Centre, Kolkata.
Tractor Rally on Republic day parade:
This year's Republic Day Parade may witness a tractor rally by the farmers protesting against the new farm laws. During that time, over 5000 farmers are likely to enter Delhi as per reports. Farmers from all over India (Majorly from Punjab and Haryana) are protesting at New Delhi borders since November 2020. No action by the government has been taken since then which has left agitating farmers with no other choice. 
2020 was a year that teaches us that nothing is permanent. We have become wise and patient with life. Many people lost their jobs to this pandemic. This republic day, give yourself a secure and recession-proof government job by enrolling in our Online courses. We are running a discount offer on this republic day where you will get a discount of 26% by applying Special26 as the coupon code. The discount is on all the courses available on the website. For further information, please visit our website.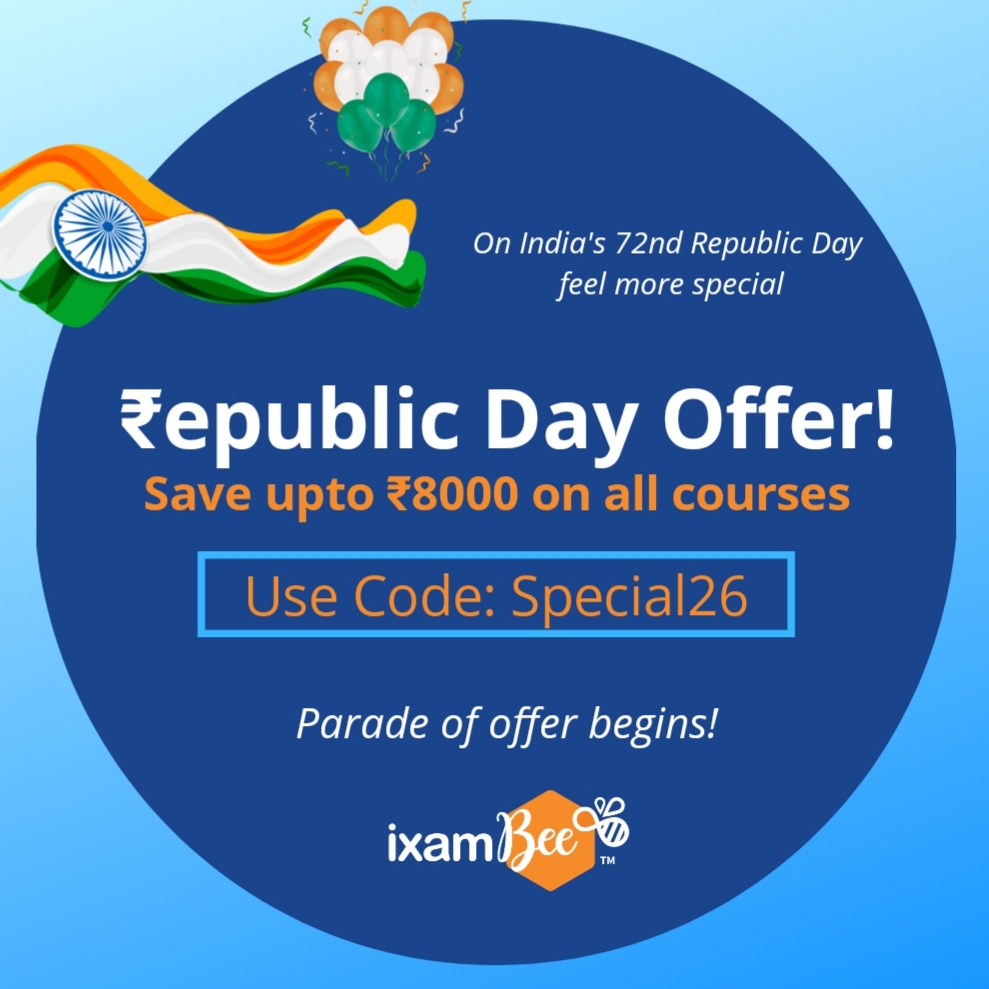 All the best and Happy Republic Day.
Also Read:
Republic Day 2019: Constitution of India- A Brief Summary
Constitution of India: Important Articles
Get Free Online Test Series, GK updates in form of Beepedia,  as well as latest updates for Bank PO, Bank Clerk, SSC, RBI, NABARD and Other Government Jobs.