UBI SO 2021 Exam Date
The UBI SO 2021 exam has been scheduled to be held on Saturday, October 9, 2021. This means that you will have written this exam before the end of this week!
While we are sure that you have been studying diligently and working hard for this exam, we hope you will use your time wisely in this last week as well. Let this exam date announcement act as the motivation boost you needed.
In this article, we have put together some practical tips that you can use so that you are able to take your exam successfully on Saturday, thereby, allowing your hard work through the months to bear fruit.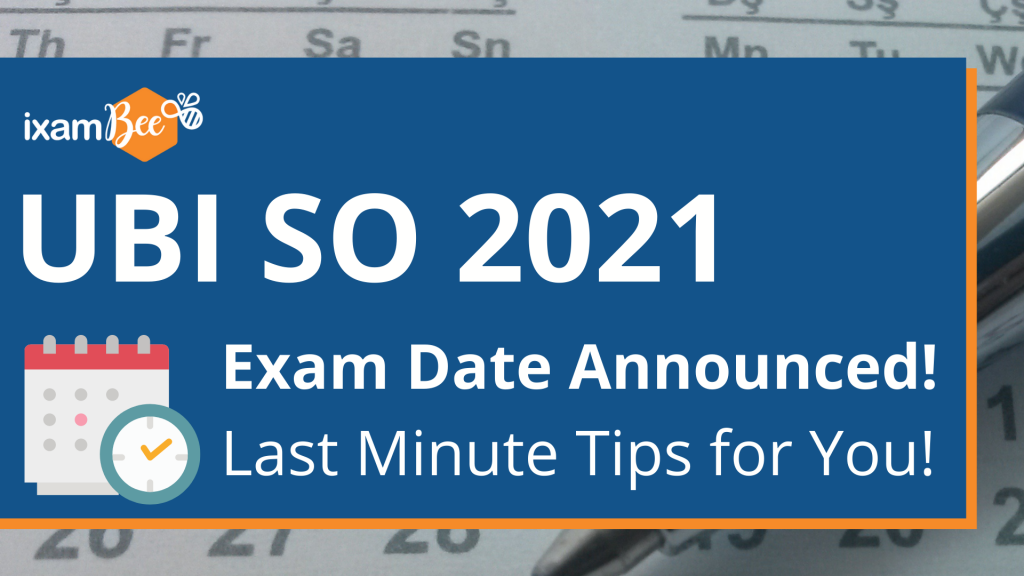 UBI SO 2021 Last Week Preparation
Practically speaking, you have less than 5 more days to go. This is why you need to double, maybe even triple your efforts depending on your preparation status.
We will recommend that you divide the 4 subjects that will be tested in the exam over the course of 4 days to revise 1 subject every day.
For example, pick Reasoning for Tuesday, Quantitative Aptitude for Wednesday and so on. It goes without saying that you can pick any subject for any day as you see fit so long as you are able to cover all the subjects within time.
Take the UBI SO mock test to gain a sense of how you fare in your overall preparation. 
By Friday evening, you should be done with all your studies. Moreover, you should even have all your things in place for the exam on the next day. 
Have you downloaded your UBI SO admit card yet? If not, you should do that right now! 
Lastly, as the exam date approaches, do not lose your nerves. You got this! 
UBI SO 2021: Points to Remember on the Exam Day
This section covers all the information for you for the exam day itself. Please read all the points carefully.
Have all your things ready and in place on the eve of the examination itself, i.e., on Friday. Do not rummage to find your things in the morning. 
You must have the Aarogya Setu App installed on your mobile phone.  
You must wear a mask to the exam center and do not take it off at any time. Wearing gloves is allowed.  
You are allowed to carry a transparent water bottle, hand sanitizer, simple pen and an ink stamp pad. 
Documents that you need to carry to the exam center include, call letter, photocopy of the photo ID card stapled to it, original ID card. The name on the ID and on the call letter should be exactly the same. 
Maintain social distancing at all times and follow all other COVID-19 safety protocols. 
Read the entire UBI SO notification handout here. 
Before you go, we want to once again reiterate the importance of using your time well in these last few days. If you give your all to this exam, we are confident you will pass the exam with flying colours.
We wish you the very best. 
At ixamBee you can find a number of Online Courses, GK updates in the form of BeePedia, as well as latest updates for Bank PO, Bank Clerk, SSC, RBI, NABARD and Other Government Jobs.