Small Industries Development Bank of India (SIDBI) is a financial institution under the Ministry of Finance. Its main objective is to strengthen and develop the Micro, Small and Medium Enterprises (MSMEs). MSMEs play an important role in the growth of the Indian economy in terms of production, employment and exports. Therefore, SIDBI assists MSMEs to obtain funds for their development, commercialisation and marketing of their products.For this reason, SIDBI Grade A is one of the most sought after jobs in the banking sector.
Moreover, the SIDBI recruitment 2022-23 is under way. SIDBI is inviting applications for filling up 100 vacancies for the post of Assistant Manager in Grade A. Furthermore, the Online Written Test is scheduled to take place in January/February 2023. Therefore, this is a golden opportunity for candidates who aspire to work with this esteemed organisation.
However, if you have not started your SIDBI Grade A 2022-23 exam preparation yet, don't worry, as in this article we will cover all the details regarding the exam pattern and preparation strategy. Therefore, if you are planning to take the SIDBI Assistant Manager exam 2022-23, we urge you to go through the details provided below carefully.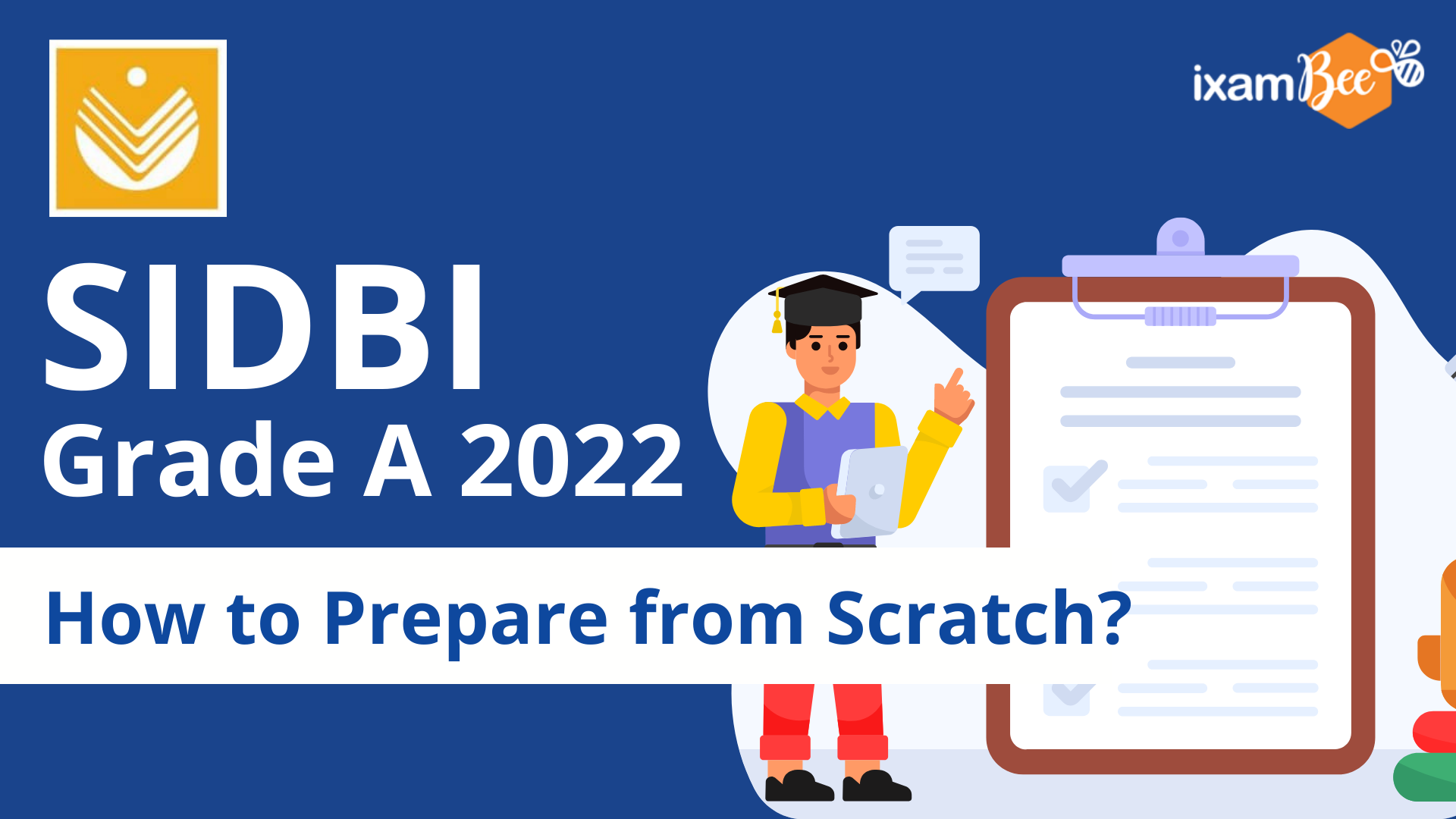 SIDBI Grade A 2022-23: Exam Pattern
While preparing for competitive exams, it is essential that candidates are aware of the exam pattern. This enables you to prepare for the respective exam in an efficient way and also gives you a fair idea about the types of questions and weightage. Therefore, before you start your preparation for the SIDBI Grade A exam, we encourage you to understand the SIDBI Grade A exam pattern properly.
The SIDBI Grade A 2022-23 exam pattern is as follows-

Changes in the Exam Pattern
The last SIDBI Grade A recruitment cycle was conducted in 2016.
So, as compared to 2016, some changes have been made in the SIDBI Grade A 2022 exam pattern.
Firstly, the Computer Knowledge section has been removed.
The number of questions in English has been reduced to 30 questions. Earlier there were 40 questions.
The number of questions in General Awareness have increased to 50 questions (from 40 questions). Moreover, the questions will now be based on Banking/Financial Sector/Economic & Social Issues.
In Quantitative Aptitude and Reasoning Aptitude, the number of questions have been reduced to 40 (from 50 questions). However, each question will now carry 1.5 marks.
This year, SIDBI has also introduced sectional timing.
Furthermore, there are some changes in the Descriptive English paper as well.
Now, there will be 3 questions, i.e two Essays on Financial/Banking/Economic & Social Issues in India and one Business Letter.
The SIDBI Grade A 2022-23 exam follows the same exam pattern as that of the SIDBI 2022 recruitment.
Given below is the SIDBI Grade A 2022-23 exam pattern-
Online Written Examination Pattern
| | | | | |
| --- | --- | --- | --- | --- |
| Name of the Test | Type of Test | Number of Questions | Maximum Marks | Time |
| English Language | Objective | 30 | 30 | 20 Minutes |
| General awareness (with special reference to Banking and Financial sector and Economic & Social Issues) | Objective | 50 | 50 | 30 Minutes |
| Reasoning | Objective | 40 | 60 | 40 Minutes |
| Quantitative Aptitude | Objective | 40 | 60 | 30 Minutes |
| Total | | 160 | 200 | 120 Minutes |
| Online Descriptive Test (English)- Comprising of two Essays on Financial/Banking/Economic/Social issues in India (20 Marks each) and one on Business Letter Writing (10 Marks)Note- It is essential to attempt all three questions | Descriptive | 3 | 50 | 60 Minutes |
| Total | | 163 | 250 | 180 Minutes |
Note-
The online written exam will consist of 163 questions. It will be out of 250 marks, which will also include 50 marks of the Descriptive English section.
1/4th marks will be deducted for every wrong answer.
Descriptive papers of those candidates will be evaluated who clear the Objective type of tests.
Also See: Detailed SIDBI 2022 Exam Analysis
SIDBI Grade A 2022-23: Syllabus
Now that we have understood the exam pattern in detail, it is also essential to be aware of the SIDBI Grade A syllabus. Having a knowledge of the syllabus will give you a fair idea about the important topics that you need to focus on.
Also Read: SIDBI Grade A Salary 2022-23: Assistant Manager Basic Pay, Allowances & Perks
SIDBI Grade A 2022-23 Subject-wise Preparation
Given below is the subject-wise preparation strategy for SIDBI Assistant Manager exam 2022-23
General Awareness
With the addition of Banking/Financial Sector/Economic & Social Issues topics in the General Awareness section, there has been some confusion regarding the GA syllabus among the candidates. Therefore, we have compiled a list of GA topics for you, which will give you some clarity regarding the General Awareness syllabus-
Banking & Financial Sector
Regulators & AIFI
Types of banks & NBFCs
Money & Capital market instruments
Payment systems and related terms
Banks and HQ and Heads
RBI and Banks related news
Economic & Social Issues
MSME sector & MSME focused schemes
International Organisations- IMF, World Bank, WTO, NBD, etc.
Balance of Payments, Financial Inclusion Schemes and FI, PSL basics
Union Budget & Economic Survey
SDG and Human Development
Economic, National & International news
Static
Other News
Sports & Awards in news
Obituaries/Appointments
Important books and Authors
Any summits, key events in news
Quantitative Aptitude
If Quant is not your strength, there are some essential and easy topics which you must focus on and practice.
Prioritise topics like- Simplification & Approximation, Percentage, Profit & Loss, Mixture & Alligation, Quadratic Equations, Time, Speed & Distance, Time & Work, Average, Number Series and Data Interpretation.
If after covering all the aforementioned topics, you have some time left, then you can shift your attention to topics like- Simple Interest & Compound Interest, Ratio & Proportion, Partnership.
Majority of the questions in Quant will be based on Data Interpretation. Therefore, you must practice DI everyday for at least 1 hour.
Moreover, make notes of short tricks and formulas and revise them regularly.
English Language
Focus on basics of English Grammar like- Parts of Speech, Tenses, Direct & Indirect Speech, Active & Passive Voice, etc.
A sound knowledge of English Grammar will help you in solving questions on Error Spotting, Sentence Completion, Reading Comprehension, etc.
Reasoning Ability
There are not too many topics in Reasoning. Therefore, we would advise you to not leave any topics.
Start with easy topics and then move on to difficult topics.
In the Reasoning section also, a major chunk of the questions will be asked from Seating Arrangement & Puzzles. Therefore, you must practise Seating Arrangement & Puzzle questions everyday for at least 1 hour.
Moreover, make a note of all the short tricks and revise them everyday.
Also See: SIDBI Grade A Previous Year Cut-off
Study with ixamBee for SIDBI Grade A 2022-23
Online Course
If you are planning to appear for the SIDBI Grade A 2022-23 exam, you need proper guidance to ace the exam. So, to help you with your exam preparation, ixamBee is providing the SIDBI Grade A (Assistant Manager) Online Course, which has been especially curated for you by our experts.
However, if you are still not sure whether you need this course or not, you can check out our demo lectures for SIDBI Grade A Assistant Manager and then come to a conclusion.
Mock Tests
Since the SIDBI Grade A recruitment has commenced, there is no time to waste. Therefore, practice will be the key to your success. You can practice SIDBI Assistant Manager free mock tests on a regular basis to keep up with the ongoing trend. Moreover, the mock tests will assist you in identifying your weak areas and judge your preparation before the exam.
We hope you have started preparing for the SIDBI Grade A Exam 2022-23. Preparing in advance will work wonders to give you the boost you need.
Make My Test (MMT)
ixamBee has introduced a new feature called Make My Test (MMT). MMT will allow you to customise your own sectional test depending on your preparation level.
What's best? You can choose the subject, number of questions and set your own timer. Moreover, after submitting your designed test, you can check the score and even share the same.
All you need to do to use this smart tool called Make My Test (MMT) is to register with us first!! Get your first challenge.
All the Best!
To help you prepare 50% faster for competitive exams, ixamBee provides free Mock Test Series all the Current Affairs in English and Current Affairs in Hindi in the BeePedia capsules for GA Preparation. You can also get the latest updates for Bank PO, Bank Clerk, SSC, RBI  NABARD and Other Government Jobs.
Also Read
Full Form of SIDBI with All Details
SIDBI Grade A 2022 Notification: Apply Online for 100 Vacancies
SIDBI Grade A (Assistant Manager) 2022 Job Profile & Career Growth