Hello hello hello!!
We're as happy as can be.
Wanna know why?
Somebody is turning 5,
Who you ask?
It's ixamBee!!!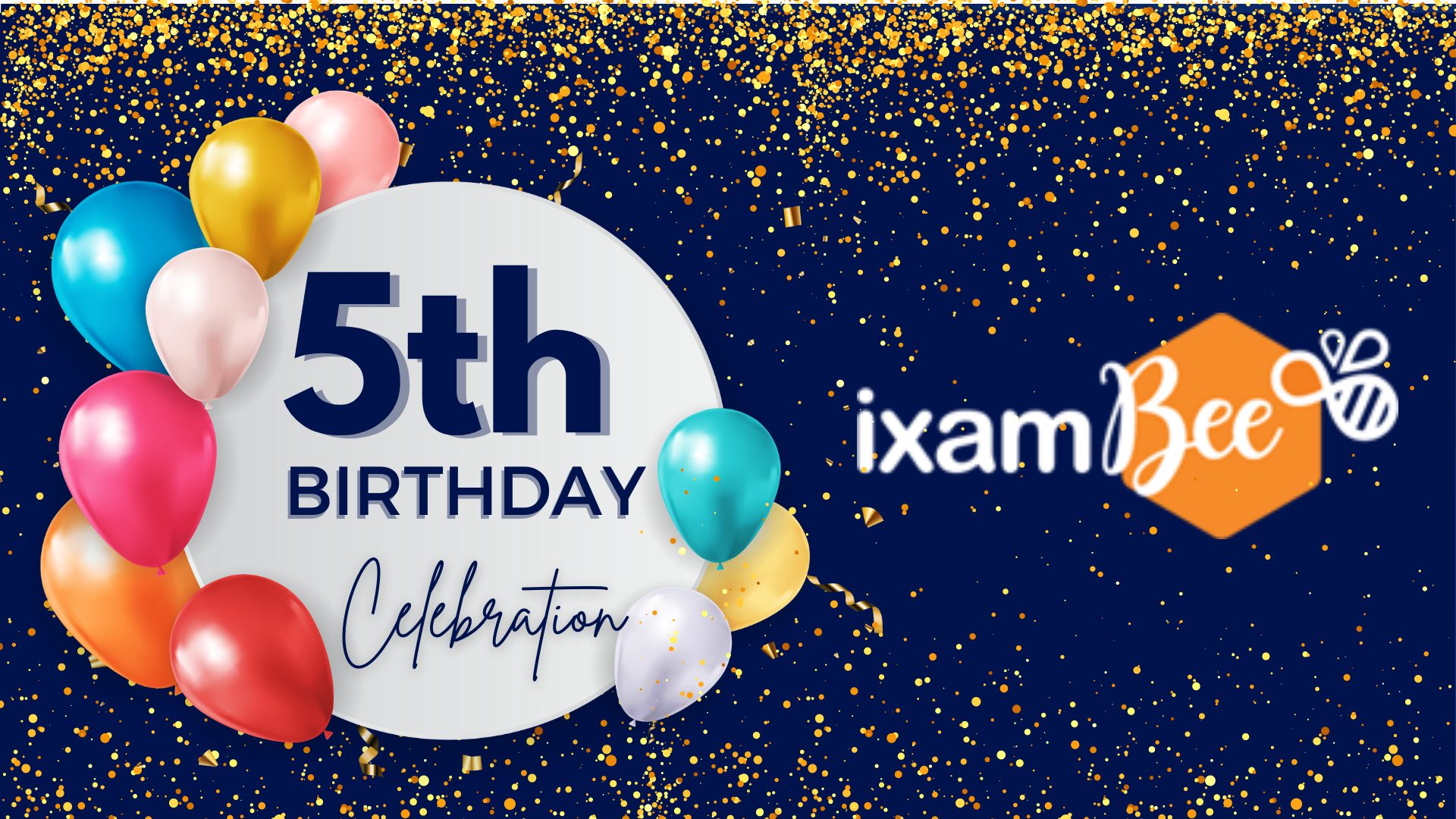 Come join us so we can make this birthday a memorable one, together.
We're elated to announce that on December 13, 2021, ixamBee is turning 5 years old. In order to express the love and gratitude in our hearts for the overwhelming love and response you have given to ixamBee over the course of the last 5 years, we are throwing a pan-India birthday party and everybody is invited!!
Birthday hamara hai, lekin mauqa tumhara hai
Who's Invited?
You are invited, your friends are invited, your cousins are invited, EVERYBODY is invited!!
ixamBee Birthday Celebration Theme
Whether you are planning to take the IBPS SO exam this year or next, or have not even considered taking the exam till now, we welcome all of you to come join our ixamBee Birthday Celebration and take a ride to see if this is something you would like to pursue in the future. We will help you understand if you would like to prepare for any and all of the IBPS SO streams. Namely;
IBPS SO IT
IBPS SO AFO
IBPS SO Law
IBPS SO Marketing
IBPS SO HR
ixamBee Birthday Celebration Itinerary
Doing what we do best, that is offer exam preparation to aspirants online, for our ixamBee Birthday Celebration, we have a day with preparation fun-filled activities to help you prepare for the upcoming IBPS SO Prelims exam on December 26, 2021. So go ahead and read the entire itinerary presented below so you come prepared to the party!
Live Classes
To kick off the celebrations, we will be providing a 3-hour intensive back-to-back study session. Our mentors will be taking live classes on 5 subjects for IBPS SO Prelims Preparation for all streams between 10 a.m. -1 p.m.
10-10:15- Strategy & experience by Kailash & Vidhika
10:15- 10:55 Reasoning by Yaman
10:55-11:40 Quants by Neha
11:40-12:20 English by Manali/Satakshi
12:20-01:00Pm GA by Vikram Singh
Mock Test @ 5
To give you a real exam simulation we will be providing a limited-period only free IBPS SO Prelims mock test. The mock test will be made live at 5 p.m. and can be taken until 9 p.m. You are invited to come take a free mock test with all our other aspirant guests. Moreover, we will also be providing real-time results. Follow the links to learn more.
IBPS SO (IT/HR/AFO/Marketing) Prelims Free Mock Test
IBPS SO Prelims Law Officer Free Mock Test
Party Favours
A Birthday Party Without Return Gifts? I don't think so!!
For those of you who earn the top-3 spots in our all-India online IBPS SO Prelims Mock test, your names will be announced for everybody to know.
RSVP by leaving a comment for us below.
We hope to see you there!
Love,
Team ixamBee.