Read here the detailed IFSCA Grade A Phase 2 2023 exam analysis for the exam held on May 13, 2023.

On May 13, 2023, the International Financial Services Centres Authority conducted the IFSCA Grade A Phase 2 exam. Aspirants who took the exam most likely searched online for an exam analysis. By reviewing the IFSCA Grade A Phase 2 Exam Analysis 2023, candidates can gain an understanding of the exam's level of difficulty. The complete IFSCA Assistant Manager Phase 2 Exam Analysis 2023 is accessible for candidates to check here.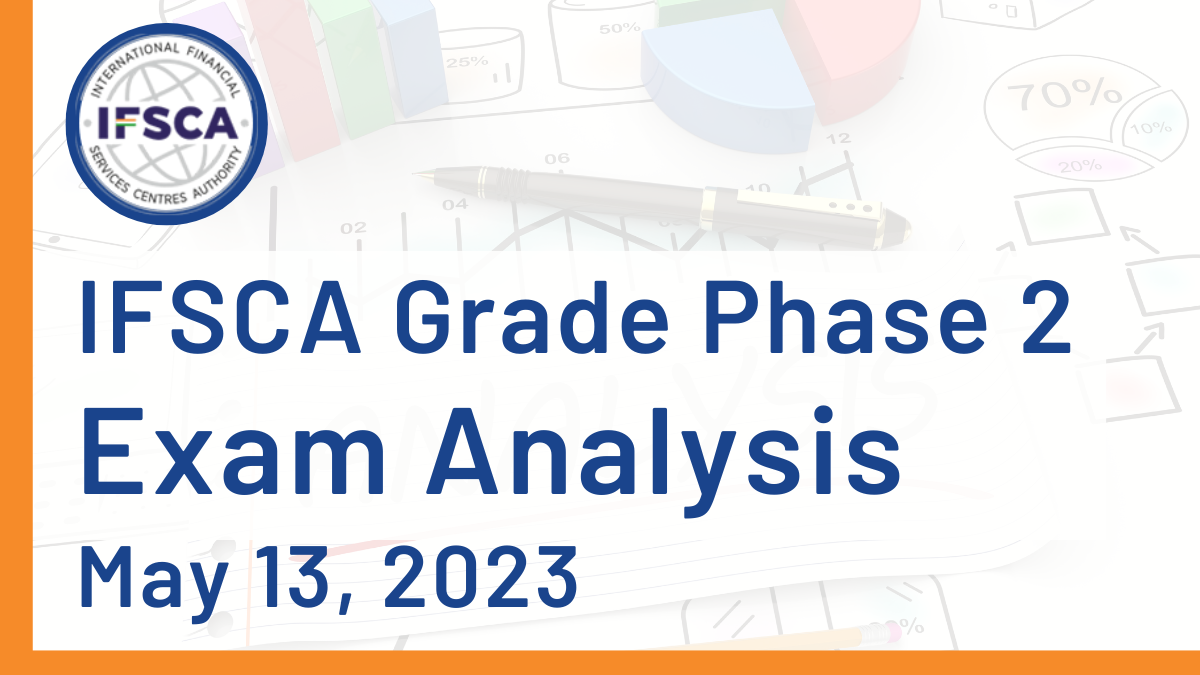 Why is the IFSCA Grade A Exam Analysis Important?
The IFSCA Grade A exam analysis 2023 is an important tool for candidates who have appeared for and wish to appear for the IFSCA Assistant Manager examination in the future. It helps them to evaluate their performance, identify their strengths and weaknesses, and make informed decisions about their preparation for future exams.
By reviewing the IFSCA AM exam analysis 2023, candidates can get an overview of the level of difficulty of the exam, the types of questions asked, the topics that were covered, and the expected cut-off marks. This information can help candidates understand where they stand among their peers and what areas they need to improve upon.
Additionally, exam analysis can provide insights into the exam pattern, which can help candidates prepare for similar exams in the future. They can learn from the mistakes they made and refine their strategies for time management, answering questions, and selecting the right options.
IFSCA Grade A Phase 2 Exam Pattern
The IFSCA Assistant Manager Phase 2 exam included two papers.
The IFSCA Phase 2 Paper 1 consisted of a Descriptive English Test, with three questions: Precis Writing, Essay Writing, and Comprehension. It was important to note that candidates needed to type their responses on the computer.
The second paper contained multiple-choice questions on various subjects, such as the IFSCA Act, Union Budget, Economic Survey, Banking, Capital Market, and more.
IFSCA Grade A Phase 2 Exam Analysis
Let us now make an analysis of the IFSCA Grade A 2023 exam by reviewing Paper 1 and Paper 2 separately.
Paper 1
The IFSCA AM Descriptive English paper assesses students via 3 questions, which are:
Precis Writing
Essay Writing
Comprehension
Let us now look at the questions that were asked for each.
Precis Writing– Cyber Security
Essay Writing- Candidates were given a choice to write an essay from among the two topics listed below:
Savings VS Spending: Which 1 is good for the economy?
Importance of Urban Infrastructure
Reading Comprehension– A passage on Demographic Transition on which questions were based. (ESI topic)
Paper 2
The IFSCA AM Phase 2 Paper 2 comprised MCQ-type questions. You can refer to the questions given below that will help you understand the type of questions asked in the exam and therefore, the type of questions you can expect in the future as well.
| | |
| --- | --- |
| Topic | No. of Questions Asked |
| Economic Survey | 7 |
| Union Budget | 8 |
| Banking | 9-9 |
| IFSCA Act | 3 |
| Capital Market | 7-8 |
| Current Affairs | 1-2 |
| Pension | 2-3 |
| GFCI (Latest) | 1 |
| Gift City | 1 |
| Insurance | 2 |
| Regulation | 6-7 |
| Annual Report | 1-2 |
Some sample questions/the topics on which they were asked are presented below.
Minimum Bank credit linked to Net owned fund of NBFC?
How many Category 1,2 and how many Category 3 AIF are there in the IFSC?
Corporate agent(Health) can be associated with how many companies?
Insurance density has increased from 11.1 in 2001 to how much in 2021?
Deakin University
IFSC act year
IFSCA enacted the power of 4 regulators date
KCC has been Extended to animal husbandry in which year? 2018-19
Which of these Financial centers is not among the top 5 as per the latest GFCI released in March?
Railway budget merged in a year? (2018-19)
The leverage ratio for Domestic systematically important bank
How much amount in USD is considered a bulk deposit in IFSC
IPO minimum limit
1st municipal bond. Which city ? – Only municipal bond in 2021-2022
One ques related to clearing corporations.
One ques related to the Block deal.
Overall IFSCA AM Phase 2 Exam Analysis
Overall, the IFSCA Grade A exam was of a moderate level. The questions asked in the exam were as expected and predicted by ixamBee experts.
Want to know more about the IFSCA AM Phase 2 exam and how it was conducted, be sure to watch Tushar sir's exam analysis video below.
To help you prepare 50% faster for competitive exams, ixamBee provides free Mock Test Series and all the Current Affairs in English and Current Affairs in Hindi in the BeePedia capsules for GA Preparation. You can also get the latest updates for Bank PO, Bank Clerk, SSC, RBI NABARD and Other Government Jobs.
Also Read
IIFCL 2023 Recruitment Notification
How Much Time is Required to Prepare for a Government Exam?