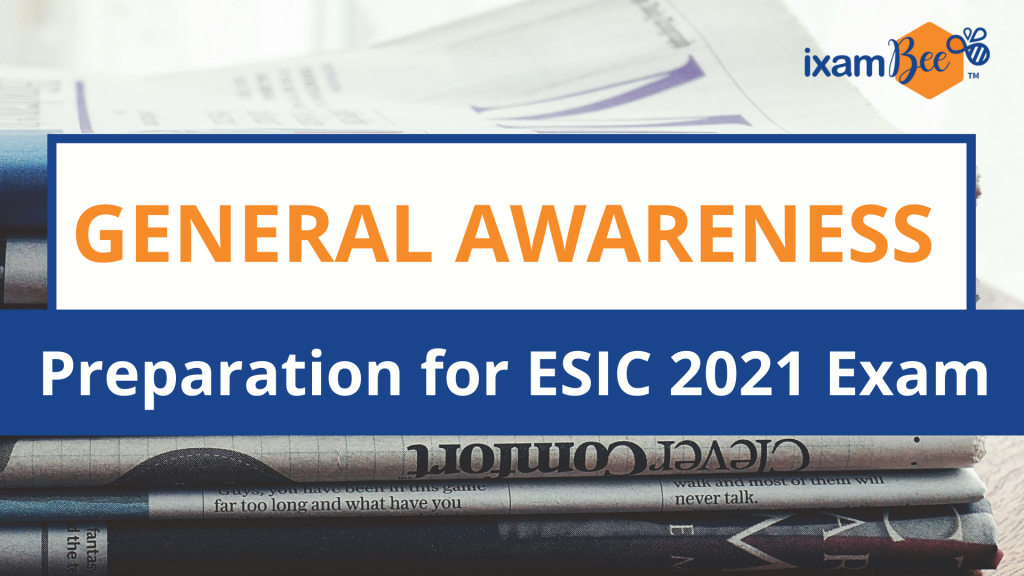 ESIC Recruitment 2021
The Employees' State Insurance Corporation or ESIC on December 28, 2021, announced a whopping 3847 vacancies to be filled in for the posts of Upper Division Clerk, Multi Tasking Staff, and Stenographer. Interested and eligible candidates can start applying online from January 15 to February 15, 2022. This article will guide you on how to prepare for the ESIC General Awareness.
ESIC 2021-22 Selection Process
The selection process of ESIC for the posts of UDC, Stenographer, and MTS consists of various phases. Check and note down the detailed ESIC UDC, MTS & Stenographer exam pattern.
ESIC Exam Preparation: Why do you need to focus on General Awareness?
Among all the subjects that appear in the ESIC UDC, Steno & MTS online exam(s), 'General Awareness' forms an important part. General Awareness appears in the following stages of the selection process.
UDC Prelims
Steno Prelims
MTS Prelims
It is quite evident from the above-mentioned list that General Awareness forms a major part of the ESIC Recruitment process and preparing well for it can immensely affect your score and can benefit you to a great extent.
ESIC 2021 General Awareness : What to Cover?
The General Awareness section carries a good 50 marks in the recruitment process of ESIC UDC, Stenographer & MTS exams. To start off with the General Awareness preparation for ESIC Recruitment for the posts of UDC, Steno & MTS, let us first see what all you need to cover under this section.
Awards and Honours
Books & Authors
Art & Culture
General Politics
Current events
Countries & Capitals
Economics
History & Geography
Sports and Games
Abbreviations
Inventions & Discoveries
Important Days
ESIC General Awareness Preparation: Useful Tips
General Awareness is a topic that can be tough yet scoring. Going by the name, it is simply about your 'general' awareness of news, facts, and figures, with respect to your surroundings. Stay in touch with the local, national, and international news to shelve off the need to especially 'prepare' for the General Awareness. We are sharing some simple tips that might help you in figuring out 'how to cover' your ESIC GA syllabus.
Guide yourself through the syllabus
The syllabus is a guide to what all is expected out of you in any examination. Refer to the complete syllabus for the ESIC exam.
Devote an hour
You need to sincerely dedicate 'at least' an hour to your ESIC General Awareness preparation every day. This is the only way you will be able to be in regular touch with the news, facts, and numbers completely without puzzling yourself.
Stay in touch
It is important to keep yourself updated with all the latest happenings around the world. Else, things will easily skip from your mind.
Segregate
Segregation is the key. As you are very well aware that General Awareness is a diverse and vast section with various topics to read and know about, segregating each topic day-wise, in your preparation plan will prove beneficial to a great extent.
Limitations can be useful
Study only relevant details as focussing on everything may eventually end up in you being totally 'unprepared'.
Read, read and succeed
Read and succeed can be your 'mantra' for scoring well in the ESIC GA section. You need to read:
Newspapers
Current affairs magazines
News articles
Journals (can be based on any subject like Arts & Culture, History or Science)
About government policies & other new updates in every sector
The Union Budget 2021-22.
A few good books
Keep notes
Make notes while you read and try to succeed. Your memory can never guarantee you 100% results as it comes with a limited warranty. Thus, you should always make it a habit to write down important events and related information.
Quiz & buzz
Test yourself on your preparation for the ESIC GA section. Attempt daily GK quizzes on various online platforms and improve your knowledge. These quizzes will you prepare for all kinds of questions with varying levels of difficulty.
Mock away your fears
Attempt an ESIC free mock test daily and analyze your preparedness to give yourself enough chances to rectify your errors.
Looking back can sometimes be good
Check the ESIC previous year papers where you can get a fair idea of the kind of questions that were asked and can be asked in your exam as well.
These were a few tips that you might find useful in your exam preparation. We advise you to take a look at the ESIC exam details and our blog section before you start your preparation.
Good News!
If you are preparing for the post of Upper Divisional Clerk, ixamBee is providing an ESIC UDC Online Course which can assist you in your preparation to a great extent.
All the Best!
Get Free Online Test Series, GK updates in the form of Beepedia, as well as latest updates for Bank PO, Bank Clerk, SSC, RBI, NABARD, and Other Government Jobs.
Also Read:
ESIC Recruitment 2021: Notification, Vacancy, Salary & Eligibility
ESIC Recruitment 2021: UDC Prelims Exam Analysis 2019