GIC recruitment 2021 was released some months ago to fill the positions of 44 Officers in the cadre of Assistant Manager (Scale-I) for various streams like – Finance – Chartered Accountants, General, Legal and Insurance. The online exam was held on August 29, 2021 and the result for the same was released some days ago. The GD + Interview will be held on October 25, 2021, in Mumbai. Call letters for the same have been sent to the shortlisted candidates through their mail-ids.  Congrats to all the successful candidates who made it to GD + Interview.
Facing the Interview panel and the GD round can be a nightmare for many aspirants. To overcome this fear, it's very essential to have some kind of guidance that enlightens your success path. What if you have some direct shots from the candidate who has faced this round with ease and comfort. Here in this blog, we will share the experience of a candidate who cleared the GIC AM exam 2019. What all questions she faced, what strategy worked for her, how she faced bouncer questions and other related information can be obtained from this blog.
GIC Assistant Manager Exam CutOff
Before delving deep into the GD + Interview part, let's have a look at the GIC AM exam cutoff this year.
| | | | | | |
| --- | --- | --- | --- | --- | --- |
| STREAM | General | EWS | OBC | ST | SC |
| General | 94.00 | 92.00 | 90.25 | 77.00 | 88.25 |
| Legal | 86.00 | N/A | 80.50 | 68.25 | 78.75 |
| Insurance | 80.50 | 83.25 | 80.00 | 70.00 | 70.50 |
| Finance | 80.00 | N/A | 80.75 | N/A | 69.00 |
Please note that the minimum qualifying marks to clear the GIC Assistant Manager written exam was 60% for General and OBC categories while for SC/ST it was 50% but with the announcement of the GIC AM result, GIC has clearly stated that due to the non-availability of sufficient number of candidates, the minimum qualifying marks for Finance, Legal and Insurance streams have been reduced to 53.33 % for General +OBC candidates and 44.44 % for SC/ST candidates.
Group Discussion Experience and Format
A Group Discussion exercise is conducted to test the interactive skills of a candidate. It also evaluates how well you get along with your peers and how you are able to put your point across without being demeaning. Besides this, Group Discussion also checks whether you can be a part of a team or not.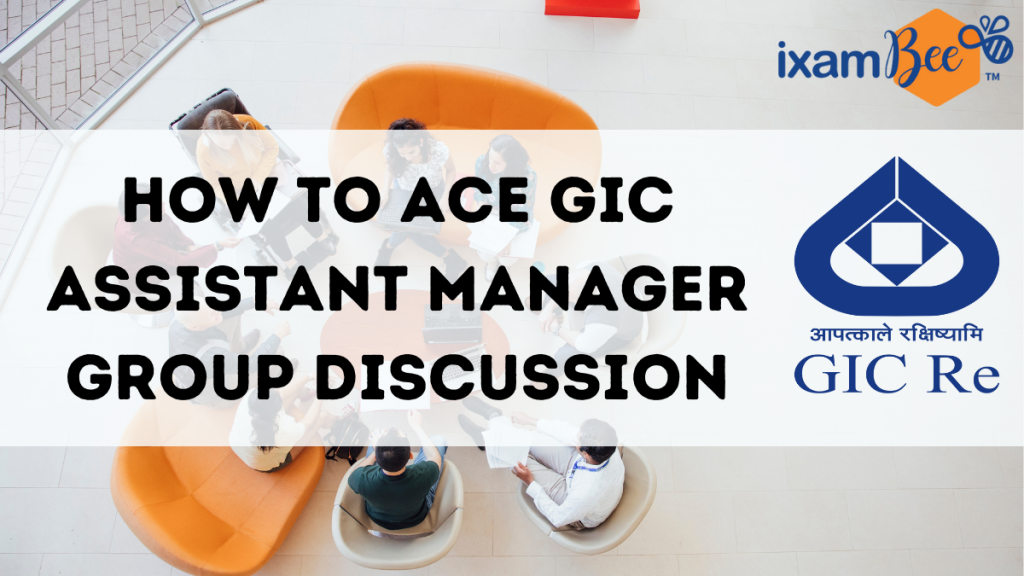 As we interview one candidate who has gone through this drilling process in 2019, here is the structure of the Group Discussion that took place. Assuming the structure remains the same, here is the short and crisp summary of the GIC Assistant Manager Group Discussion exercise.
You need to reach the venue at the time allocated and after some time your document verification will take place. Once the document verification process is over, the entire group of candidates will be divided into small batches. Each batch consists of 8 people. The GIC Assistant Manager GD will be of 1 hour and one panel consisting of 2 members to judge your Analytical, Communication and Organisation skills. The GIC Assistant Manager Group Discussion can be divided into 3 rounds.
Structured Group Discussion
Here a topic will be given by the selectors and a time frame is allotted to complete the discussion. The topic can be based on current affairs or static matters. After the time period is exhausted, one candidate will be selected by the panelist to summarize and conclude the discussion. You are advised to be thorough with recent updates.
Abstract Group Discussion
There is a growing trend of assigning abstract topics by evaluators to evaluate the creative ability of the candidates. Here no outline of the topic is given. You are given a certain number of sentences and using your own interpretation skills you need to rank them. Then the group members are allowed to persuade the other members of the same group to come to a unanimous ranking of the points. Here your innovative strategies, ideas and persuasive skills are judged.
Here, a situation is provided depicting a problem faced by the organization or the managers. Participants need to analyze the situation and think of various alternatives to solve the problem. Such discussions test the candidate's ability to think of solutions keeping the situational factors and constraints in mind.
Points to keep in Mind During Group Discussion
GD is an effective tool for assessing the candidate's overall personality. Personality includes not only one's external appearance but also the traits like speaking style, dressing style, presentation style and so on. A pleasing personality makes a good impression giving one an edge over the others.
Communicate effectively through verbal and non-verbal skills. Express the ideas and opinions logically and with clarity. Maintain eye contact and be a good speaker as well as listener. Be assertive.
Cooperate and have a positive approach to any discussion. Display the ability to take control of the discussion without dominating the other candidates of the group. Do not cut off anyone in between and wait for your turn to present your arguments.
Your knowledge and general awareness will play a major role in GIC Assistant Manager Group Discussion. You need to have originality in your ideas and must have a considerable depth of knowledge. 
Also Read
List of Nobel Prize Winners 2021
PFRDA Grade A Last Minute Tips
At ixamBee you can find free Online Test Series, GK updates in the form of BeePedia, as well as latest updates for Bank PO, Bank Clerk, SSC, RBI, NABARD, and Other Government Jobs.