Rice is a staple crop in India that is cultivated across the year in the southern & eastern parts of the country. There are different methods of rice cultivation. The System of Rice Intensification (SRI) is one of the innovative methods introduced for better yield. Despite being a relatively new method, it has been able to make its mark due to its rising productivity. We'll learn more about this method here in this article.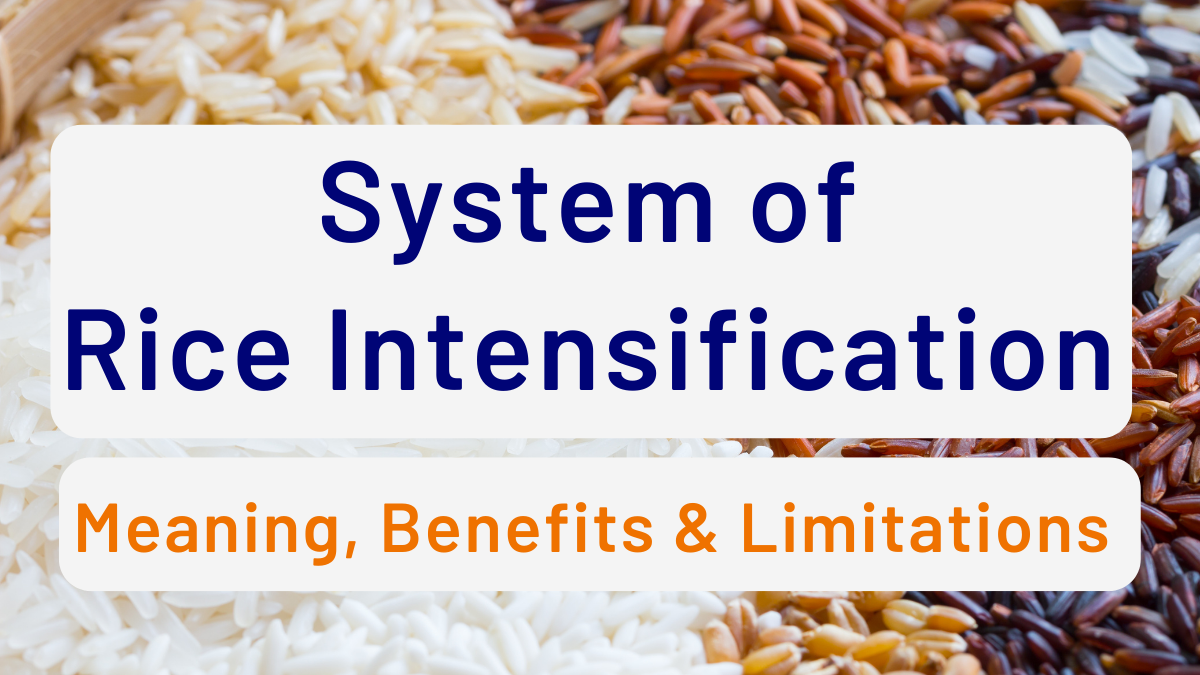 Origin of System of Rice Intensification
The SRI method was developed by Henri de Laulanei in Madagascar in the 1980s. Today, many Indian states such as Andhra Pradesh have adopted the SRI method for rice cultivation. The method is also getting an overwhelming response from the farmer community due to its beneficial results.
What is the System of Rice Intensification?
The SRI is an agricultural method aimed at increasing the yield of rice with minimum use of inputs, and other resources such as water.
Features:
SRI method transplants younger seedlings of 8 to 10 days old. However, the traditional method uses 21 to 25 days old seedlings.
It uses 1 seedling per hill as against 2 seedlings per hill in traditional method. In the Dapog method, the usage is 3 to 4 seedlings per hill.
The spacing is kept wide in transplanting- about 25 x 25 spare cm. In the traditional method, it is 10 to 15 square cm.
SRI method does not use flood irrigation. The soil is only kept moist till the vegetative state is achieved. Once the reproductive stage starts, about 1 to 2 inches of standing water is kept in the field.
Organic manure is also used in the SRI method.
Proper adoption of the method, raises the yield by about 30 to 50%.
Benefits of System of Intensification of Rice
The System of Rice Intensification is beneficial on all 3 levels i.e. from individual farmer to the global level.
Benefits for Farmers
As mentioned above, the SRI method enhances the production of rice. Thus, it may help farmers to get more production for themselves & for sale on the same piece of land.
Farmers will benefit monetarily due to the reduced use of inputs in the SRI method.
Less use of water will preserve soil health.
Benefits for Country
More rice production is better for the country's food security.
Overall soil quality will improve due to less use of water & chemical fertilizers.
More production could mean lesser imports and lesser expenditure for the government on subsidies of chemical fertilizers.
Global Benefits
Less Greenhouse Gas emissions due to no use of flood irrigation.
More production of rice, is better for global food security.
Use of organic manure is also beneficial to prevent land degradation.
Despite being highly beneficial, the System of Rice Intensification method comes with certain constraints or limitations. These must be taken into consideration before utilizing the method for rice cultivation.
Limitations of System of Rice Intensification
The SRI method is labour-intensive as it needs skilled labour to uproot the 8-10 days old seedlings.
The wide spacing used in the SRI method, gives weeds more opportunity to grow. Thus, high weed density is observed.
The seedlings are so delicate that they may often get damaged while uprooting.
It will not be useful in areas of inadequate irrigation facilities.
However, it is important that we incorporate the SRI method by addressing these concerns.
Need of System of Rice Intensification
The productivity of rice has been stagnant in recent years, especially in the areas where the Green Revolution took place. Also, lack of irrigation & water management has led to decline of soil productivity. Moreover, water intensive crops are depleting groundwater resources. The fertilizer subsidy is also putting the burden on the exchequer. Besides fertilizers also reduce soil productivity if used in excess.
The SRI method can help deal with the above problems to some extent. Its less water & other inputs requirement, use of organic manure will help us in the long run.
Conclusion
The System of Rice Intensification method for rice cultivation is surely an important innovative method in many ways. The method is also being used to cultivate other crops such as sugarcane, and wheat. It is important that the government promotes & incentivises this method properly. Farmers should be made aware about its benefits and it must be utilized on a larger scale. Its large-scale utilization will help it achieve more success in the years to come.
For more such concepts, visit following link:
https://www.ixambee.com/cpss-concept
To help you prepare 50% faster for competitive exams, ixamBee provides free Mock Test Series all the Current Affairs in English and Current Affairs in Hindi in the BeePedia capsules for GA Preparation. You can also get the latest updates for Bank PO, Bank Clerk, SSC, RBI  NABARD and Other Government Jobs.
Also Read:
iEX- ixamBee Exam Experience (Your Complete Exam Experience)
A Better Way to Learn Agriculture Statistics