There is something different about the month of December. It makes you feel warm and excited. It makes you nostalgic about the year that has gone by and makes you hopeful for the new opportunities the new year will bring with itself.
There are several important days in December that we observe. Let's take a look at the list of important days in December and understand what makes them so special.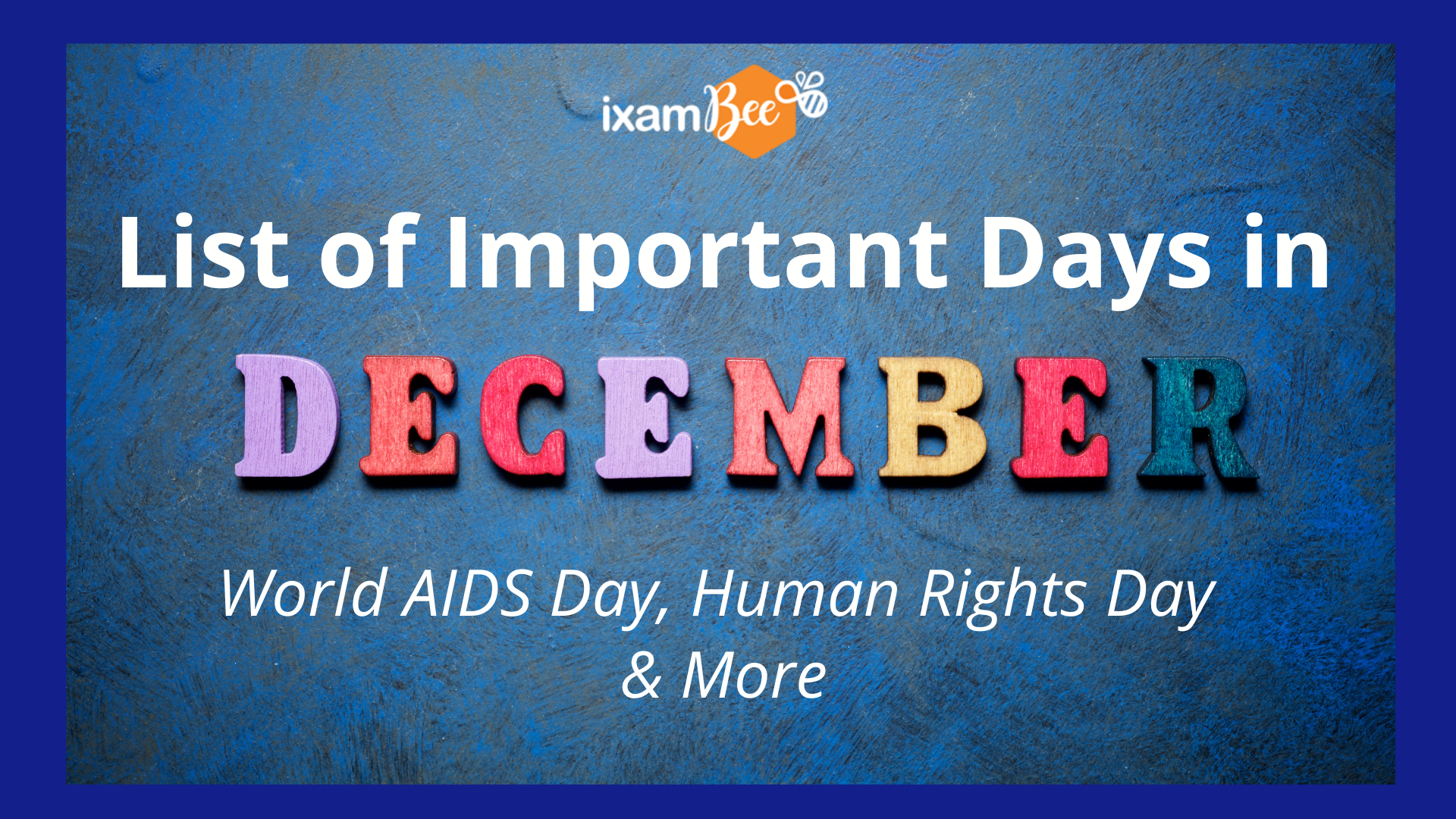 This article is very important from an exam point of view. Such questions are tested in exams like;
SSC MTS,
AFCAT,
SSC CGL,
SBI CBO
CBI SO
ESIC SSO
RBI Grade B,
SSC CHSL and other exams
If you are also preparing for any upcoming competitive exam, you should read this article carefully.
Important Days of December
The last month of the year brings with it a new string of possibilities as we enter into the new year. Before we end 2022, let us look at the important days of December. 
December 2: National Pollution Control Day, International Day for the Abolition of Slavery & World Computer Literacy Day
This day marks the Anniversary of the Bhopal Gas Tragedy.
The International Day for the Abolition of Slavery educates people on the forms of modern-day slavery. Furthermore, this day also educates people on how modern problems eat into peoples' Human Rights as well.
#ModernSlavery, #EndModernSlavery, #EndSlavery, #AbolitionOfSlavery
Theme 2022: Ending Slavery's Legacy of Racism: A Global Imperative for Justice
World Computer Literacy Day aims to develop technological skills particularly among Indian children and women.
#computerliteracyday
Theme 2022: Literacy for human-centered recovery: Narrowing the digital divide
December 4: Indian Navy Day
This day celebrates the achievements of the courageous sailors of the Indian Navy.
Theme 2022: Going out to the Neighbors of the Maritime
December 7: Armed Forces Flag Day & International Civil Aviation Day
This day has been in observance since 1949. The day commemorates the courage our armed heroes and their contribution to our safety. Funds can also be collected from civilian sources to support the welfare of the armed forces.
The Civil Aviation Day celebrates the role of international air transport in socio-economic development.
Theme 2022: Advancing Innovation for Global Aviation Development
December 14: Energy Conservation Day
The Ministry of Power has celebrated this day since1991. Furthermore, this year, the Energy Conservation Week took place between December 14 and 20, 2022.
It commemorates the sacrifices made by the heroes of the Indian Armed Forces.
December 18: Minorities Rights Day
As guaranteed by the Constitution of India, this day is observed in India to protect the rights of minority communities.
Theme 2022: All in 4 Minority Rights  
December 19: Goa Liberation Day
Also known as, Goa, Daman and Diu Liberation Day, the Indian Armed Forces liberated Goa from Portuguese rule in 1961. 
December 22: National Mathematics Day
This day celebrates the birth anniversary of mathematician extraordinaire, Srinivasa Ramanujan. Furthermore, this day commemorates his contribution to mathematics.
#nationalmathematicsday
Theme 2022: Mathematics Unites
India celebrates National Farmers Day on Choudhury Charan Singh's birthday. He was the 5th Prime Minister of India as well as a farmers' leader.
#kisandiwas #kisan #farmers
December 25: Christmas & Good Governance Day
Jesus Christ was born on December 25. His birth also marks the beginning of the Common Era, thereby ushering in the 1st CE.
 #christmas2022 #christmasjoy #christmasday #christmaseve
Furthermore, India celebrates Good Governance Day on the birth anniversary of former Prime Minister Shri Atal Bihari Vajpayee
Boxing Day is the day after Christmas. People give gifts to the poor and dependents.
December 31: New Year's Eve
This is the last day of the year. Therefore, it is celebrated with fun and frolic.
#nye #newyearseve #happynewyear #newyear
Important Days of December: UN-Mandated Observances
The UN has marked the following observances in the month of December.
December 1: World AIDS Day
World AIDS Day raises awareness and funds for AIDS treatment. Also, it is a day to create dialogue about the challenges faced by people suffering from AIDS. Furthermore, it seeks to eliminate myths revolving around the same as well.
#hivawareness #hiv #aids #aidsawareness #hivpositive #hivprevention #hivaids #worldaidsday
Theme 2022: "Equalize"
December 5: World Soil Day
The purpose of World Soil Day is to draw attention to the importance of maintaining good soil health. It also calls for the sustainable use of soil resources.
#soilhealth #worldsoilday
Theme 2022: Soil- Where Food Begins
December 10: Human Rights Day
The UN adopted the Universal Declaration of Human Rights in 1948. This Declaration aims to protect the Fundamental Rights of all Human Beings.
#humanrights #equality #humanrightseducation
Theme 2022: Dignity, Freedom, and Justice for All
December 11: International Mountain Day & UNICEF Day
The International Mountain Day seeks to raise the issues of all mountain communities. Moreover, it also talks about the role of mountains in the ecological cycle and sustainable tourism.
Theme 2022: Women Move Mountains
The United Nations International Children Emergency Fund (UNICEF) was established in 1946. It also calls for action to remove children's issues all over the globe as well.
#unicef #unitednations #children
Theme 2022: One team for child rights
December 20: International Human Solidarity Day
All members of the UN celebrate the International Human Solidarity Day. This day calls for action for all countries to fight together against all socio-economic problems.
Theme 2022: To promote solidarity among all and work together towards eliminating hunger on a global scale
BeePedia for GA
As you have seen from this article, December has been quite eventful. Moreover, we understand that it is not possible to remember all this information in one reading. In this case, we advise you to read the article a couple times or more with an interval.
Lastly, if you are also looking for more of such updates and interesting information, you can find all of it on ixamBee's BeePedia page. We provide monthly/weekly information capsules with latest updates on all matters of current affairs.
All the best!
Also read
Omicron Variant: Impact on the Indian Stock Market
Employees' State Insurance Corporation (ESIC) Recruitment 2021
To help you prepare 50% faster for competitive exams, ixamBee provides free Mock Test Series all the Current Affairs in English and Current Affairs in Hindi in the BeePedia capsules for GA Preparation. You can also get the latest updates for Bank PO, Bank Clerk, SSC, RBI  NABARD and Other Government Jobs.