The COVID-19 pandemic has brought unprecedented challenges for the Indian economy. With monumental fall in the country's GDP, the job losses have become one major headache. However, the Central government and the Reserve Bank of India are jointly trying to push the economy to the recovery track with all its might. After 3 substantial economic stimuli, the Finance Ministry has recently unveiled the AatmaNirbhar Package 3.0 worth Rs 2.65 lakh crore. The total stimulus announced till now during the pandemic amounts to whooping Rs 29.87 lakh crore, which is 15% of national GDP.
Recap of Stimulus
| | | |
| --- | --- | --- |
| Stimulus Name | Announced on | Amount  |
| PMGKP + Health sector | March 27, 2020 (later in June, extended till Nov) | Rs.1.93 lakh crore +  Rs.0.83 lakh crore |
| AatmaNirbhar Bharat 1.0 | May 13-17, 2020 | 11.03 lakh crore |
| AatmaNirbhar Bharat 2.0 | October 12, 2020 | Rs.0.73 lakh crore |
| AatmaNirbhar Bharat 3.0 | November 12, 2020 | Rs.2.65 lakh crore |
The total stimulus from the side of the Central government amounts to Rs 17.7 lakh crore (9% of GDP) and the Reserve Bank of India has chipped another Rs 12.71 lakh crore (6% of GDP) to the government's effort. 
AatmaNirbhar Package 3.0
The third stimulus package consists of 12 key components catering to various sectors of the economy. Here is the detailed information of each component-
AatmaNirbhar Bharat Rozgar Yojana
A new scheme- AatmaNirbhar Bharat Rozgar Yojana has been launched to incentivize job creation during the pandemic. As the job losses are mounting, this is expected to reduce the pressure of the employers who are onboarding new manpower during this tough time. The beneficiaries of the scheme are- 
The central government will provide subsidy for the newly joined employees on the following scale:
The scheme is active from 1st October 2020 and will last till 30th June 2021.
Emergency Credit Line Guarantee Scheme
The existing credit line for MSMEs, businesses, MUDRA borrowers and individuals (loans for business purposes), has been extended till March 31, 2021.
A Credit guarantee support scheme ECLGS 2.0 has been announced for the Healthcare sector and 26 stressed sectors. Entities will be entitled to extra credit up to 20% of outstanding credit with a tenor of five years, including a 1-year moratorium on principal repayment. This scheme will be available till 31st March 2021.
Production Linked Incentive
Production Linked Incentives Scheme will now cover 10 more champion sectors with an aim at boosting the competitiveness of domestic manufacturing. This is expected to give a big boost to the economy, investment, exports and job creation. Rs 1.46 lakh crore has been earmarked for this scheme for the next five years.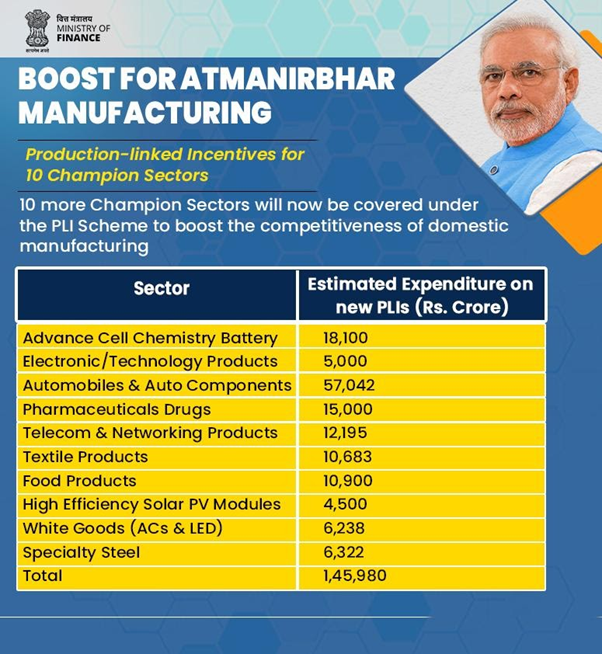 An additional outlay for PM Awas Yojana – Urban
An additional outlay of Rs 18000 crore has been extended to PMAY– Urban over and above Rs. 8000 Crore already allocated this year. This aims at building 12 Lakh houses and complete 18 Lakh houses, create additional 78 Lakh jobs and indirectly boost consumption of steel and cement, resulting in a multiplier effect on the economy.
Relaxation of Earnest Deposit Money & Performance Security on Government Tenders
Performance security on contracts has been reduced from 5-10% to 3%. This move is expected to provide relief to hundreds of contractors whose money otherwise remains locked up. This will be extended to all the continuing contracts and PSEs. The Bid Security Declaration will replace EMD for tenders, and the relaxations will be valid till 31st December 2021.
Note: EMD or Earnest Money Deposit – To ensure that a Bidder does not submit a Dummy Bid or back out at the time of tender opening, Government Department collects a small refundable fee from each bidder, which is called EMD.
Income Tax relief for Developers & Home Buyers
The differential between circle rate and agreement value in real estate income tax under Section 43 CA of IT Act has been increased from 10% to 20%. This is applicable in case of sale of residential units up to ₹ 2 Crore. The Income Tax relief provides an incentive to the middle class to buy homes.
A platform for Infra Debt Financing
The central government will create a Rs 6,000 Crore equity investment in debt platform of National Investment and Infrastructure Fund (NIIF). This will help NIIF provide a debt of ₹ 1.1 Lakh Crore for infrastructure projects by 2025.
Support for Agriculture: ₹65,000 Crore for subsidized fertilizers
The distressed agriculture has received a decent lifeline in terms of fertilizer subsidy. Looking at the growing demand for fertilizer, the government has given Rs 65,000 crore as an additional outlay for fertilizer subsidy to farmers.
Rural Employment
Pradhan Mantri Garib Kalyan Rozgar Yojana has received Rs 10,000 Crore as an additional outlay. This aims at boosting the rural economy.
Boost for Project Exports
Rs 3,000 Crore boost is being provided to EXIM Bank for promoting project exports under Indian Development and Economic Assistance Scheme (IDEAS Scheme). This has been provided to boost exports from India.
Capital and Industrial Stimulus
Rs 10,200 Crore additional budget stimulus is being provided for capital and industrial expenditure on domestic defence equipment, industrial infrastructure and green energy.
R&D grant for COVID Vaccine
The economic cost of the COVID-19 pandemic is not hidden to anyone. As the infection count is growing day by day, a vaccine is the only way out of this situation. The AatmaNirbhar Package 3.0 has extended funding for the development of indigenous COVID vaccine. Rs 900 Crore has been allocated to the Department of Biotechnology for Research and Development of Indian COVID Vaccine.
More details about the AatmaNirbhar Package 3.0 is in the video below-
Also enhance your RBI Grade B exam preparation by joining our exclusive RBI Grade B course.
Also Read
Get Free Online Test Series, GK updates in form of Beepedia, BeeBooster,  as well as latest updates for Bank PO, Bank Clerk, SSC, RBI, NABARD and Other Government Jobs.
займ-экспресс
займ онлайн без звонков
гк займ