IBPS PO Exam Pattern
IBPS PO Exam Pattern 2021
IBPS PO has been one of the most sought-after jobs and thus can be expected to be one of the toughest ones too. Looking over the IBPS PO exam pattern for the recent years, it has been quite a bumpy ride as IBPS has left no stone unturned in increasing the difficulty level of the IBPS PO exam. So, to ensure your full-proof success, it is necessary that you are aware of the ever-changing exam pattern of IBPS PO and other related details. The IBPS PO 2021 exam pattern is same as last year's. There will be three phases in the IBPS PO 2021 exam.
IBPS PO Prelims

IBPS PO Mains

IBPS PO Interview
IBPS PO Prelims Exam Pattern
IBPS PO Prelims 2021 is the first phase of the IBPS PO recruitment process. Only recently IBPS has introduced a new pattern of sectional timings in the IBPS PO 'Prelims' as well as in 'Mains. All the questions will be 'objective type'. You will have to secure sectional as well as the overall cut-off to qualify for IBPS PO Mains 2021. The details of the IBPS PO Prelims exam pattern is as follows:
S. No.
Name of Tests
No. of Questions
Marks
Time Allotted
Medium
1.
English Language
30
30
20 Minutes
English
2.
Quantitative Aptitude
35
35
20 Minutes
English & Hindi
3.
Reasoning Ability
35
35
20 Minutes
English & Hindi

Total

100

100

60
IBPS PO Mains Exam Pattern
After IBPS PO Prelims is over and you will be shortlisted according to the announced cut-off, you will be called for IBPS PO Mains exam further. The IBPS PO Mains exam consists of four objective tests along with one English descriptive test which will be evaluated only if you secure the expected cut-off in the other four objective tests. The cumulative score ( Objective tests marks + Descriptive marks) obtained in IBPS PO Mains exam 2021 will further go on to decide your selection for the third ie IBPS PO Interview stage.
S. No.
Test Name
No. of Questions
Marks
Medium of Exam
Time Allotted
1.
Reasoning & Computer Aptitude
45
60
English & Hindi
60 minutes
2.
General/ Economy/ Banking Awareness
40
40
English & Hindi
35 minutes
3.
English Language
35
40
English
40 minutes
4.
Data Analysis & Interpretation
35
60
English & Hindi
45 minutes

Total

155

200

3 hours

5.
English Language (Letter Writing & Essay)
2
25
English
30 minutes
IBPS PO Interview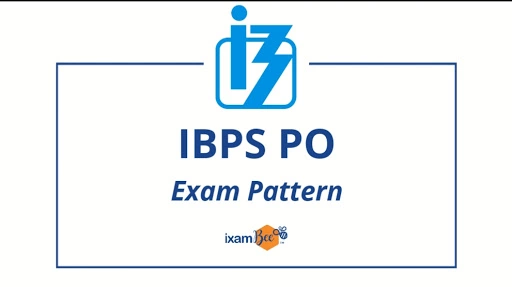 If you qualify IBPS PO Mains Exam 2021, you will be called for Personal Interview. The scores of the IBPS PO Mains exam will ensure a seat for you in the final Interview stage. You will be asked questions on various topics, personal and professional. So, it is advised to prepare yourself well before you appear for the IBPS PO Interview 2021.
IBPS PO Final Selection
After the IBPS PO interview process is over, a final merit list will be declared with the final cut-off. This merit will be prepared on the basis of marks obtained by you in the online IBPS PO Mains exam and Interview. If you are able to qualify in the interview stage, you will be appointed as a PO in various Public Sector Banks.
IBPS PO Marking Scheme
IBPS follows certain criteria when it comes to the marks allotment. This particular marking scheme can also be considered as a part of the difficulty level of the IBPS PO exam. Every incorrect answer would cost 1/4th of the original marks allotted to the particular question. There will not be any deduction for an unattempted answer in IBPS PO 2021.
IBPS PO Marking Scheme
| IBPS PO Marking Scheme | Considered Marks |
| --- | --- |
| For correct answers | 1 mark |
| For wrong answers | -0.25 marks |
| For not attempted | 0 (no marks) |
Frequently Asked Questions
Q1:
Can those students who are appearing in final year of Graduation apply for any post in IBPS PO 2021 recruitment?
A:
Yes. The candidates who have appeared for the final examinations and waiting for the results are eligible to appear in the IBPS PO selection process.
Q2:
In IBPS PO 2021 Exam, can I choose Hindi language as the exam language?
A:
Yes, IBPS PO 2021 Exam is bilingual (i.e, Hindi & English). You can choose your preferred language accordingly.
Q3:
Is the IBPS PO 2021 Examination in ONLINE or OFFLINE mode?
A:
IBPS PO 2021 Exam will be in online mode.
Q4:
Is there any sectional CUT-OFF in IBPS PO 2021 Exam ?
A:
Yes, IBPS PO 2021 Exam will have sectional cut-off along with the overall cut-off.
Q5:
Is IBPS PO 2021 Job transferable?
A:
Yes, IBPS PO is liable to be posted anywhere in India, also depending on the job profile and department being served.
Q6:
How many attempts are there in IBPS PO 2021 Exam ?
A:
There is no such limit on the number of attempts for IBPS PO 2021 Exam. You can appear for this exam till the time you are eligible according to the eligibility criteria provided by IBPS in its notification.