IBPS PO Exam Pattern
This Diwali, burst crackers and get upto 38% off on all ixamBee courses;
Click here to Burst !!!
Exam Pattern 2021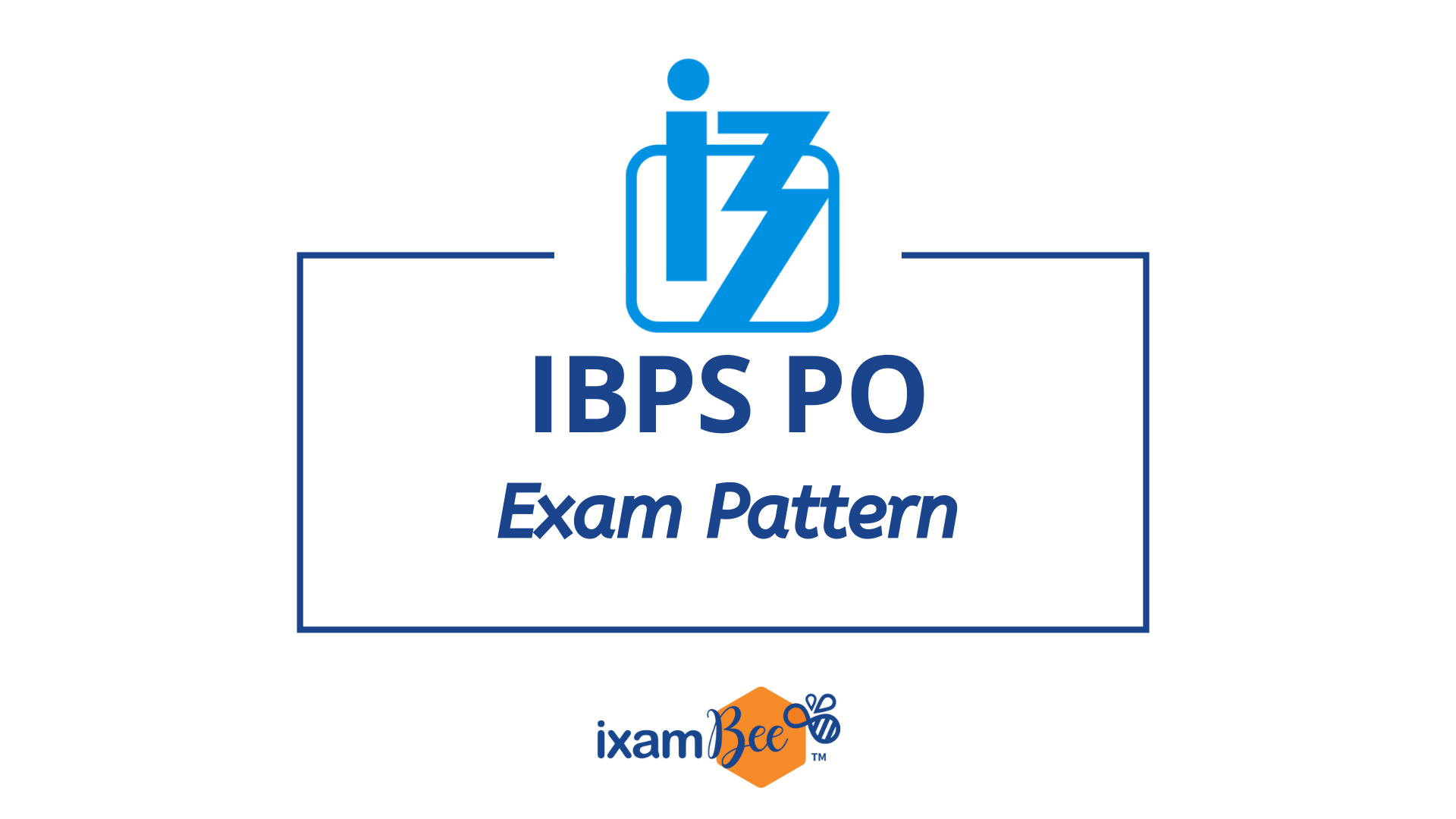 IBPS PO has been one of the most sought-after jobs and thus can be expected to be one of the toughest ones too. Looking over the IBPS PO exam pattern for recent years, it has been quite a bumpy ride as IBPS has left no stone unturned in increasing the difficulty level of the IBPS PO exam. So, to ensure your full-proof success, it is necessary that you are aware of the IBPS PO exam pattern 2021 and other related details. There will be three phases in the IBPS PO 2021 exam.
IBPS PO Prelims

IBPS PO Mains

IBPS PO Interview
IBPS PO Prelims Exam Pattern
IBPS PO Prelims is the first phase of the IBPS PO recruitment 2021 process. All the questions in the IBPS PO Prelims exam will be 'objective type'. You need to secure sectional as well as the overall cut-off to reach IBPS PO Mains 2021. The details of the IBPS PO exam pattern for Prelims is as follows:
S. No.
Name of Tests
No. of Questions
Marks
Time Allotted
Medium
1.
English Language
30
30
20 Minutes
English
2.
Quantitative Aptitude
35
35
20 Minutes
English & Hindi
3.
Reasoning Ability
35
35
20 Minutes
English & Hindi

Total

100

100

60
IBPS PO Mains Exam Pattern
After IBPS PO Prelims is over, you will be shortlisted for the next stage according to the announced cut-off. The IBPS PO exam pattern 2021 for Mains will consist of four objective tests along with one English descriptive test which will be evaluated only if you secure the expected cut-off marks in the other four objective tests. The cumulative score (Objective tests marks + Descriptive test marks) obtained in IBPS PO Mains exam 2021 will further go on to decide your selection for the third ie. IBPS PO Interview stage.
S. No.
Test Name
No. of Questions
Marks
Medium of Exam
Time Allotted
1.
Reasoning & Computer Aptitude
45
60
English & Hindi
60 minutes
2.
General/ Economy/ Banking Awareness
40
40
English & Hindi
35 minutes
3.
English Language
35
40
English
40 minutes
4.
Data Analysis & Interpretation
35
60
English & Hindi
45 minutes

Total

155

200

3 hours

5.
English Language (Letter Writing & Essay)
2
25
English
30 minutes
Interview
If you clear your IBPS PO Mains exam 2021, you will be called for a Personal Interview. The scores of the IBPS PO Mains exam will ensure a seat for you in the final Interview stage. You will be asked questions on various topics, personal and professional. So, it is advised to prepare yourself well before you appear for the IBPS PO Interview 2021.
Final Selection
After the IBPS PO interview process is over, a final merit list will be declared with the final cut-off. This merit will be prepared on the basis of marks obtained by you in the online IBPS PO Mains exam and Interview. If you are able to qualify in the interview stage, you will be appointed as a PO in various Public Sector Banks.
Marking Scheme
IBPS follows certain criteria when it comes to the marks allotment. This particular marking scheme can also be considered as a part of the difficulty level of the IBPS PO exam. Every incorrect answer would cost 1/4th of the original marks allotted to the particular question. There will not be any deduction for an unattempted answer in IBPS PO 2021 exam.
IBPS PO Marking Scheme
| IBPS PO Marking Scheme | Considered Marks |
| --- | --- |
| For correct answers | 1 mark |
| For wrong answers | -0.25 marks |
| For not attempted | 0 (no marks) |
Exam Language
The IBPS PO (Prelims + Mains) exam 2021 give you the facility to choose your medium of the exam between English and Hindi language. Except for the test of the English Language, all the other tests can be given in your desired language. Also, the IBPS PO exam interface gives you an option to view any particular question in a different language apart from the one that has been selected in the starting.
Free Mock Test
After completing the IBPS PO syllabus, it is very important to practice what you have studied. You can do that by attempting online mock tests. Practicing IBPS PO Pre mock test will give you a real-time environment of the exam. By doing so, you can improve your speed and score in the exam. If you wish to improve the level and want to attempt different set of questions with higher difficulty level, you can also attempt IBPS PO Mains mock tests.
IBPS PO Exam Pattern Related Quick Links
---
Boost your preparation with Beepedia
---
High Quality Mock Test for you
---
Free Important Video Lectures
Frequently Asked Questions
Q1:
Can I choose Hindi language as the exam language in IBPS PO exam?
A:
Yes, IBPS PO exam is bilingual i.e, Hindi & English. You can choose your preferred language for any question that you want to read.
Q2:
Is there any negative marking for unattempted questions?
A:
Yes, 0.25 marks will be deducted as a penalty for every wrong answer that you attempt. For unattempted questions no marks will be given.
Q3:
Will there be any sectional timings in IBPS PO Prelims 2021?
A:
Yes, there will be a sectional timing of 20 minutes in each section of IBPS PO Prelims 2021.
Q4:
Will equal time be allotted to every section in IBPS PO Mains 2021-22?
A:
No. Every section in IBPS PO Mains will be allotted different sectional timings depending on the section.
Would you like to rate us 5 star.
Search