SBI / IBPS Clerk Practice Set
SBI Clerk (Junior Associate) Online Practice Test Course
SBI Clerk Prelims exam is scheduled on February 22, February 29, March 1, and March 8, 2020. If you are asking yourself if you have enough time to prepare then the answer is YES!!! You can still do a lot to crack SBI Clerk Prelims exam at this point if you plan to prepare strategically and use your time wisely and efficiently. Our SBI Clerk Online Practice Test Course consisting of 7500+ practice questions will help you do exactly that – Crack SBI Clerk Exam.
SBI Clerk (Junior Associate) Online Practice Test Course Offerings:
Practice Tests: 15 full-length practice tests for SBI Clerk Prelims and 7 full-length practice tests for SBI Clerk Mains to practice in real-life exam conditions
Chapter Tests: 125+ Chapter Tests to make you well versed with all important topics.
Section Tests: 30+ section tests to make your basics clear in all sections.
Live-doubt clarifying classes: 3 Live Classes per month where you can get all your queries resolved in Live Classes by interacting directly with the subject experts.
Validity: The course is valid for a period of 3 months.
Why do you need to go for SBI Clerk (Junior Associate) Online Practice Test Course?
Now is not the time to study new topics, but to work on strengthening what you have studied so far and this SBI Clerk Online Practice Test Course helps you in this.
SBI Clerk Mock tests adhere to the latest exam pattern taking into account previous year's exam patterns and expected trends.
New pattern expected questions are also included in the mock tests to prepare you to answer any type of question on the day of the exam.
Detailed explanations, short cut methods and related information are provided in the answer explanations wherever required for easy understanding
Performance analysis of every mock test attempted is provided, which will give you an idea about your preparation progress, identify your weaknesses and areas you need to work on.
Chapter tests and Section Tests to reinforce your conceptual learning of the topics, and to make you understand all concepts clearly enabling you to attempt similar questions with ease.
Live Classes with expert faculty where all your queries will be resolved. Our experts will also discuss proper preparation strategies and provide you guidance at each stage of preparation.

Study Hive

: StudyHive is a unique study group program that will help you to learn from your peers and spend more time in resolving lower difficulty level questions. This will also help in your self-study as you will have to present different topics with other members of the group. Thus it will enforce a better discipline in the studies. An additional advantage of StudyHive will be a significant improvement in your

communication skills which will help you not only in cracking the interview but also throughout your career.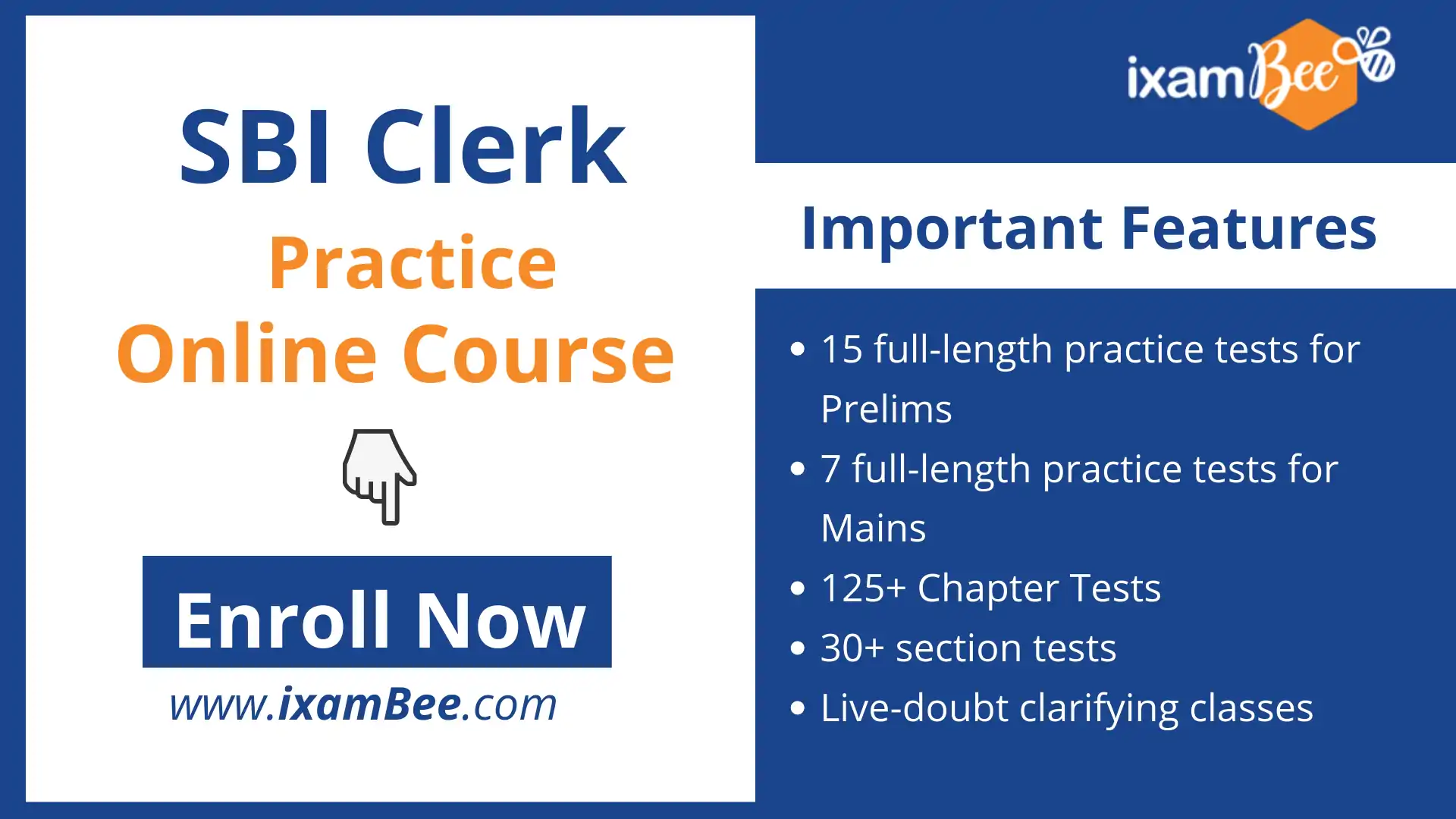 Frequently Asked Questions
Q 1:How to enrol for the SBI Clerk Practice Test course?
Click Here, to subscribe to the SBI Clerk Practice Test Course. In case any more clarification/assistance is required, please call us at 92055 24028 or send us an email at hello@ixamBee.com.
Q 2:Is there any specific system requirement for attending Live Doubt Clarification Classes?
No, there is no specific requirement. You should have good working internet for attending Live classes. However, please note that WizIQ, the platform where Live Classes are conducted, works best on the latest Google Chrome browser, also works on Firefox but might get video compatibility issues. IE is not recommended.
Q 3:What happens if I miss any Live Doubt Clarification Class?
We encourage all participants to attend Live Doubt Clarification Classes. Even if you don't have any doubt, the discussion that happens over doubts of others' is also very enriching and helpful in exam preparation. Sometimes very important points are discussed as part of these discussions. However, in case of genuine reasons, we may decide to share the recording of the class, on case to case basis.
Q 4:What time are the Live Doubt Clarification Classes Conducted?
Live Doubt Clarification Classes are mostly conducted at night (9/9: 30 PM), however, at times classes are conducted in the day time as well.
Q 5:How can I get my queries clarified other than through Live Doubt Clarification Classes?
You can send us your doubts through email at hello@ixamBee.com. Our experts will provide you with the best solution at the earliest.