IBPS RRB Office Assistant Salary 2023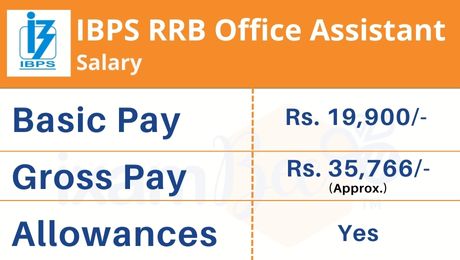 The IBPS RRB Office Assistant position not only gives you job security but also gives respect and dignity and pays you in a good way. The monetary aspect counts the most when applying for any job, apart from all the perks and benefits. The IBPS RRB Clerk's salary is given below.
Post
Salary
IBPS RRB Office Assistant
Basic Pay - Rs. 19,900/- Per month
DA - Rs. 6,973/- Per month
HRA - Rs. 2,168/- Per month
Special Allowance - Rs. 4,340/- Per month
Conv Allowance - Rs. 500/- Per month
HFA - Rs. 635/- Per month
Special Allowance - Rs. 1250/- Per month
Gross Income - Rs. 35,766/- Per month (Approx.)
In addition to this, an Office Assistant in RRB is eligible for extra allowances such as Dearness Allowance, Special Allowance, House Rent Allowance, and Newspaper Allowance with other various allowances.
IBPS RRB Office Assistant Job Profile
An "IBPS RRB Office Assistant job profile is similar to a commercial bank clerk's job profile. It is basically a lower-level management place also called the starting level of the bank job. An Office Assistant does a variety of work as described below:
Cash collection from the customer
Cheque verification
All the accounts work
Covers other responsibilities as well.
When selected as an RRB Office Assistant, you will be liable to do all the work mentioned below.
It's a front desk job where you need to be interacting with the account holders of the bank and thus requires a good personality as it represents the bank's reputation.
Receive and acknowledge cash, drafts, cheque, and pay orders along with other instruments.
Payout cash payment of withdrawal forms, cheques, etc.
Managing the delivery of checkbooks.
Other than this you will be required to do the work needed by the bank.
Recommended Courses for you