RBI Non-CSG Salary
RBI Non-CSG Salary 2020 - 2021
If you clear both stages of RBI Non CSG recruitment, you will draw a starting basic pay of Rs 35,150 / month. Besides this, you will also be eligible for Dearness Allowance, Local Compensatory Allowance, House Rent Allowance and many more. At present, initial monthly gross emoluments are Rs 83202 approximately. Also, you will be liable to reimbursement like maintenance of the vehicle, newspaper, telephone charges, book grant, allowance for furnishing of residence. You will be governed under the New Pension Scheme (NPS), in addition to the benefit of Gratuity. You will be on probation for two years which can be extended further to a maximum period of four years.
Post
Grade Pay
Grade 'A' Officers

Basic pay - RS. 28,150/- p.m.
Pay scale - Rs. 28,150-1550(4)-34350-1750(7)-46600-EB-1750(4)-53600-2000(1)-55600
Initial monthly gross emoluments - Rs. 63,656/- (approx.)

Grade 'B' Officers

Basic pay - RS. 35,150/- p.m.
Pay scale - Rs. 35150-1750(9)-50900-EB-1750(2)-54400-2000(4)-62400
Initial monthly gross emoluments - Rs. 83,202/- (approx.)
Note: If you possess a very high academic or professional qualification or experience that benefits the bank, you may get four advance increments. Your request for higher emoluments because of higher qualification or special experience can be considered by the bank board at the interview stage only and such information should be furnished in the 'Bio-data Form'.
RBI Non CSG Job Profile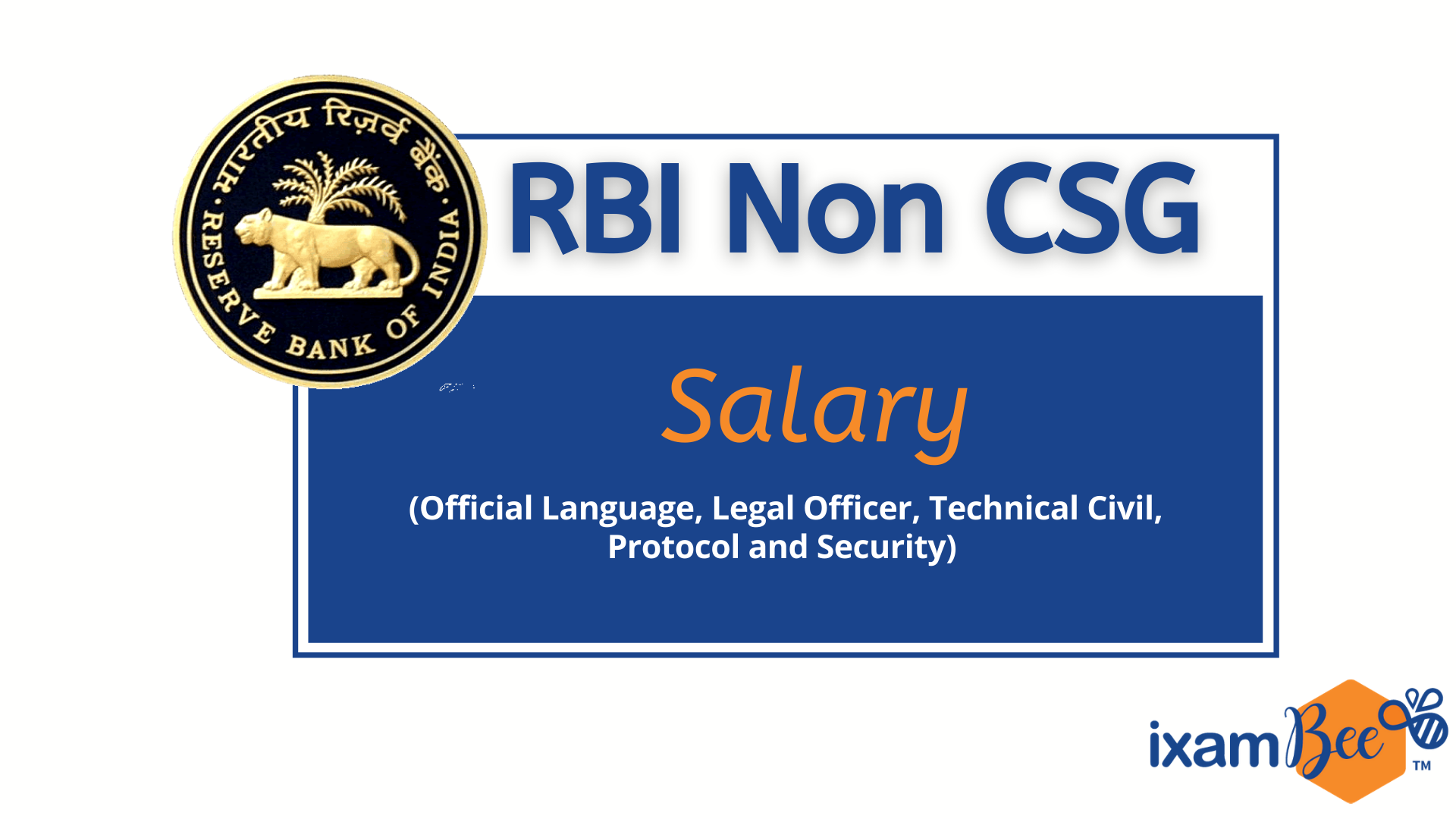 As the recently released RBI Non CSG notification 2020 - 2021 has different posts and requirements, so it's very obvious they will have different job portfolios. The job profile for each post that comes under RBI Non CSG recruitment is described below-
Legal Officer in Grade 'B' - As a legal officer in RBI you will be dealing with legal issues received from various departments of the RBI and its associate institutions.Also preparation of initial drafts of legislation administered, drafts of pleadings and comprehensive instructions in connection with litigation related to the RBI and its associate institutions will come under your domain. Besides this you will represent RBI before Conciliation Officers, Labour Courts, Tribunals on legal matters.
Manager (Tech - Civil)- Posted as a Manager ( Tech-Civil ) you will be responsible for designing, constructing, supervising and managing projects related to construction of office and residential buildings or renovation, retrofitting and repairing of existing buildings, properties and old structures.
Assistant Manager (Rajbhasha)- Posted as an Assistant Manager (Rajbhasha) your work involves translation from Hindi to English and vice-versa of various manuals, publications and documents of the RBI and arranging them for printing there after. Also you will be responsible for administering the Hindi Teaching Scheme for the RBI staff.
Assistant Manager ( Protocol and Security) - You will be responsible to watch and ward arrangements for guarding treasure vaults, passages, entry and exit points. Also any kind of surveillance through CCTV or monitoring and recording the same in the RBI office building will be your domain. Also protocol duties, maintenance and security of RBI properties will fall under your work authority.
RBI Non-CSG Salary Related Quick Links
---
Boost your preparation with Beepedia
---
Free Important Video Lectures
Frequently Asked Questions
Would you like to rate us 5 star.
Search