IBPS RRB Scale 3 Salary 2023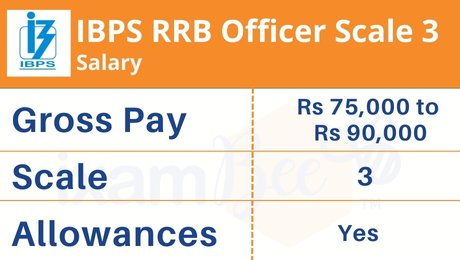 The banking sector has been one of the most sought-after for a few years now. All job aspirants prefer preparing for bank exams. The major reason behind this preference is the position, facility, and attractive pay scales that a bank officer might receive. Regional Rural Banks are almost similar to any other commercial bank in this respect. A Scale 3 Officer in any RRB receives a good amount of pay along with other benefits. It is important to note that the RRB Scale 3 notification 2023 has not specified the RRB Scale 3 salary and pay scale. However, as per the IBPS RRB Scale 3 notification 2022, the RRB Scale 3 Officer salary is as follows.
After getting posted, an IBPS RRB Officer Scale 3 salary will range fromRs 75,000 - Rs 90,000.
A Scale 3 Officer is also entitled to several allowances like Dearness Allowance, House Rent Allowance, Travel Allowance etc.
| Post | Salary |
| --- | --- |
| IBPS RRB Officer Scale 3 | Rs. 75,000/- - Rs. 90,000/- (Approx.) |
Job Profile
IBPS RRB Officer is a Group "A" post. If you are selected, you will be called a Scale 3 Officer - Senior Manager. An IBPS RRB Scale 3 Officer, being on a higher post is responsible for higher-level responsibilities. Though the basic tasks somewhat remain the same like:
Looking after the functioning of the branch
Taking care of the loan disbursements and recoveries
Occasionally supervising the junior staff
Keeping a check on the regular tasks of the concerned bank branch.
Recommended Courses for you
FAQs
The salary of an IBPS RRB Scale 3 Officer ranges from 38k to 44 k. For detailed information on this, please refer to the salary page.
No, IBPS RRB Scale 3 officer is a region based job. You can be posted anywhere within the state after being selected as IBPS RRB Scale 3 Officer.
No such information has been furnished in the official notification of IBPS RRB Scale 3.