IBPS RRB Scale 3 Study Plan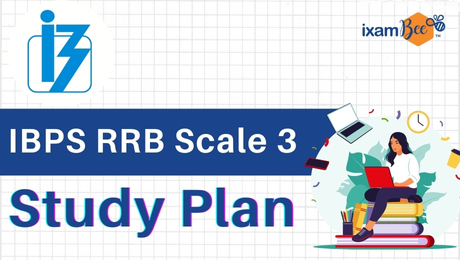 IBPS RRB Scale 3 notification 2023 has been released on June 07, 2023 and the exam is scheduled to be held in September/October 2023. Therefore, if you have been aiming for the IBPS RRB Scale 3 exam this year, you must put your full concentration and start your preparation with full swing. IBPS RRB Scale 3 exam is conducted to recruit 80 candidates and it is expected that more than lakh of students will appear in this exam.
In order to crack this exam with flying colors, one needs a clear and useful strategy along with full proof preparation. The preparation period is nearly 3 month for the Scale 3 exam, with this limited time in hand, you would need IBPS RRB Scale 3 preparation strategy/ Study plan that can help you out.
IBPS RRB Scale 3 2023 – Specialized 90 Days Study Plan [Download PDF]
IBPS RRB Scale 3 study plan that has been made by our experts will help you in cracking the exam with ease. This 90 Day IBPS RRB Scale 3 Study Plan has been prepared in a way that will leave you some breathing space for practice as well. These 3 months have been divided into the weeks that you have to follow religiously if you want to get selected as RRB Scale 3 officer in 2023.
| Week | Numerical Ability and Quantitative Aptitude | Reasoning | English Language | General Awareness | Computer Knowledge |
| --- | --- | --- | --- | --- | --- |
| Week-1 | Simplification & Approximation, LCM and HCF, Percentage | Coding Decoding, Inequalities | Cloze Test | Banking Awareness | History of Computers, Communication (Basic Intro) |
| Week-2 | Age, Average, Ratios & Proportion, Number Series | Blood Relations, Direction, Figure Series | Reading Comprehension | Indian Financial System | MS Windows and MS Office, Operating System |
| Week-3 | Factoring | Alphanumeric Series, Alphabet Test, | Fill in the blanks | History and Structure of Indian Banking | Concept of Internet, History and working of the Internet |
| Week-4 | Missing Numbers, Number System | Seating Arrangement, Tabulation Puzzles | Paragraph Completion, Mistakes | Indian Economy, Monetary and Credit Policies | Applications, Security Tools |
| Week-5 | Simple and Compound Interest | Logical Reasoning | Sentence Correction, Para Jumbles | RBI, SEBI, IRDA, PFRDA, FSDC, FMC, Concepts like BASEL | Viruses |
| Week-6 | Volume, Bar Graphs, Pie Charts | Syllogism, Assertion and reason | Paragraph Completion | Government Schemes | Number System, Hackers |
Exam Pattern
Name of the Tests
Medium of Exam
No. of Questions
Maximum Marks
Duration
Reasoning
Hindi/ English
40
50
Composite Time of 2 hours
Computer Knowledge
Hindi/ English
40
20
Financial Awareness
Hindi/ English
40
40
English/ Hindi language*
English/ Hindi
40
40
Quantitative Aptitude & Data Interpretation
Hindi/English
40
50

Total

200

200

* Candidates can opt either English or Hindi language
Things to Keep in Mind while following IBPS RRB Scale 3 Study Plan
Apart from following the IBPS RRB Scale 3 Study Plan, you should keep these things in mind while preparing for IBPS RRB Scale 3 exam.
Gather the best study material and books available in the market. This will help you save your precious time. In case you want ixamBee's recommendations, you can visit the syllabus section where you will get the detailed list of IBPS RRB Scale 3 books.
Merely completing the syllabus is not enough, you should solve mock tests and previous year question papers as much as you can to check your progress. You can solve the IBPS RRB Scale 3 mock tests for free at ixamBee. Also check IBPS RRB Scale 3 previous year papers.
While completing the syllabus you may get overwhelmed as the same is vast. We recommend you to keep your calm and do not over-stress. This will help you in following the Study Plan and completing the same on time and with ease.
Do not think about the competition, prepare for this exam with a positive approach and you will be half way through.
Revision is the key! Don't just stuff things in your mind, timely revise topics so that you can retain it for a longer time. This way you will make the best use of your time.
Recommended Courses for you
FAQs
Planning is a productive way to get things done on time. There are higher chances of getting success on things we do with a plan. If you don't have a IBPS RRB Scale 3 Study Plan of your own, we recommend you to use our IBPS RRB Scale 3 Study Plan and follow it religiously.
Yes absolutely, the IBPS RRB Scale 3 Study Plan comprises all 5 sections. Please download the PDF through the link provided above.
Just follow the IBPS RRB Scale 3 study plan provided to you without fail. With time, you will gain confidence and a positive attitude that will help you in IBPS RRB Scale 3 preparation.