NABARD Grade A Salary 2022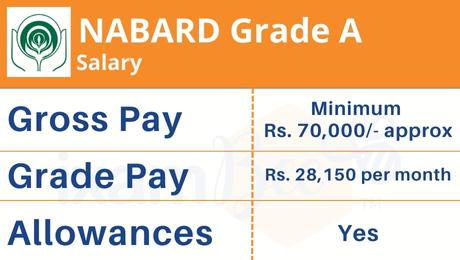 One of the reasons behind choosing any job is the reward that you will get after serving in any job position from the monetary aspect. Rewards may broadly include other allowances, perks, and benefits also, but the main thing is the salary that is received in hand. NABARD can be counted among the best-paying jobs in India. Know about the NABARD Grade A 2022 salary in detail.
NABARD Grade A Salary Details 2022
Salary is one of the most searched topics among aspirants who are willing to make a career in the NABARD as a Grade A officer in various streams. Irrespective of the stream for which you have applied, your initial and overall NABARD Grade A salary structure will be same. The grade pay will differ once you reach higher in the hierarchy.
Your initial salary is Rs, 28,150 per month in the pay scale of 28150-1550(4) -34350-1750(7) – 46600 –EB - 1750(4)- 53600-2000(1)-55600
The initial monthly gross emoluments of a NABARD Grade A officer at present is approximately Rs. 70,000.
The details on NABARD Grade A 2022 salary can be devised from the table below.
Post
Salary
NABARD Grade A

Basic salary - Rs, 28,150
Scale of 28150-1550(4)-34350-1750(7)–46600–EB-1750(4)-53600-2000(1)-55600
Approximately Rs. 70,000
Click Here to Watch NABARD Grade A Exam Pattern
Increment Table For NABARD Grade A Officer
As discussed above the initial NABARD Grade A Officer salary is Rs 28150 / month. You will be given an increment of Rs 1550 for the first four years. After 4 years of your service, your increment will be raised to Rs 1750 and this will be applicable for the next 7 years. After this increment, your basic pay will be Rs 46600. Your last increment will be of Rs 2000 and the maximum basic pay that you will receive is Rs 55600.
Check the table below for more detailed information on the increment of a NABARD Grade A Officer.
| Time Duration | Basic Salary | Increment Amount |
| --- | --- | --- |
| First 4 years | Rs 28150 | Rs 1550 |
| Next 7 years | Rs 34350 | Rs 1750 |
| Next 4 Years | Rs 46600 | Rs 1750 |
| Next 1 year | Rs 53600 | Rs 2000 |
Perks and Additional Benefit For NABARD Grade A Officer
NABARD Assistant Manager Salary in hand is sufficiently good. Along with this, a Grade A Officer is entitled to many allowances and benefits. After being selected as NABARD Grade A Officer, you will be eligible to have the following.
Dearness Allowance
House Rent Allowance
Local Allowance
Family Allowance
Grade Allowance
Accommodation facilities all over India. This facility is subject to availability.
Telephone, Newspaper and Maid allowance
Medical Expenses reimbursement
Furniture allowance
Dispensary facilities
Interest-free festival advance
Leave fare concessions
Loans at concessional rates of interest (for House, Car, Education, Personal)
New Pension Scheme (NPS)' in addition to Gratuity and Optional Group Term Insurance Plan benefits
Click Here to Watch NABARD Grade A Course Demo
NABARD Grade A Probation Period
If you are selected as a NABARD Grade A Officer, you will be on probation for 2 years which may be subjected to an extension of 1 more year. After the completion of the probation period, you will be given the designation of Assistant Manager (AM).
| Post | Probation Period |
| --- | --- |
| NABARD Grade A | 2 years |
NABARD Grade A Job Profile
If you manage to qualify all the phases of NABARD Grade A 2022, you will be posted in one of the branches of NABARD. Depending upon the stream for which you have been selected, your job profile, roles and responsibilities will differ. Some of the basic responsibilities are given below.
Initially, you will be required to perform all kinds of basic job roles to understand the tasks and responsibilities of that job post.
You will be required to carry out managerial tasks or any other tasks that may be handed over by the senior.
You may have to look after the clerical work also.
You may also have to deal with the matters related to policies of various central and state government programs related to Agriculture & Rural Development.
Further details on the NABARD Grade A job profile based on the stream for which you are selected have been mentioned below.
S.No.
Technical Disciplines
Skill –sets /Nature of Work
1
Information Technology
Security /Analytics /Database Administration /Application Development/ Networking /Server Management and related fields/ Database Analysis (MySQL, Oracle, MSSQL).
2
Finance, CA and CS
Treasury Management /Risk management/Handling of regulatory and/or statutory compliances for public issues, retail bonds, etc.
3
Agriculture, Agriculture, Engineering, Agriculture Info., Animal Husbandry, Biotechnology, Civil Engineering, Computer and Information Tech., Economics, Electrical, Engineering, Electronics & Communications, Environment Engineering, Fisheries, Food Processing, Forestry, Geo. Informatics, Horticulture, LD - Soil Sci., Social Work/Audit, Minor Irrigation/Water Resources

Identifying and mapping of resource potential under related sectors and sub sectors of rural economy and SWOT analysis thereof, credit-linked planning, preparation of sectoral papers , State Focus Papers, etc.
Meeting requests from client institutions, especially Banks and Government Departments, for periodic updating of technofinancial parameters and unit costs of various developmental activities.
Provision of expert views, advisory services, consultancy, etc. to individual entrepreneurs, Corporates, institutions, Government Departments etc. seeking such advice. This may be in contexts of preparation of DPRs, standardisation of techno-financial norms with specific reference to new agribusiness ventures such as high value agriculture, value chain financing, processing and value addition, organic farming, etc.
Liaison with National / Regional Research Institutes to support their R&D interventions to develop solutions to field level technical /operational problems and innovative technologies.
Liaison with Line Departments of Central as well as State Governments, ICAR, and State Universities of related disciplines.
Advisory services at District/State/National level in operationalization of several Government sponsored schemes pertaining to related disciplines.
Representation on various technical committees/ sub-groups constituted by State / National Level institutions etc. towards policy advocacy.
Provision, and simultaneous internal capacity building, in the emerging areas of NABARD's interest and projects being implemented by NABARD requiring specialisations / expertise from related discipline.
Miscellaneous areas – suggestions / advice for effective policy formulations and business plans, Appraisal & Monitoring of proposals having NABARD's interest and/or involvement. Documentation of Success stories and dissemination technology for replication. Any support related to technical discipline sought from time to time.
Click Here to download NABARD Grade A Preparation Strategy
NABARD Grade A Career Growth
When you will be serving the organization as a NABARD Grade A Officer, given below is a regular career progression path you will undergo. NABARD Grade A is an Assistant Manager Post. Since you will land directly in a Managerial position through the NABARD Grade A exam, you will have high responsibilities to perform.