Question
Rice at Rs 80/kg is mixed with rice at Rs.40/ kg in a certain ratio such that by selling the mixture at Rs.60/ kg profit of 20% is made. If the quantity of 1st type of rice is 75 kg, find quantity of type of rice?
Solution
S.P Of the quantity = Rs.60/kg C.P of the quantity = 60/120×100 = Rs.50 Now ,Solve with Allegation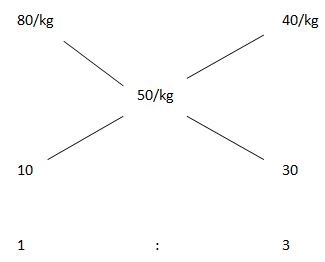 Quantity for 1st = 75 kg Therefore, Quantity for 2nd = (75)/(1×3) = 225 kg.