Month End Offer: Flat 45% Off
Course highlights
Video Lessons
Study Notes
Practice Questions
Practice Tests
Descriptive Mock Tests
Daily Online Classes
SEBI Grade A Online Course
Once the SEBI Grade A notification for General Stream, Legal Stream, and Engineering Streams is out, you will not have enough time to prepare. Being a serious SEBI aspirant, it is very crucial to make good use of the time you have now to keep up the pace with the speeding competition. To help you stay on the top of the game, ixamBee offers SEBI Grade A Online Course that will guide you on the right preparation strategy, cover the entire syllabus and interview. In addition, your SEBI Grade A Descriptive English Papers will be evaluated by our experts and proper feedback will be given, that too within 24 hours.
SEBI Grade A Online Course Consists of:
600+ video Lessons

covering the entire Syllabus for all Papers of SEBI Grade A Phase I and SEBI Grade A Phase II.

300+ Study Notes

designed by expert faculty covering SEBI Grade A syllabus for all Papers of Phase I and SEBI Grade A Phase II

25 full-length Mock Tests

for SEBI Grade A Phase I (15 for Paper 1 and 10 for Paper 2) and 5 Full-Length Mock Tests for SEBI Grade A Phase II Paper 2, adhering to SEBI Grade A new exam pattern

5 Descriptive English mock tests

(Phase 2-Paper 1) with individual performance feedback.

14,000+ Practice questions

covering all the new subjects/topics introduced in SEBI Grade A Exam

Daily live online classes

for doubt clarification with the subject experts
All video lessons are self-explanatory and available for the students to access and prepare during the time most feasible for them.
The various tests in the form of concept questions, chapter tests, section tests and mock tests provide a wide and targeted coverage of the syllabus.
Our experts will provide

guidance, tips and preparation strategy

at each stage of preparation
SEBI Grade A Online Course includes

guidance for Interview Round

as well.
SEBI Grade A Comprehensive Online Course Is A One-Point Source For Preparation Of SEBI Grade A Exam
When subscribed to SEBI Grade A Comprehensive Online Course, you need not access various other websites and publications as this course provides crisp and exam relevant summaries of all relevant reports, circulars and important current affairs as follows:
New Syllabus -

Full Coverage of new syllabus: Costing, Commerce & Accountancy, Companies Act, Economics (Micro and Macro)

Government Schemes

- Crisp and comprehensive coverage of all important present and past schemes, at both central and state level

Important committees formed by RBI, SEBI, Govt.-

Summaries of various committees formed over the years

Budget & Economic Survey

- Summary notes and important MCQs in both video and PDF format

Summary of important SEBI publications

- SEBI's Annual report, Financial Stability Report, important FAQ are covered in easy to remember formats

Memory Based papers

: Phase 1 and Phase 2 memory-based papers for practice and to get an idea about the exam pattern

Current Issues Covered

: Current and relevant issues are explained in notes and Live sessions

Important questions

: Important questions from exam point of view will be provided before the examination for quick revision.
How to enroll for SEBI Grade A 2022 Online Classes on ixamBee?
If you are a registered user of ixamBee, you need to log in to the website & go to the 'online course tab' where you can select the SEBI Grade A Online Course under the 'SEBI' section from the drop-down menu.
Click on the course and you will find complete details of the SEBI Grade A Online Coaching with three options on the extreme right of the course page.
You can either watch a free demo or directly click on the 'Buy Now' tab and follow further steps to make the payment for SEBI Grade A Online Course.
In case of any clarification/assistance, feel free to request a callback or send an email to hello@ixamBee.com.
Want to see yourself in the list of selected candidates, then enroll for ixamBee's SEBI Grade A Research Online Course
Below are a few more reasons which will help you decide:
Shivani (Selected as SEBI Grade A Research 2020)
ixamBee Research Stream study material is crisp and to the point. I found it covered almost all the syllabus. On top of it, practice tests and mock tests were close to what I witnessed in the actual exam. I used to revise the material multiple times. And for some topics mentioned in the notes, I referred to my own written notes. Nothing is impossible when we decide to work hard and I did that. I had sleepless nights and am happy that I was moving in the right direction as I trusted ixamBee content and my belief. I qualified for both General and Research Stream SEBI GRADE A interview, which was like a dream come true. There were only three candidates across the country who qualified for 2 streams and I was one of them. The material is quite relevant and required necessity. Since no other good platform was providing research stream material, ixamBee material helped me gain Knowledge of advanced concepts, at a decent price and in less time. I would also like to mention that the material is free from error and updated which is the best thing for candidates. I would like to thank the faculties who all were involved in video lessons, content selection, and design.
Santwana Panda (Selected in SEBI Grade A 2018, AIR 2)
Thank you ixambee. I subscribed to the Full SEBI Course and made the best use of the free mock tests. Their study material is very concise, easy to revise, and up-to-date which helped me in solving many of the securities market questions. I am especially grateful for their personal guidance during the interview stage.
Mahidhar Boyapati (Selected as RBI Grade B officer 2019)
I have cleared the RBI Grade B 2019 exam with the help of ixamBee course and guidance. Before switching to RBI, I worked for TCS, SBI, and EPFO, but I always felt that I could do better and this urged me to for the RBI Grade B exam. I was clueless when I started my journey but with the immense guidance of faculties like CP sir, Prachi Ma'am I was always sure that I will nail the exam. My all study resources for the RBI Grade B exam were wholly dependent on ixamBee material from mocks to youtube to course pdf. Lastly, I want to thank ixamBee for helping me in achieving such a feat.
Aakash Santoria (Selected RBI Grade B officer 2019)
ixamBee mocks of RBI Grade B serve as my savior. English and GA were my strongest points but Reasoning and Quants were a bit challenging. But my this fear was overcome when I went through ixamBee videos for these two sections. These videos of ixamBee not only shoved off my fear but gave me the confidence to achieve and target more. Finally, I am so much grateful to ixamBee for playing a powerful role in my achievement.
Kanika Berry (Selected as RBI Grade B officer 2019)
I have cleared the RBI Grade B 2019 exam. I am extremely grateful to ixamBee for helping me in achieving this feat. The guidance provided by the faculties was of immense help. They not only helped me in my RBI Grade B preparation but also motivated me from time to time to work harder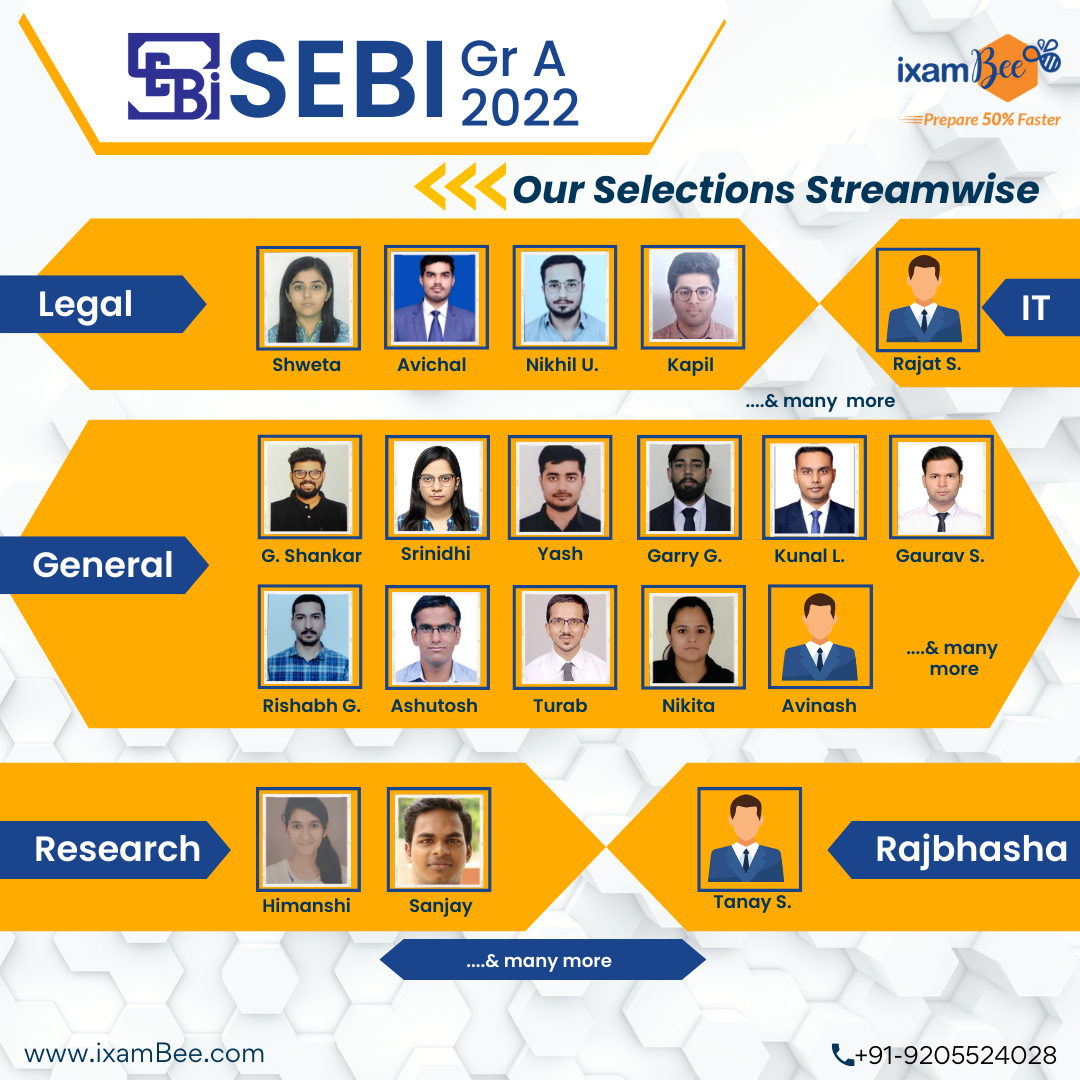 Faculty and Course Coordinator
---
---
---
---
---
---
---
---
---
First of all no institute is perfect everyone has certain pros and cons. For me the biggest pro of ixambee has to be Prachi mam. Since day 1 the way she has extended her guidance to me is what every aspirant looks for. In terms of content I feel the recor

Classes are good. Satisfied with it till now. Faculty is doing great in helping us incorporate basics. Some classes such as decision making seem more of a discussion than learning experience. Also, GA and ESI classes seem to be on a similar footing.
Study Materials Information