Salary 2022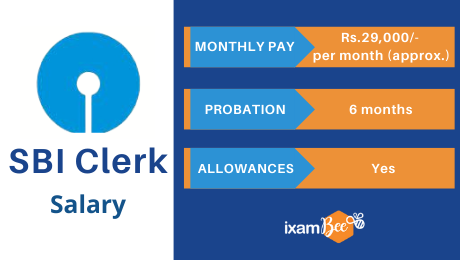 Before applying for the job, it is extremely necessary to know about the SBI Clerk salary structure. SBI is considered to be one of the best recruiters in the banking industry, as SBI Clerk 2022 salary is handsome. Along with other benefits to its employees, it rewards their work to the best of their capability. To work with a bank like the State Bank of India is a dream of many.
If you get posted at Metro cities, the starting SBI Clerk basic pay 2022 will be around Rs.29,000/- per month inclusive of other facilities. For a Graduate, two additional increments will be implemented. Let's check out the SBI Clerk 2022 Salary from below. The SBI Clerk salary mentioned below is as per last year's notification. Any change in the SBI Clerk Salary 2022 will be updated once the notification is out.
Post
Salary
SBI Junior Associates (Clerk)

PAY SCALE:- Rs.17900-1000/ 3-20900-1230/ 3-24590-1490/ 4-30550-1730/ 7-42600-3270/ 1-45930-1990/1-47920.
Basic Pay:- Rs. 19900/- (Rs. 17900/- plus two advance increments admissible to graduates)
Perks And Allowances
As an SBI Clerk 2022 you will be eligible for various perks and allowances. Some of them are mentioned below.
Provident Fund
Medical expenses
Leave fare
Transport allowance
City allowance
DA
You will also be covered under New Pension Scheme
Probation Period
You will be governed by the terms and conditions of the Service Regulations of the Bank at the time of joining as SBI Clerk 2022. As an SBI Clerk, you will be on probation for 6 months. Besides this, you need to complete e-lessons as prescribed by SBI for getting confirmed in the Bank. In case you fail, your probation will be extended further.
Job Profile
A large chunk of job aspirants apply for the SBI clerk every year. Being one of the largest and prominent banks in the Indian Banking System, SBI recruitment always attracts youth. As an SBI Clerk 2022, you have ample opportunity to get promoted to a higher level. But before you go for such a rewarding career, it is very important that you are aware of the SBI Clerk job profile. Some basic responsibilities of the SBI Clerk are listed below-
Maintenance of daily transactions
Responsible for handling the customers and their queries
Responsible for withdrawals, deposits, verifying cheques
Recommended Courses for you
SBI Clerk (Junior Associate) Prelims - Free Mock Tests
60 Minutes
100 Questions
100 Marks
60 Minutes
100 Questions
100 Marks
60 Minutes
100 Questions
100 Marks
60 Minutes
100 Questions
100 Marks
SBI Clerk (Junior Associate) Prelims - Previous Year Paper
60 Minutes
100 Questions
100 Marks
60 Minutes
100 Questions
100 Marks
60 Minutes
100 Questions
100 Marks