Syllabus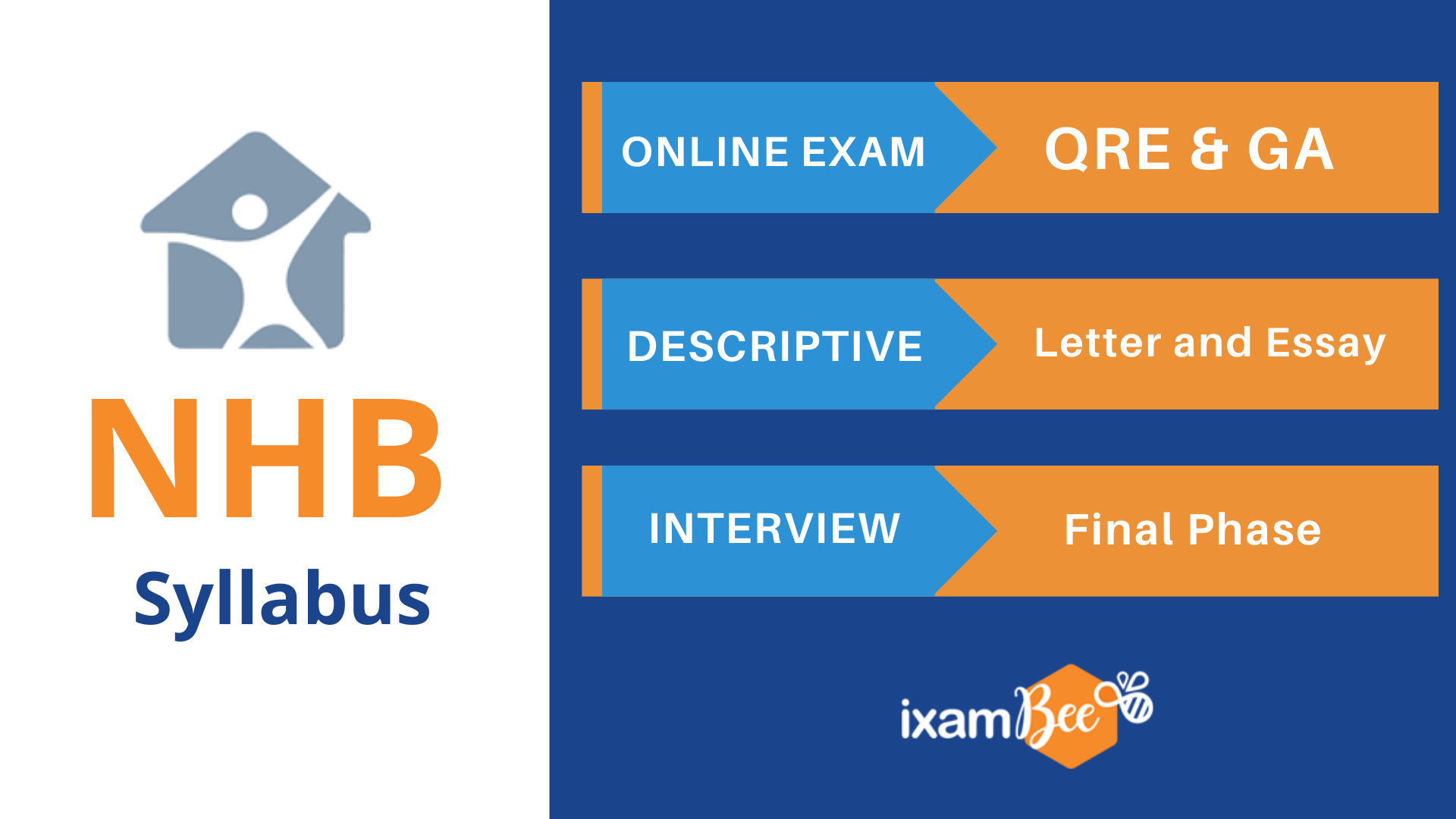 The NHB recruitment notification 2021 was eagerly awaited by many aspirants and now that it is out, every candidate should be on their toes. The preparation of an exam needs to be well planned and sorted well in advance. To do that, you need to be aware of the NHB exam syllabus. The first level of the selection process will contain questions from various topics. Thus, you should first know what all you actually need to cover with respect to each of the subjects. Have a look at the detailed syllabus below:
Section
Topics
Reasoning and Computer Aptitude
Verbal Reasoning, Critical Reasoning, Syllogism, Seating Arrangement- Circular, Square & Linear, Puzzles, Blood Relations, Coding and Decoding, Blood relations, Inequality, Syllogism, Machine input and output, Ordering and Ranking, Arrangement and Pattern, Scheduling, Distance and Direction, Ranking, Basic Security Concepts, Binary Language Coding, Computer Abbreviations and Terminology, Keyboard Shortcuts, Logic Gates, Operating Systems, Storage and Memory
General Awareness (With Special Focus on Economy & Banking) and Computer Knowledge

General Awareness :

Current Affairs (Beepedia), Budget, Economic Survey, Banking and Finance, Financial Terms, People in News, Awards, Sports

Computer Knowledge :

Email and Microsoft Office, DBMS, Computer Network, Internet, History and Generation Of Computers

English Language
Grammar, Vocab, Reading Comprehension, Cloze Test, Para Jumbles, Fill in The Blanks, Paragraph Completion, Multiple Meaning/error Spotting, Paragraph Completion, Idioms and Phrases
Quantitative Aptitude (With Special Emphasis on Data Analysis and Interpretation)
Simplification and approximation, Number Series, Quadratic Equation, Number System / HCF & LCM, Ratio and Proportion, Average, Partnership, Ages, Percentage, Profit & Loss, Time, Speed & Distance, Mensuration and Geometry, Problems on Trains, Boat and Stream, Time & Work / Pipes and Cisterns, Simple and Compound Interest, Mixture & Allegations, Permutation and Combination, Probability, Data Interpretation (DI) (Pie Chart, Bar Graph, Caselete, Tabular Data, Line Chart)
Books
To ensure success in any exam, you need to get hold of the best books that are available as they are the most important aspect of exam preparation. It is always important to make sure that you have the best study material in the form of notes and books to prepare. We have listed down a few NHB AM books for preparation.
Subjects
Books
Author/Publisher
Quantitative Aptitude
Quantum CAT
Sarvesh Kumar Verma
Data Interpretation for CAT
Arun Sharma
Magical book on Quicker Maths
M Tyra
Fast Track Objective Arithmetic
Rajesh Verma
Quantitative Aptitude for Competitive Exams
RS Aggarwal
Data Analysis & Interpretation
Data Interpretation and Data Sufficiency
Ananta Ashisha (Arihant)
Data Interpretation
BSC Publication
Data Interpretation
Magical Book Series
Reasoning Ability
A New Approach to Reasoning Verbal and Non-Verbal
B.S. Sijwali and Indu Sijwali
Analytical Reasoning
MK Pandey (For the chapters required for analytical reasoning)
A Modern Approach to Verbal & Non-Verbal Reasoning
R.S. Aggarwal
English Language
Objective General English
SP Bakshi
Descriptive General English
SP Bakshi and Richa Sharma
High School English Grammar and Composition
Wren and Martin
Word Power Made Easy
Normal Lewis
General/Economy/Banking Awareness
Banking Awareness Handbook of Banking Information
N.S.Toor
Banking Awareness
Arihant Publication
Static GK General Knowledge
Arihant
Lucent General Knowledge
-
Pratiyogita Darpan
SQ Sachdeva Mahendra Jain
Current Affairs
BeePedia
Computer Awareness
Objective Computer Awareness for General Competitive Exams
Arihant Publishers
Computer Aptitude & Awareness (Competition Series)
Manju Arora
Computer Awareness
Arihant Experts
Recommended Courses for you
NHB Assistant Manager Online Classes 2021: Preparing for National Housing Bank Assistant Manager 2021 check out our online courses, online study material, online coaching classes, video course and lectures for NHB Assistant Manager on ixamBee.

View Course

NHB Assistant Manager 2021- Doubt clarification, Mock and Personal Interviews with Experts, NHB Interview Tips and preparation strategy, National Housing Bank (NHB) Assistant Manager Interview 2021.

View Course