Salary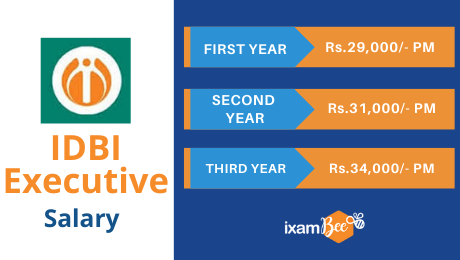 After the selection, you will be appointed as the Executive on a contractual basis. The contract would be initially for a period of 1 year and this may be extended for a further period of 2 years, based on the performance. On successful completion of a period of 3 years of contractual service, you may become eligible for appointment as Assistant Manager (Grade A) in IDBI Bank through a selection process. Further details on the IDBI Executive salary 2022 is given below.
Post
Salary
IDBI Executive

Ist Year -

Rs 29,000/- per month

IInd Year -

Rs 31,000/- per month

IIIrd Year -

Rs 34,000/- per month
Note: IDBI Executive is not entitled to any benefits/allowances such as Dearness Allowance, House Rent Allowance, PF or any gratuity. However, you will be covered under the IDBI Bank Ltd. New Pension Scheme (IBLNPS).
Job Profile
During the contractual period, you can be posted at any branch or office of the Bank as per requirement. In case, you get appointed as a permanent employee in future by clearing the exam conducted by the Bank, your contractual period of service would not be counted for any superannuation/ terminal benefits.
The responsibilities and roles that an IDBI Executive will perform are as follows-
Teller Service Executive:

You

will be required to handle the cash counter.

Customer Service Executive:

This job involves interacting with the customers, at the front desk. He/ she may also have to handle tasks related to cheque clearance, updating data, clearing bank accounts, helping the Assistant Manager, achieving sales targets etc.
Recommended Courses for you
IDBI Banking Executive - Free Mock Tests
120 Minutes
200 Questions
200 Marks
120 Minutes
200 Questions
200 Marks
120 Minutes
200 Questions
200 Marks