Salary 2022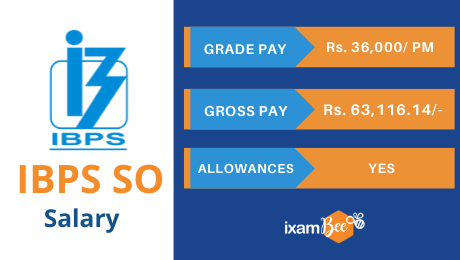 One of the major reasons behind most of the candidates preferring IBPS SO jobs is the stability and security that one receives in a bank. Along with this stability, you also get an attractive salary which makes it an obvious choice. As an IBPS SO 2022, you are also entitled to receive other allowances like HRA, DA, Special Allowance, Travel Allowance and many more. You will also receive reimbursement for medical expenses & newspaper. Further details on IBPS SO 2022 salary is mentioned below. If there is any change in the salary of IBPS SO 2022, we will update it as soon as the recruitment notification is out.
Post
Salary
IBPS SO(Scale I)

Pay Scale– Rs. 23700-980/7-30560-1145/2-32850-1310/7-42020
Monthly salary– Rs. 38800/- Approx
Allowances
Along with the salary, a specialist officer in IBPS will get monthly and yearly allowances. The various allowances that an IBPS SO gets are provided below.
Other Monthly Allowances (In Rupees)
House lease -7000
Petrol - 3000
Newspaper - 500
Mobile - 500
Cleaning - 650
Yearly Allowances (In Rupees)
Entertainment - 5000
Medical - 8000
Job Profile
The Institute of Banking Personnel Selection also known as IBPS comes out with IBPS Specialist Officer notification every year. IBPS SO notification 2022 will contain vacancies for various posts. Based on the post for which you have applied under IBPS SO recruitment 2022, you will be posted in different departments. IBPS Specialist Officer will handle a variety of tasks. Some of which are shown below:
HR/Personnel Officer (Scale I)
Ensuring new hire paperwork is completed and processed
Supervision of overall HR activities
Informing job applicants of job duties, responsibilities, benefits, schedules, working conditions, promotion opportunities
Addressing any employment relations issues, such as work complaints and harassment allegations
Processing all personnel action forms and ensuring proper approval
Modify HR policies of the bank as needed
Marketing Officer (Scale I)
Promote the bank and its business and formulate policies
Supporting the marketing manager in overseeing the department's operations
Handle different aspects of marketing
Research and analyse market trends, competitor offerings, demographics and other information that affects marketing strategies
Approves all marketing campaigns and plans before they are implemented
Rajbhasha Adhikari (Scale I)
Translate and proofread banking documents and train employees in the local language
IBPS SO Career Growth
IBPS SO is a JMGS-1 officer post. Recruited as an IBPS SO 2022 under various streams, you will get ample opportunities for promotion, based on your work performance. Given below is the detailed hierarchy of IBPS SO career growth.
Officer / Assistant Manager
Manager
Senior Manager
Chief Manager
Assistant General Manager
Deputy General Manager
General Manager
FAQs
Yes, IBPS SO is a permanent post. You will be appointed as an Assistant Manager after your selection.
Yes, depending upon the Bank you will be allocated, the bond period and amount varies.