Eligibility Criteria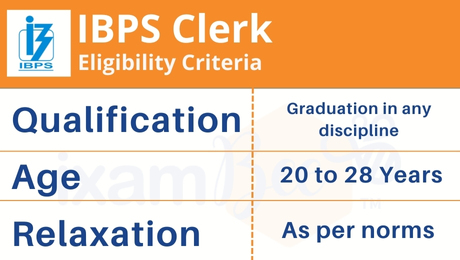 You need to be eligible in all respects as per the IBPS Clerk eligibility criteria 2022 as mentioned by IBPS, failing which you will not be allowed to apply to the IBPS Clerk 2022 exam. Let's check out the complete IBPS Clerk eligibility criteria from the content below.
Educational Criteria
You need to possess a Graduate degree in any discipline from a recognized university or equivalent qualification recognized by Central Government to apply for the IBPS Clerk exam 2022. If you fail to possess the required IBPS Clerk qualification 2022, you will not be able to apply or appear in the IBPS Clerk exam. These IBPS Clerk educational qualifications need to be fulfilled as on July 21, 2022. Further details on the IBPS Clerk 2022 educational qualification is mentioned below.
Post
Educational Qualification
IBPS Clerk

A Degree (Graduation) in any discipline from a University recognised by the Govt. Of India or any equivalent qualification recognized as such by the Central Government.
The candidate must possess valid Mark-sheet / Degree Certificate that he/she is a graduate on the day he/she registers and indicate the percentage of marks obtained in Graduation while registering online.

Computer Literacy:

Operating and working knowledge in computer systems is mandatory i.e. candidates should have Certificate/Diploma/Degree in computer operations/Language/ should have studied Computer/Information Technology as one of the subjects in the High School/College/Institute.
Proficiency in the Official Language of the State/UT (candidates should know how to read/ write and speak the Official Language of the State/UT) for which vacancies a candidate wishes to apply is preferable.
Ex-Servicemen who do not possess the above civil examination qualifications should be matriculate Ex-Servicemen who have obtained the Army Special Certificate of Education or corresponding certificate in the Navy or Air Force after having completed not less than 15 years of service in the Armed Forces of the Union as on 21.07.2022. Such certificates should be dated on or before 21.07.2022.
Age Criteria
You have to make sure that you are eligible with respect to the age criteria mentioned in the IBPS Clerk notification 2022. You have to fall under the specified age limit mentioned by IBPS. If you fail to possess the required qualification your candidature will be cancelled. You must lie within the IBPS Clerk 2022 age limit as on July 1, 2022 as mentioned in the official IBPS Clerk 2022 recruitment.
Post
Age Criteria (As on July 01, 2022)

Junior Court Assistant

Minimum Age - 20 years
Maximum Age - 28 years

A candidate must have been born not earlier than 02.07.1994 and not later than 01.07.2002 (both dates inclusive)
Age Relaxation
Apart from the age criteria that IBPS mentions in its notification, it also provides relaxation in age for different categories. The period of relaxation will vary depending upon the category you belong to. Details on the IBPS Clerk 2022 age relaxation is mentioned below.
| Category | Age Relaxation (As on July 01, 2022) |
| --- | --- |
| Other Backward Classes (Non-Creamy Layer) | 3 Years |
| Scheduled Caste/Scheduled Tribe | 5 Years |
| Persons affected by 1984 riots | 5 Years |
| Persons With Benchmark Disabilities as defined under "The Rights of Persons with Disabilities Act, 2016" | 10 Years |
| Ex-Servicemen / Disabled Ex-Servicemen | Actual period of service rendered in the defence forces + 3 years (8 years for Disabled Ex-Servicemen belonging to SC/ST) subject to a maximum age limit of 50 years |
| Widows, divorced women and women legally separated from their husbands who have not remarried | Age concession upto the age of 35 years for General/EWS, 38 years for OBC and 40 years for SC/ST candidates |
Recommended Courses for you