IBPS Clerk Mock Test Free 2020
IBPS Clerk Mock Test Free 2020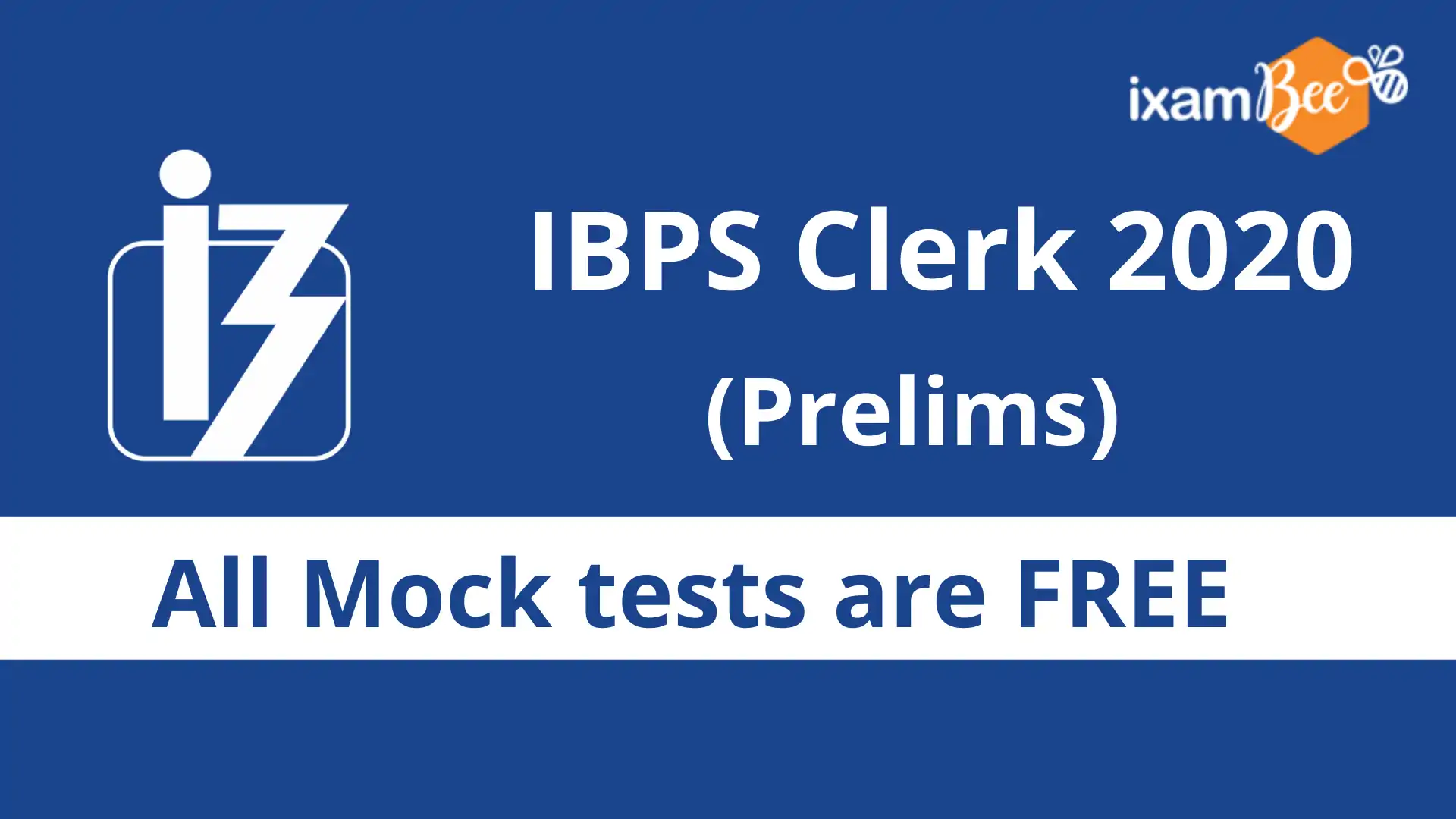 IBPS Clerk Free Mock Test
IBPS Clerk is one of the most awaited exams and it is a gateway to enter many banks on clerical posts. ixamBee, the only portal to offer IBPS Clerk Pre Mock Tests for Free, will pave your path towards achieving your goal of cracking IBPS Clerk 2020-21 exam. IBPS has introduced sectional timing in IBPS Clerk Prelims exam this time and ixamBee's IBPS Clerk Prelims Free Mock tests have been prepared keeping in mind the sectional timing. Free Mock Tests for IBPS Clerk Prelims will help you evaluate your performance and know where you stand among your peers.Practicing free Mock tests for IBPS Clerk Pre will help you maintain accuracy by avoiding mistakes which in turn leads in avoiding negative marking in the exam. The key to success is practice and IBPS Clerk Prelims mock test series by ixamBee will help you practice for the actual exam and gain an edge over your peers on the day of the examination. There is a very tough competition among students in IBPS Clerk exam, as lakhs of students appear every year for the exam and practicing IBPS Clerk Prelims Online test series will help you score high in the actual exam.Free mock Tests for IBPS Clerk Pre will help you score high in the actual exam.
IBPS Clerk Exam Dates
IBPS Clerk Exam Dates
| IBPS Clerk Important Events | Important Dates |
| --- | --- |
| On-line registration including Edit/Modification of Application by candidates | September 02, 2020 to September 23, 2020 |
| Payment of Application Fees/Intimation Charges (Online) for IBPS Clerk | September 02, 2020 to September 23, 2020 |
| Download of call letters for IBPS Clerk Pre- Exam Training | November 17, 2020 onwards |
| Conduct of IBPS Clerk Pre-exam Training | November 23, 2020 to November 28, 2020 |
| Download of call letters for IBPS Clerk PRE Exam | November 18, 2020 |
| IBPS Clerk Preliminary Exam Dates | December 05, 12 & 13, 2020 |
| Result of IBPS Clerk PRE Exam | December 31, 2021 |
| Download of Call letter for IBPS Clerk Mains exam | January 12, 2021 |
| IBPS Clerk Mains Exam Dates | January 24, 2021 |
| Provisional Allotment date of IBPS Clerk | April 01, 2021 |
IBPS Clerk Exam Pattern Prelims
S. No.
Subject
No. Of Questions
Marks
Duration
1
English Language
30
30
20 Minutes
2
Numerical Ability
35
35
20 Minutes
3
Reasoning Ability
35
35
20 Minutes
Total
100
100
60 Minutes
IBPS Clerk Exam Pattern Mains
S.No.
Subjects
No. Of Questions
Marks
Duration
1
Reasoning Ability & Computer Aptitude
50
60
45 Minutes
2
English Language
40
40
35 Minutes
3
Quantitative Aptitude
50
50
45 Minutes
4
General/Financial Awareness
50
50
35 Minutes
Total
190
200
160 Minutes
IBPS Clerk Prelims Syllabus 2020
| Reasoning | Quantitative Aptitude | English Language |
| --- | --- | --- |
| Ranking/Direction/Alphabet Test | Mixtures &Alligations | Para jumbles |
| Data Sufficiency | Simple Interest & Compound Interest | Miscellaneous |
| Logical Reasoning | Simplification | Reading Comprehension |
| Alphanumeric Series | Profit & Loss | Cloze Test |
| Coded Inequalities | Work & Time | Fill in the blanks |
| Puzzle | Mensuration – Cylinder, Cone, Sphere | Paragraph Completion |
| Seating Arrangement | Time & Distance | Multiple Meaning /Error Spotting |
| Tabulation | Data Interpretation | Passage Completion |
| Syllogism | Ratio & Proportion | Deriving Conclusion |
| Blood Relations | Number Systems | Rearrangement of Passage |
| Input Output | Sequence & Series | Sentence correction |
| Coding Decoding Permutation | Surds & Indices | Spotting Errors |
| Combination &Probability | Percentage | Grammar |
| Analogy | Percentages | Theme Detection |
| Classification | Trignometry | |
| Word Formation | Profit,Loss and Discount | |
| Statement and Conclusion | | |
IBPS Clerk Mains Syllabus 2020
Quantitative Aptitude
General Awareness
Reasoning & Computer Aptitude
English Language
Simplification
Financial Awareness
Verbal Reasoning
Internet
Reading Comprehension
Average
Current Affairs
Syllogism
Memory
Vocabulary
Percentage
General Knowledge
Circular Seating Arrangement
Keyboard Shortcuts
Grammar
Ratio and Percentage
Banking Terms
Linear Seating Arrangement
Computer Abbreviation
Verbal Ability
Data Interpretation
Overview of Indian Financial System
Double Lineup
Microsoft Office
Fill in the suitable words
Mensuration and Geometry
Recent credit and monetary policies
Scheduling
Computer Hardware
Spotting errors
Quadratic Equation
Important Government Schemes on capital & money market
Input Output
Computer Software
Active/ passive voice
Interest
Introduction to national financial institutions like RBI, SEBI, IRDA, FSDC etc.
Blood Relations
Operating System
Phrases and idioms
Problems of Ages
Introdcution to International organisations like IMF, World Bank, ADB, UN etc.
Directions and Distances
Networking
Direct and indirect
Profit and Loss
Current affairs related to national and international issues of last 6 months
Ordering and Ranking
Computer Fundamentals /Terminologies
Comprehension Passage completion
Number Series
Data Sufficiency
Security tools and viruses
Rearrangement of passage
Speed, Distance and Time
Coding and Decoding
Theme detection
Time and Work
Code Inequalities
Number System
Data Sufficiency
Linear Equation
Permutation, Combination & Probability
Mixture and Allegations
ixamBee IBPS Clerk Free Mock Test Benefits
IBPS Clerk 2020 Mock Tests cover New Pattern questions which are important from exam point of view.
IBPS Clerk 2020 Mock Test have been prepared by our experts after thorough research and in-depth analysis.
IBPS Clerk 2020 Mock tests provide proper explanations for all questions.
IBPS Clerk 2020 online test series will help you analyze your performance and hone your weak areas.
IBPS Clerk 2020 tests series will help you to prepare well and get an edge over your competition.
IBPS Clerk Official Notification
Frequently Asked Questions
Q 1:How many phases are there in IBPS Clerk selection process?
The selection process for IBPS Clerk consists of two main phases: IBPS Clerk Pre & IBPS Clerk Mains.
Q 2:What all subjects do I need to study for IBPS Clerk Prelims?
IBPS Clerk Prelims also follows the same pattern as other bank clerk/po exams. IBPS Clerk Pre will consist of questions from three tests of English Language, Reasoning Ability & Quantitative Aptitude.
Q 3:Will there be any cut-off in IBPS Clerk Prelims Exam?
Yes. There will be a sectional as well as an overall cut-off for IBPS Clerk Prelims Exam.
Q 4:Will the IBPS Clerk Prelims score obtained by a candidate be considered in the final merit list?
No. IBPS Clerk Prelims is a qualifying phase which is conducted only to select candidates for the second and final phase of online examination, i.e. IBPS Clerk Mains.
Q 5:Will there be an interview in IBPS Clerk Exam?
No. There is no Interview stage in IBPS Clerk selection process.
Q 6:Is there any vacancy reservation for EWS (Economically Weaker Sections) in IBPS Clerk Recruitment?
Yes. There are few vacancies reserved for EWS category in various states. The number of vacancies may vary accordingly.
Q 7:How can I improve my score in IBPS Clerk Pre online exam?
To improve your score, you should practice IBPS Clerk Pre free mock tests available at ixamBee. All these tests have been designed based on the latest exam pattern and cover the entire syllabus with updated changes.
Q 8:How will IBPS Clerk Prelims free mock tests be useful in exam preparation?
By practicing online free mock tests a candidate will be able to check his/her performance, analyse and recognize the areas that need to be worked hard on. IBPS Clerk Prelims free mock tests will help you in covering the syllabus and to boost up your score.