UP Police Sub Inspector / Platoon Commander/ Fire officer Syllabus
UP Police Sub Inspector / Platoon Commander/ Fire officer Syllabus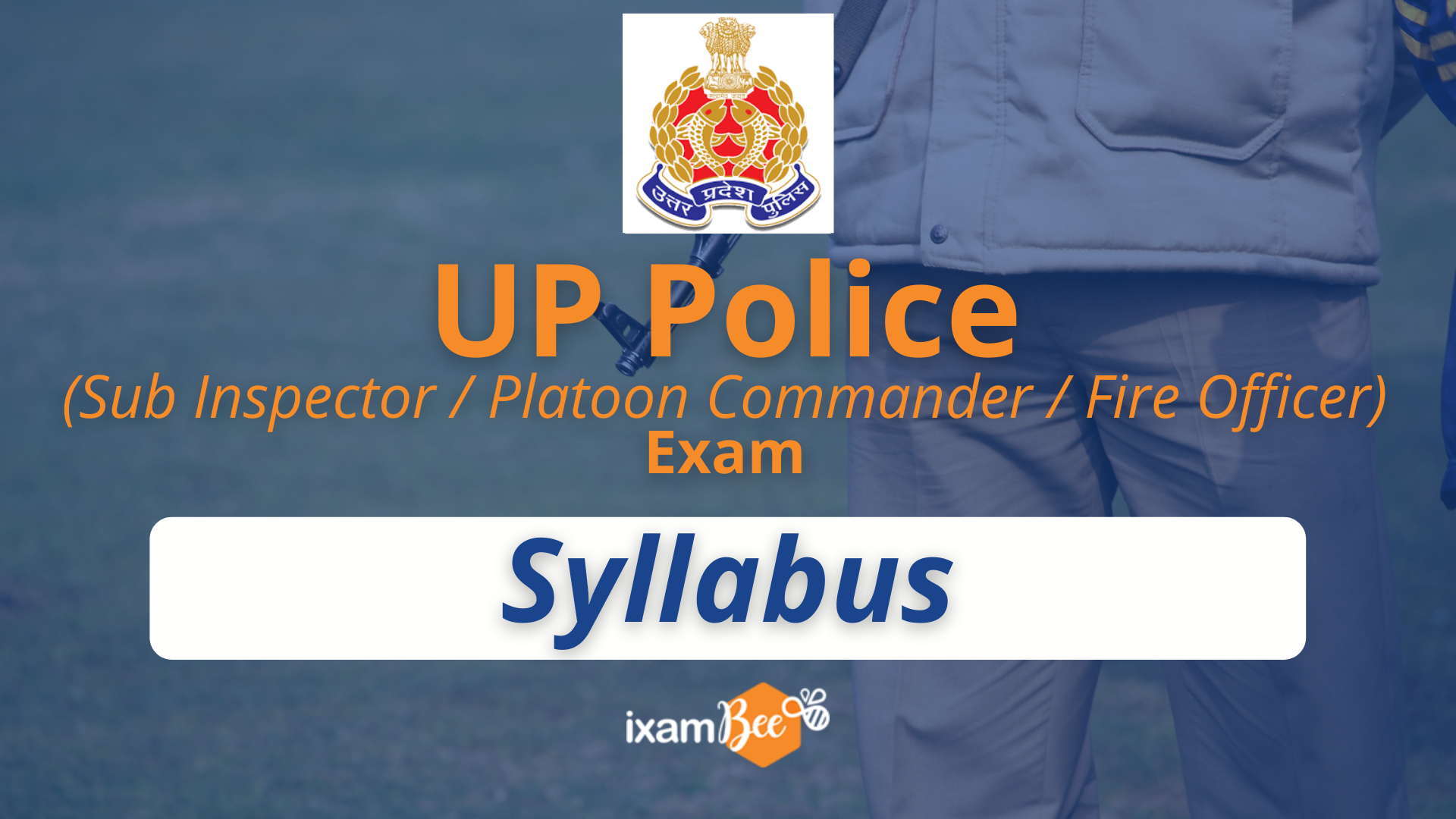 UP Police Syllabus 2021 comprises four different sections namely: General Hindi, Law/ Constitution and General Knowledge, Numerical & Mental Ability Test and Mental Aptitude Test/Intelligence Test/Test of Reasoning. A detailed UP Police Sub Inspector syllabus 2021 is provided in the table below.
Section
Topics
सामान्य हिंदी
हिंदी और अन्य भारतीय भाषाएँ, हिंदी व्याकरण का मौलिक ज्ञान, हिंदी वर्णमाला, तत्सम और तद्भव, विलोम शब्द, पर्यायवाची, एक शब्द, अनेकार्थी शब्द, तत्सम और तद्भव, वाक्यांशों के लिए एक शब्द लोकोक्तियाँ और मुहावरे, शुद्ध वर्तनी, वाक्‍यांशों के स्‍थान पर एक शब्‍द, समरूपी भिन्‍नार्थक शब्‍द, अशुद्ध वाक्‍यों को शुद्ध करना, लिंग, वचन, कारक, सर्वनाम, विशेषण, क्रिया, काल, वाच्‍य, अव्‍यय, उपसर्ग, प्रत्‍यय, सन्‍धि, समास, विराम-चिन्‍ह, रस छंद अलंकार, अपठित बोध, प्रसिद्ध कवि लेखक एवं उनकी प्रसिद्ध रचनायें, हिन्‍दी भाषा में पुरस्‍कार, विविध
Basic law / Constitution / General Knowledge

Basic law

Indian Penal Code and Criminal Procedure Code, Legal Provisions to protect women, children, members of Scheduled Castes, etc., Motor Vehicles Act, Environment Protection, Wildlife Protection, Human Rights Protection, Right to Information Act, Income Tax Act, Prevention of Corruption Act, National Security Act, IT Act, Cyber Crime, Public Interest Litigation, Important Judicial Judgment, Land Reforms, Land Acquisition, General Knowledge of Land Revenue related laws

Constitution

Constitutional Development of India, Objectives of the Constitution, Fundamental Rights, Directive Principles and Fundamental Duties of Policy, Federal Executive and Legislature, State Executive and Legislature, Formation and Rights of Central and State Governments, Right to make laws, Judiciary, Local Government, General information about the relation between the center and the states, constitutional schedules in elections and other important information, all India services and their method of selection, emergency provisions, constitutional amendments and important disputes

General Knowledge

General Science, History and Culture of India, India's freedom struggle, Geography of the World, Geography of India, National and International information, Education, Culture and Social Practices of Uttar Pradesh, Indian Economy, Indian Agriculture, Commerce and Trade , Population, Environment, Police and General Administrative System, Human Rights, Internal Security, Relations between India and its Neighbouring Countries, Rivers, Plateau, Valley

Numerical & Mental Ability

Numerical

Number System, Simplification, Decimals and Fractions, H.C.F and L.C.M, Ratio and Proportion, Percentage, Profit and Loss, Discount, Simple Interest, Compound Interest, Partnership, Average, Time and Work, Time and Distance, Use of Tables and Graphs, Mensuration, Geometry, Arithmetic Computations and Other Analytical Functions, Miscellaneous

Mental Ability

Logical Diagram, Symbol Relation and Analysis, Perceptual Comprehension, Vocabulary Test, Letter and Number Series, word and alphabet analogy, Practical Knowledge Test, Direction Knowledge Test, Logical Analysis of Data, Effective Reasoning, Deciding Implicit Expressions, Clock

Mental Ability / Intelligence / Reasoning

Mental Ability

Police System, Crime Control, Public Interest, Law and Peace and Order, Communal Harmony, Rule of Law, Ability to Adapt, Professional Information (Basic), Contemporary Police Issues and Law, Law and Order, Profession interest, Mental toughness, Sensitivity towards minorities and underprivileged, gender sensitivity

Intelligence

Analysis Judgment, Odd one out, Series Completion Test, Understanding Symbols, Direction Knowledge Test, Blood Relations, Alphabetical Questions, Time Sequence Test, Venn Diagram and Chart, Mathematical Aptitude Test, Arranging in Sequence machine input, cube, calendar

Reasoning

Analogy, Similarities, Differences, Fill in the blanks, Problem solving, Statement assumptions, Statement reasoning, Statement inference and observation, Visual memory, Mirror/water reflection, Differentiation ability, Arithmetic reasoning, Word and figure classification, Arithmetic number series
Books
The best books for the UP Police exam 2021 are listed in the table below. Please go through it and prepare accordingly.
Paper
Books
Author/Publisher

General Hindi, Law/ Constitution, Mental Aptitude/Intelligence/Reasoning, Numerical & Mental Ability, and general awareness

Samanya Hindi
X-EEED Publication
UP SI Part-I Mool Vidhi
UP SI Part-2 Samvidhan Evam Mansik Abhiruchi
UP Police Sub Inspector Complete Course Books
Yukti Publication

General Hindi

Vastunisth Samanya Hind
Aditya Publication
UP Police SI Samanya Hindi
Yukti Publication
Lucent's Samanya Hindi
Sanjiv Kumar / Lucent Publication

Law/ Constitution & General Awareness

Mool Vidhi (Fundamental Law) Uttar Pradesh Sub-Inspector (Si) Avum Platoon Commander Exam 2020
Arihant Publication
Mool vidhi Evam Bhartiya Samvidhan Complete Textbook 2020
Vijay Kumar Sharma / Agrawal Group Of Publications (Agrawal Examcart)
Up Police Moolvidhi Savindhan Mansik Avam Abhiruchi
SD Publication
General Awareness
Arihant Publications

Numerical & Mental Ability

UP Sub Inspector Chapter wise Solved Papers Numerical Ability Test & Mental Ability Test
outh Competition Times
A Fast Track Course in Mental Ability
Arihant Publication
Numerical Ability 18 Days Wonder
S Chand

Mental Aptitude/Intelligence/Reasoning

Master Reasoning Book Verbal, Non-Verbal & Analytical
Arihant Publication
General Intelligence Test / Mental Ability Test 2019 Edition
Ramesh Publishing House
Samanya Budhimata Parikshan: Mansik Yogyata Parikshan
Ramesh Publishing House
UP Police Sub Inspector / Platoon Commander/ Fire officer Syllabus Related Quick Links
---
Boost your preparation with Beepedia
---
High Quality Mock Test for you
---
Free Important Video Lectures
Frequently Asked Questions
Would you like to rate us 5 star.
Search