Exam Dates 2022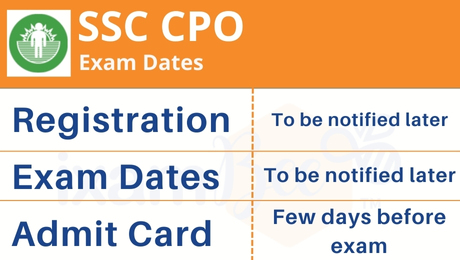 SSC has released the calendar for SSC CPO Exam (SI in Delhi Police, CAPFs and ASI in CISF) to invite applications from young aspirants who want to become a part of the government sector. The official notification for SSC CPO 2022 Exam will be released on August 14, 2022. SSC CPO Paper 1 Exam 2022 will be held in December 2022. The online application link will be open from August 14, 2022, to September 13, 2022. Complete details related to the SSC CPO exam 2022 are provided below:
SSC CPO Exam Dates 2022
| Events | Dates |
| --- | --- |
| Online Registration of Applications and Payment of Fees / Intimation Charges | August 14, 2022 to September 13, 2022 |
| SSC CPO Tier 1 2022 Exam Admit Card | November/ December 2022 |
| SSC CPO Tier 1 2022 Examination Date | December 2022 |
Exam Centres 2022
SSC CPO exam is going to be held all over India. A candidate can opt for any examination centre he/she wants. A candidate will be given the option to opt for three examination centres in priority and any one of them will be allotted to him as an examination centre. For complete details about the examination centre candidate can look at the table below.
Sl. No.
Examination Centers & Centre Code
SSC Region and States/ UTs under the jurisdiction of the Region
Address of the Regional Offices/ website
1
Bhagalpur (3201), Muzzaffarpur (3205), Patna (3206), Agra (3001), Bareilly (3005), Gorakhpur (3007), Kanpur (3009), Lucknow (3010), Meerut (3011), Prayagraj (3003), Varanasi (3013).

Central Region (CR)

/ Bihar and Uttar Pradesh

Regional Director (CR)

, Staff Selection Commission, 34-A, Mahatma Gandhi Marg, Civil lines, Kendriya Sadan,Prayagraj – 211001. (http://www.ssc-cr.org)
2
Port Blair (4802), Ranchi (4205), Bhubaneshwar (4604), Kolkata (4410).

Eastern Region (ER)

/ Andaman & Nicobar Islands, Jharkhand, Odisha, Sikkim and West Bengal

Regional Director (ER),

Staff Selection Commission, 1st MSO Building, (8th Floor), 234/4, Acharya Jagadish Chandra Bose Road, Kolkata, West Bengal700020 (www.sscer.org)
3
Bengaluru (9001), Belagavi (9002), Hubballi (9011), Kalaburagi (Gulbarga)(9005), Mangaluru (9008), Mysuru (9009), Shivamogga (9010), Udupi (9012), Thiruvananthapuram (9211), Ernakulam (9213), Kannur (9202), Kollam (9210), Kottayam (9205), Kozhikode (9206) Thrissur (9212).

Karnataka, Kerala Region (KKR)

/ Lakshadweep, Karnataka and Kerala

Regional Director (KKR)

, Staff Selection Commission, 1st Floor, "E" Wing, Kendriya Sadan, Koramangala, Bengaluru, Karnataka-560034 (www.ssckkr.kar.nic.in)
4
Delhi NCT (2201), Ajmer (2401), Alwar (2402), Bikaner(2404), Jaipur (2405), Jodhpur (2406), Kota (2407), Sriganganagar (2408), Udaipur(2409), Sikar (2411), Dehradun (2002), Haldwani (2003), Haridwar (2005), Roorkee (2006).

Northern Region (NR)/

Delhi, Rajasthan and Uttarakhand

Regional Director (NR)

, Staff Selection Commission, Block No. 12, CGO Complex, Lodhi Road, New Delhi-110003 (www.sscnr.net.in)
5
Itanagar (5001), Dibrugarh (5102), Goalpara (5104) Guwahati (Dispur) (5105) Jorhat (5107) Lakimpur (5109), Silchar (5111), Tezpur (5112), Kohima (5302), Shillong (5401), Imphal (5501), Churachandpur (5502), Ukhrul (5503), Agartala (5601), Aizwal (5701)

North Eastern Region (NER)

/ Arunachal Pradesh, Assam, Manipur, Meghalaya, Mizoram, Nagaland and Tripura

Regional Director (NER)

, Staff Selection Commission, Housefed Complex, Last Gate, Beltola-Basistha Road, P. O. Assam Sachivalaya, Dispur, Guwahati, Assam-781006 (www.sscner.org.in)
6
Hyderabad (8002), Warangal (8003), Guntur (8001), Kurnool (8003), Rajahmundry (8004), Tirupati (8006), Visakhapatnam (8007), Vijayawada (8008), Chennai (8201), Coimbatore (8202), Madurai (8204), Puducherry (8401)

Southern Region (SR)/

Andhra Pradesh, Puducherry, Tamil Nadu and Telangana.

Regional Director (SR)

, Staff Selection Commission, 2nd Floor, EVK Sampath Building, DPI Campus, College Road, Chennai, Tamil Nadu-600006 (www.sscsr.gov.in)
7
Ahmedabad (7001), Vadodara (7002), Rajkot (7006), Surat (7007), Mumbai (7204), Pune (7208), Amravati (7201) Nagpur (7205), Aurangabad(7202), Kolhapur (7203), Nashik (7207) Panaji (7801).

Western Region (WR)

/ Dadra and NagarHaveli, Daman and Diu, Goa, Gujarat and Maharashtra

Regional Director (WR)

, Staff Selection Commission, 1st Floor, South Wing, Pratishtha Bhawan, 101, Maharshi KarveRoad, Mumbai, Maharashtra-400020 (www.sscwr.net)
8
Bhopal (6001), Gwalior (6005), Indore (6006), Jabalpur (6007), Satna (6014), Sagar (6015), Ujjain (6016), Bilaspur (6202), Raipur (6204) Durg-Bhilai (6205)

Madhya Pradesh Sub Region (MPR)

Chhattisgarh and Madhya Pradesh

Dy. Director (MPR)

, Staff Selection Commission, J-6, Anupam Nagar, Raipur Chattattisgarh-492007. (www.sscmpr.org)
9
Jammu (1004), Leh (1005), Srinagar (1007), Samba (1010), Hamirpur (1202), Shimla (1203), Jalandhar (1402), Amritsar (1404), Mohali (1406), Chandigarh (1601)

Western Region (NWR)

/ Chandigarh, Haryana, Himachal Pradesh, Jammu and Kashmir and Punjab

Regional Director (NWR),

Staff Selection Commission, Block No.3, Ground Floor, Kendriya Sadan, Sector-9, Chandigarh-160009 (www.sscnwr.org)
SSC CPO Tier 1 - Previous Year Paper
120 Minutes
200 Questions
200 Marks