SSC CPO Exam Syllabus
It is very important to look at the SSC CPO Exam syllabus before starting preparation for the SSC CPO 2020 exam. By looking at the syllabus, you will be aware of the subjects involved in the exam.
SSC CPO Tier 1 Exam Syllabus
The sections involved in the SSC CPO Exam are General Awareness, Logical Reasoning, General English, and Quantitative Aptitude. Chapters like Time, Speed and Distance, Time and work, Menstruation and Height and Distance are some of the Quantitative Aptitude topics which hold good weightage in the exam. Likewise, topics like History, Sports and Current Affairs, and Science in the General Awareness hold good weightage in the SSC CPO Exam. Candidates are advised to go through these topics thoroughly in order to have an extra edge in the examination. Complete details about the SSC CPO exam syllabus is given in the tabular form below:
Section
Topics
General Intelligence & Reasoning
Analogies, Similarities and Differences, Space Visualization, Spatial Orientation, Problem Solving, Analysis, Judgment, Decision Making, Visual Memory, Discrimination, Observation, Relationship Concepts, Arithmetical Reasoning and Figural Classification, Arithmetic Number Series, Non-verbal Series, Coding And Decoding, Statement Conclusion, Syllogistic Reasoning, Semantic Analogy, Symbolic/ Number Analogy, Figural Analogy, Semantic Classification, Symbolic/ Number Classification, Figural Classification, Semantic Series, Number Series, Figural Series, Problem Solving, Word Building, Coding & De-coding, Numerical Operations, Symbolic Operations, Trends, Space Orientation, Space Visualization, Venn Diagrams, Drawing Inferences, Punched Hole/ Pattern- Folding & Un-folding, Figural Pattern-folding And Completion, Indexing, Address Matching, Date & City Matching, Classification Of Centre Codes/ Roll Numbers, Small &Amp; Capital Letters/ Numbers Coding, Decoding and Classification, Embedded Figures, Critical Thinking, Emotional Intelligence, Social Intelligence
General Awareness
Current Events, India and its neighbouring countries especially pertaining History, Culture, Geography, Economic Scene, General Policy & Scientific Research

Nature of Matter, Universe (Planets / Earth / Satellites / Sun ), Electricity and its application
Force and Gravitation, Newton's Laws Of Motion, Work, Energy and Power
Heat, Temperature, Metals and Non-Metals, Carbon and its Compounds, Measurements in Science, Sound & Wave Motion, Atomic Structure
Atomic Structure. Chemical Bonding, Periodic Classification of Element, Acids, Base, and Salts, Metals and Non-metals, Radioactivity, Hydrocarbons, Human Diseases, Human Body, Composition of Blood, Structure of Plant and Animal Cell, Photosynthesis.

Quantitative Aptitude
Whole Numbers, Decimals, Fractions and Relationships Between Numbers, Percentage. Ratio & Proportion, Square Roots, Averages, Interest, Profit and Loss, Discount, Partnership Business, Mixture and Alligation, Time and Distance, Time & Work, Basic Algebraic Identities of School Algebra & Elementary Surds, Graphs of Linear Equations, Triangle and Its Various Kinds of Centres, Congruence and Similarity of Triangles, Circle and Its Chords, Tangents, Angles Subtended By Chords of a Circle, Common Tangents to Two or More Circles, Triangle, Quadrilaterals, Regular Polygons, Circle, Right Prism, Right Circular Cone, Right Circular Cylinder, Sphere, Hemispheres, Rectangular Parallelepiped, Regular Right Pyramid With Triangular or Square Base, Trigonometric Ratio, Degree and Radian Measures, Standard Identities, Complementary Angles, Heights and Distances, Histogram,Frequency Polygon, Bar Diagram & Pie Chart
English Language
Candidates' ability to understand correct English, his/ her basic comprehension and writing ability, etc. would be tested
SSC CPO Tier 2 Exam Syllabus
The candidates who will qualify for Paper 1 will have to appear for Paper-2. To prepare in the best way possible, the candidates should take note of the SSC CPO Paper 2 syllabus. Refer to the table below to note down the SS CPO syllabus 2020.
| Section | Topics |
| --- | --- |
| English Language and Comprehension | Error recognition, Filling in the blanks (using verbs, preposition, articles), Vocabulary, Spellings, Grammar, Sentence structure, Synonyms, Antonyms, Sentence completion, Phrases and idiomatic use of words, Comprehension |
SSC CPO Exam Language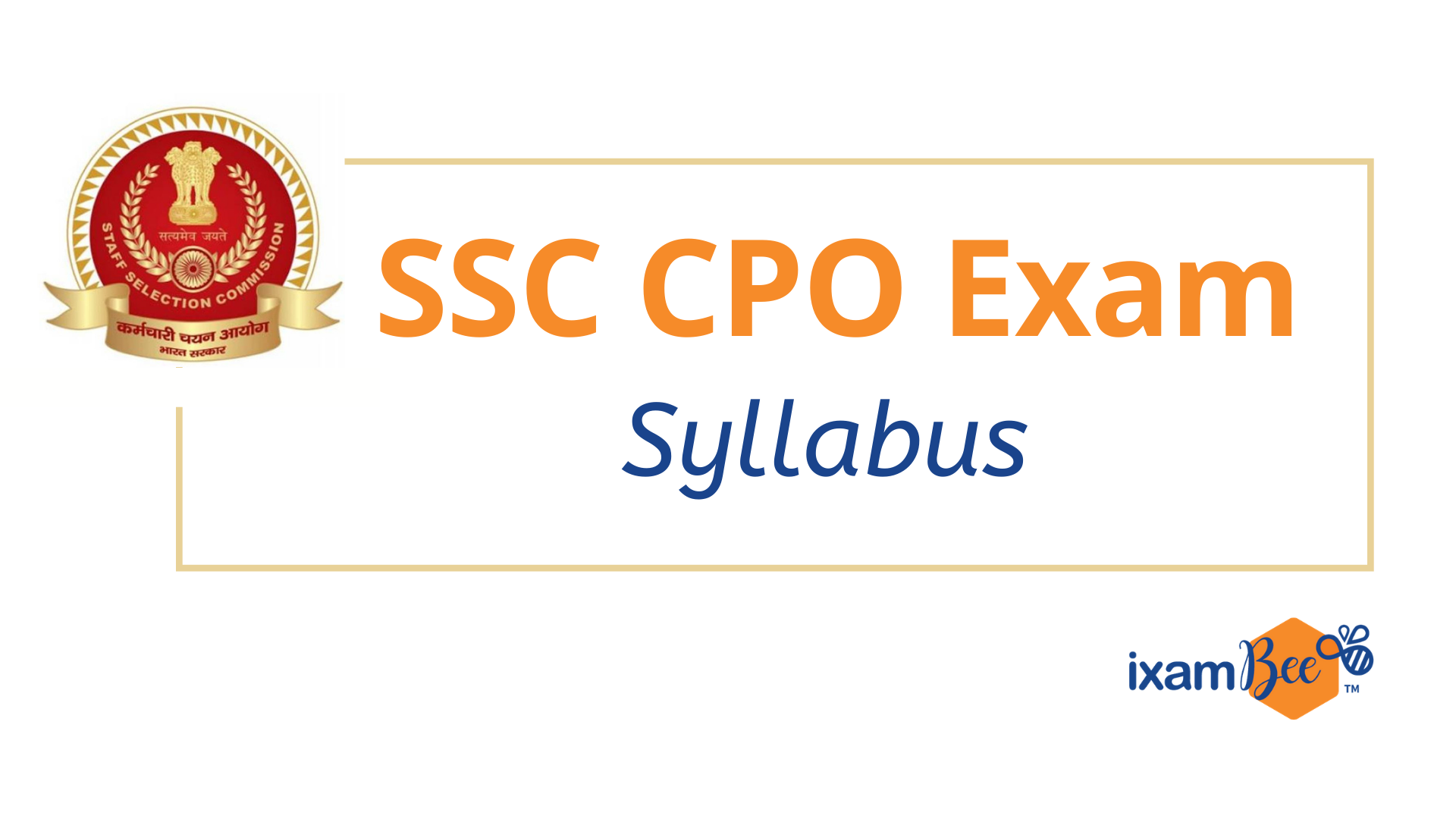 SSC CPO exam will be bilingual in nature. You can attempt the exam in either of the languages i.e. English or Hindi. One thing that should be kept in mind that the English Language section will be provided in English Language only.
SSC CPO Tier 1 - Free Mock Tests
120 Minutes
200 Questions
200 Marks
120 Minutes
200 Questions
200 Marks
120 Minutes
200 Questions
200 Marks
120 Minutes
200 Questions
200 Marks