Syllabus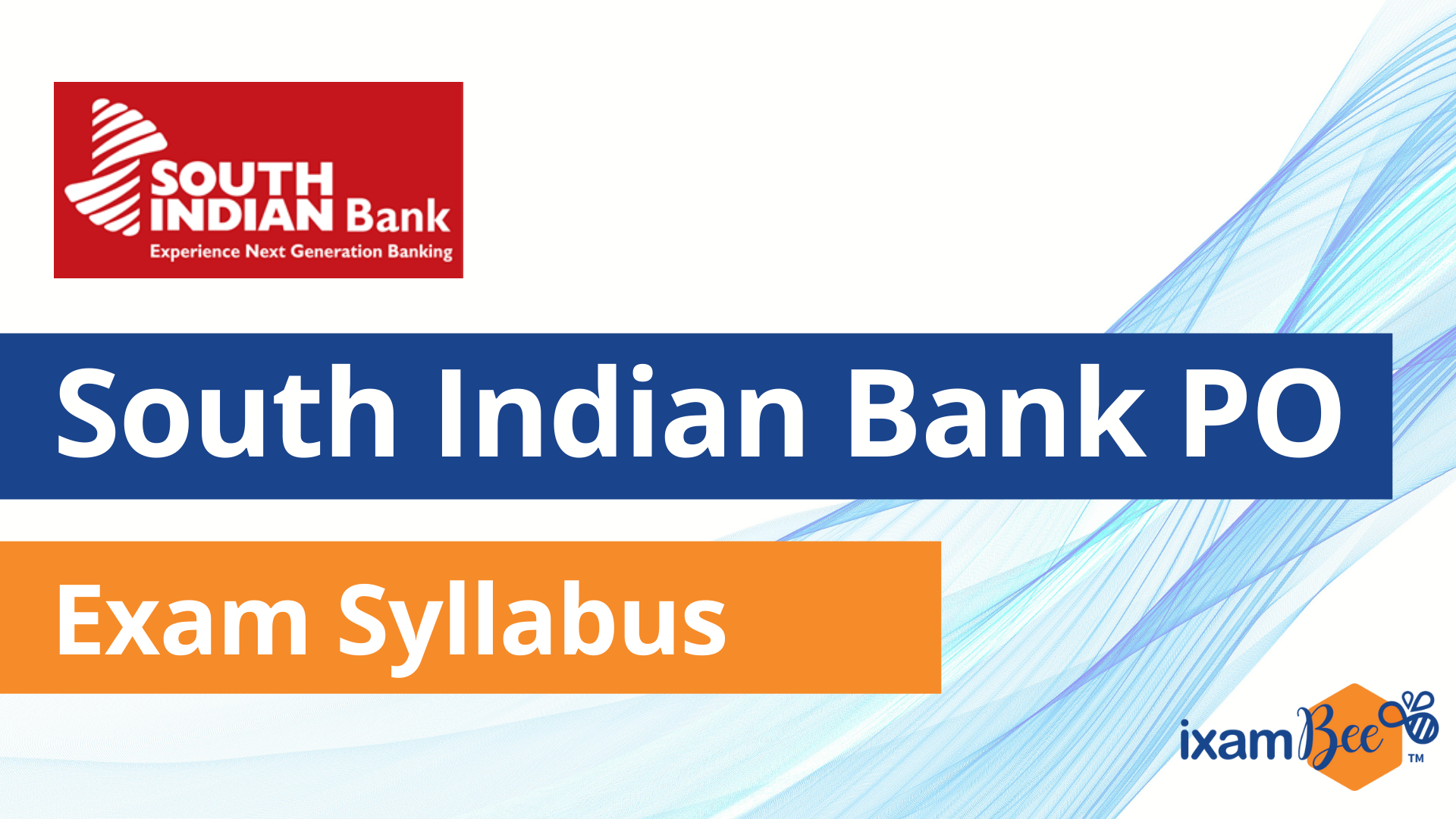 To excel in any examination you need to be aware of the complete information of the exam. Before you start preparing for the South Indian Bank PO recruitment exam 2022, you should be completely aware of the syllabus of the exam. The online test consists of various subjects from which objective questions will be asked. Thus, you should plan your preparation only after noting down the complete syllabus.
Section
Topics
Data Analysis & Interpretation
Tabular Graph, Line Graph, Pie Chart, Bar Graph, Radar Graph, Missing Case DI, Caselet DI, Data Sufficiency, Probability, Permutation and Combination
Reasoning & Computer Aptitude

Reasoning:

Verbal Reasoning, Syllogism, Circular Seating Arrangement, Linear Seating Arrangement, Caselet Double Lineup, DI Scheduling, Input Output, Blood Relations, Directions and Distances, Ordering and Ranking, Data Sufficiency, Coding and Decoding, Code Inequalities, Course of Action, Critical Reasoning, Analytical and Decision Making

Computer:

Internet, Memory, Keyboard Shortcuts, Computer Abbreviation, Microsoft Office, Computer Hardware, Computer Software, Computer Fundamentals /Terminologies, Networking, Number System, Operating System, Basic of Logic Gates

English Language
Reading Comprehension, Grammar, Vocabulary, Verbal Ability, Word Association, Sentence Improvement, Para Jumbles, Cloze Test, Error Spotting, Fill in the blanks
General / Economy / Banking Awareness
Banking terms, Abbreviations and Economic terminologies, Overview of Indian Financial System, History of Indian Banking System, Recent Credit and Monetary Policies, Important Government Schemes on capital and money market, Introduction to national financial institutions like RBI, SEBI, IRDA, FSDC etc, Introduction to International organisations like IMF, World Bank, ADB, UN etc, Current affairs related to national and international issues of last 6 months
Books
To ensure your selection in the South Indian Bank PO exam 2022, you need good quality study material. Once you come to know about the syllabus of the examination, you should take note of good books that are available for exam preparation. We have listed down few good books that may help in your exam preparation.
Subjects
Useful Books
Author/Publisher
Reasoning Ability
A New Approach to Reasoning Verbal and Non-Verbal
B.S. Sijwali and Indu Sijwali
Analytical Reasoning
MK Pandey (For the chapters required for analytical reasoning)
A Modern Approach to Verbal & Non-Verbal Reasoning
R.S. Aggarwal
English Language
Objective General English
SP Bakshi
Descriptive General English
SP Bakshi and Richa Sharma
High School English Grammar and Composition
Wren and Martin
Word Power Made Easy
Normal Lewis
General/Economy/Banking Awareness
Banking Awareness Handbook of Banking Information
N.S.Toor
Banking Awareness
Arihant Publication
Static GK General Knowledge
Arihant
Lucent General Knowledge
-
Pratiyogita Darpan
SQ Sachdeva Mahendra Jain
Current Affairs
BeePedia
Data Analysis & Interpretation
Data Interpretation and Data Sufficiency
Ananta Ashisha (Arihant)
Data Interpretation
BSC Publication
Data Interpretation
Magical Book Series
Data Interpretation for CAT
Arun Sharma
FAQs
There will be four sections having questions from four different subjects in the SIB PO online exam. These subjects are English Language, Reasoning & Computer Aptitude, Data Analysis & Interpretation, and General/Economy/Banking Awareness.
While you prepare for the SIB PO 2022 exam, you should not ignore the importance of practicing online tests. You can attempt free mock tests available at ixamBee for South Indian Bank PO to improve your speed, knowledge, and accuracy.