RBI Assistant Salary (Updated)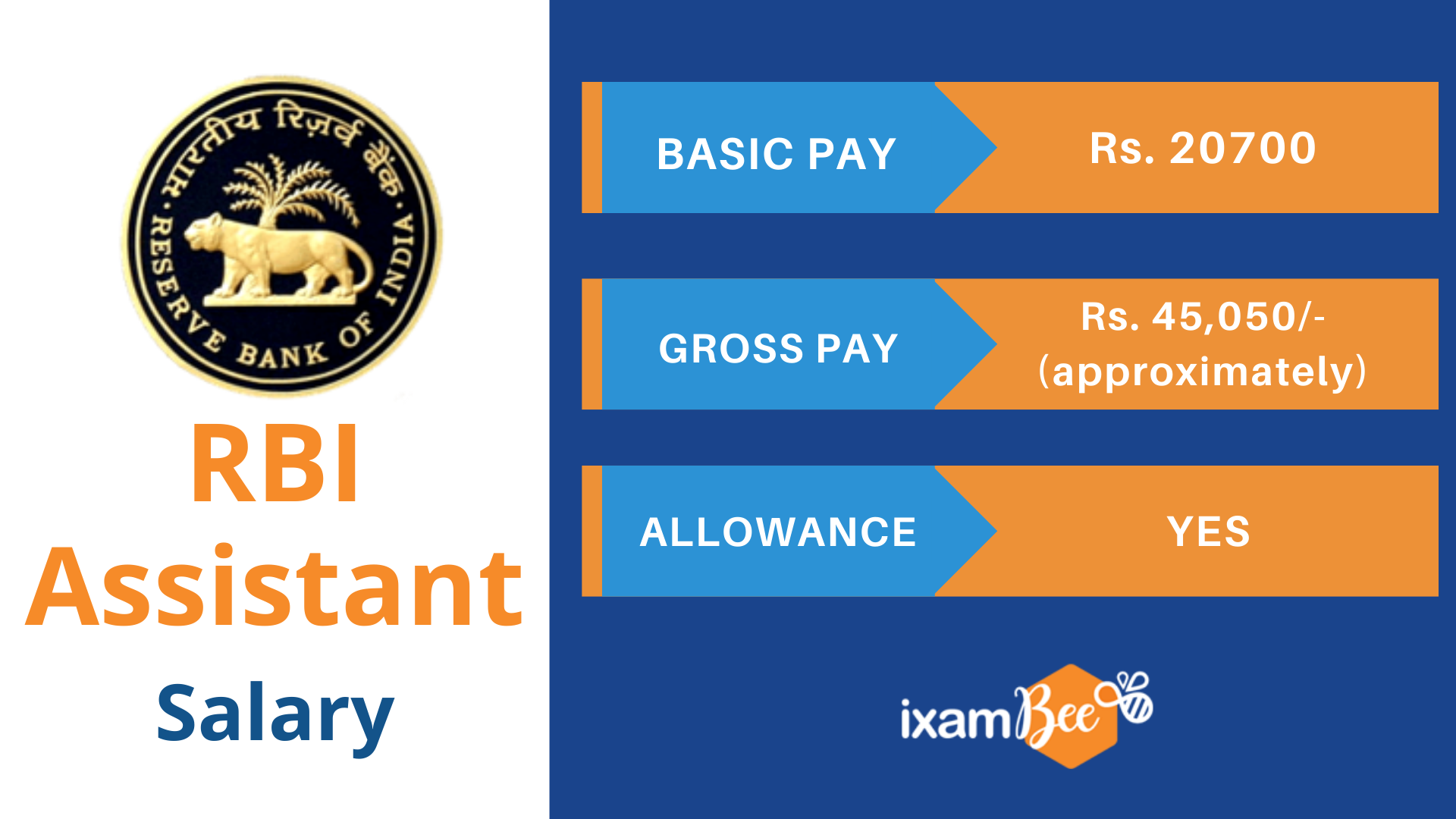 RBI offers a decent salary to its all employees. The RBI Assistant 2022 salary starts from Rs 20,700 / month without allowances and perks. This RBI Assistant pay scale increases as you reach higher in the hierarchy. You will also receive various allowances, facilities and perks.
RBI Assistant gross monthly emoluments at present is approximately Rs 45,050. Besides this, a house allowance of 15% of Pay will be paid to you additionally, if you are not staying in Bank's accommodation. Comparison between the RBI Assistant salary 2022 at present and for the past year RBI Assistant recruitment is given below.
Post
Revised Salary
Previous Salary
RBI Assistant

Pay Scale -

Rs. 20700 – 1200 (3) – 24300 – 1440 (4) - 30060 – 1920 (6) – 41580 – 2080 (2) – 45740 – 2370 (3) – 52850 – 2850 – 55700 (20 years)

Salary -

Initial monthly Gross emoluments for Assistants will be approximately Rs. 45,050/-

Benefits -

Dearness Allowance, House Rent Allowance, City Compensatory Allowance, Transport Allowance etc

Pay Scale -

Rs. 13150 – 750(3) – 15400 – 900(4) – 19000 – 1200(6) – 26200 – 1300(2) – 28800 –1480(3) – 33240 – 1750(1) – 34990 (20 years)

Salary -

Initial monthly Gross emoluments for Assistants will be approximately Rs. 36091/-

Benefits -

Dearness Allowance, House Rent Allowance, City Compensatory Allowance, Transport Allowance etc
Also RBI Assistant salary 2022 breakup in details is given below. Please note the RBI Assistant 2022 salary structure given below is just indicative to know what all benefits you can avail. it varies as per your experience, years of service and the hierarchy.
| RBI Assistant Salary | Details |
| --- | --- |
| Basic Pay | Rs. 20,700/- |
| Additional | Rs. 265/- |
| Grade Allowance | Rs. 2200/- |
| Dearness Allowance | Rs. 12,587/- |
| Transport Allowance | Rs. 1000/- |
| House Rent Allowance | Rs. 2238/- |
| Special Allowance | Rs. 2040/- |
| Local Compensatory Allowance | Rs. 1743/- |
| Gross pay | Rs. 45,050/- |
| Net Pay | Rs.40,000/- (approx) |
Job Profile
RBI jobs are the most popular ones in the banking jobs presently. All the candidates preparing for banks take RBI exams very seriously and there is a fair reason behind that. RBI provides good growth opportunities along with attractive pay packages. An RBI Assistant can appear in the promotional examinations and move up the ladder of promotion and serve at a higher designation. An RBI Assistant career growth chance is high for promotions. Once an RBI Assistant is posted in one of the RBI offices, he/she will be required to 'assist' or support in many departments. One of the major tasks will be to assist the immediate boss, i.e. the Assistant Manager. As the RBI Assistant exam is a clerical-level job, the basic responsibilities will be similar to any other bank's clerk. Some basic duties of RBI Assistant are listed below.
Entering & maintaining all the data related to the daily transactions.
Verification of documents.
Collecting and managing all receipts, files, ledger balance tally etc.
Keeping a check on the daily mails regularly.
Unlike other banks, there is no customer interaction involved here.
An RBI Assistant needs to work only five days a week.
Perks and Allowances
As a RBI Assistant, you will enjoy numerous perks and allowances. Some of the benefits that you will enjoy as a RBI Assistant are mentioned below.
Vehicle maintenance reimbursement
Newspaper allowance
Brief case allowance
Book Grant
Residence furnishing allowance
Dispensary facility
Medical expenses
Leave Fare Concession
Promotion Ladder
As a RBI Assistant, you will have ample opportunities to climb higher on the promotion ladder. Promotions are conducted every 3 years where you need to qualify the internal exam. There are two processes through which you get promoted to higher posts.
Normal - Based upon your year of service, experience and qualification in the internal exams
Merit Based - 3 years of service as a RBI Assistant with a JAIIB and CAIIB diploma with Graduate/Post Graduate degree.
Also, there is no fixed pattern of the number of years when the internal examination will be conducted for higher grades. Depending upon the number of vacancies available in the bank, an nternal exam will be conducted. The career growth of a RBI Assistant is explained below in detail through a pictorial representation.
Recommended Courses for you
RBI Assistant Prelims - Free Mock Tests
60 Minutes
100 Questions
100 Marks
60 Minutes
100 Questions
100 Marks
60 Minutes
100 Questions
100 Marks
60 Minutes
100 Questions
100 Marks
RBI Assistant Prelims - Previous Year Paper
60 Minutes
100 Questions
100 Marks
60 Minutes
100 Questions
100 Marks
60 Minutes
100 Questions
100 Marks