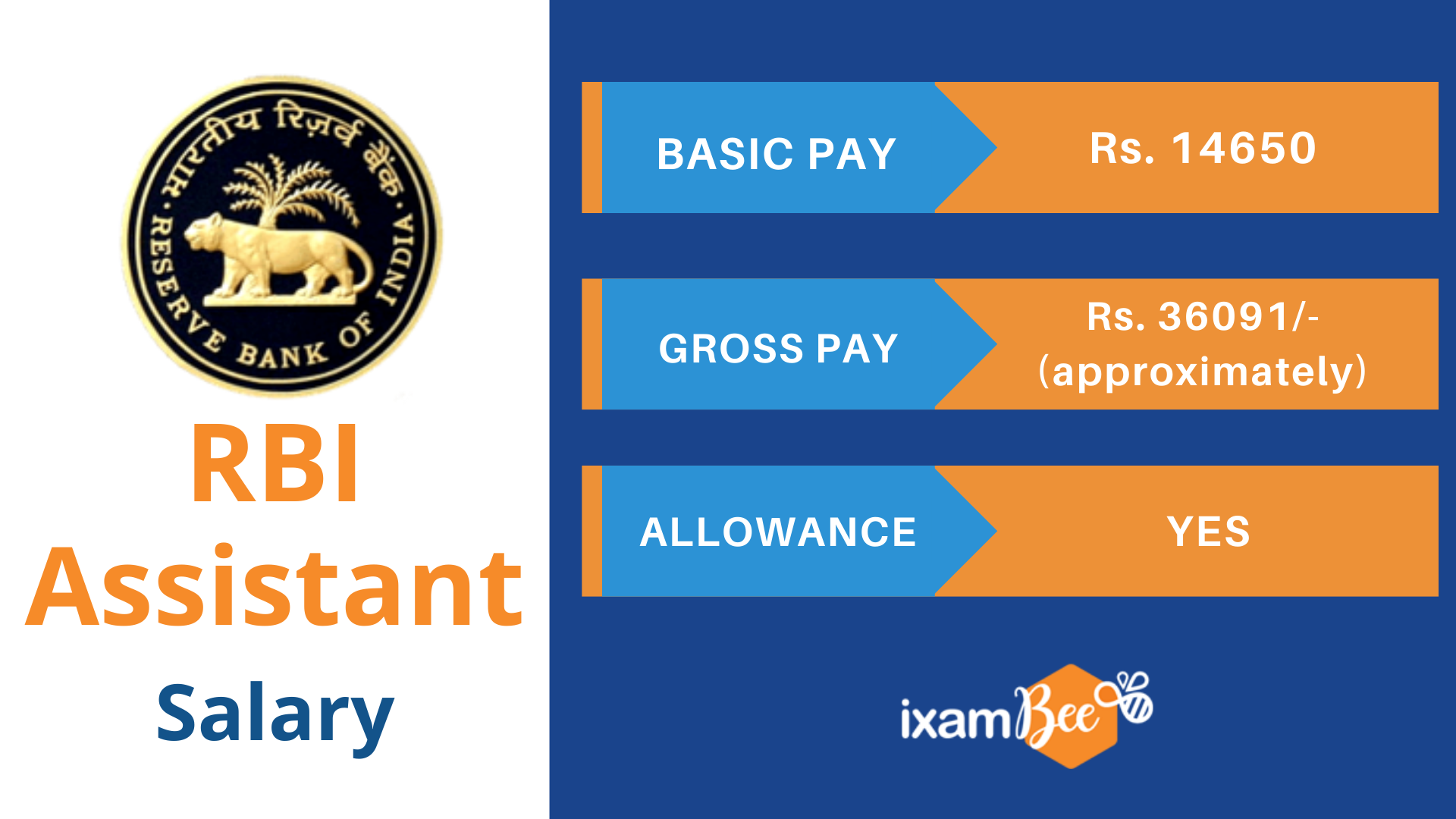 RBI being the 'Central Bank of India' is the topmost banking organization. It can be considered as one of the best workplaces and best-paying jobs. RBI offers a decent salary to its assistant-level employees also. It offers many other facilities and perks. The basic pay of an RBI Assistant is Rs. 14,650/- and the RBI Assistant salary including all allowances stands at approximately Rs 36,091/-.
Post
Salary
RBI Assistant

Basic pay - Rs. 14650/- per month
Scale of Rs. 13150 – 750(3) – 15400 – 900(4) – 19000 – 1200(6) – 26200 – 1300(2) – 28800 –1480(3) – 33240 – 1750(1) – 34990 (20 years)
Initial monthly Gross emoluments - Rs. 36091/-(approximately)
To Know more about RBI Assistant Exam Details 2021, Please check here
RBI Assistant Job Profile
RBI jobs are the most popular ones in the banking jobs presently. All the candidates preparing for banks take RBI exams very seriously and there is a fair reason behind that. RBI provides good growth opportunities along with attractive pay packages. An RBI Assistant can appear in the promotional examinations and move up the ladder of promotion and serve at a higher designation. An RBI Assistant gets enough chances after a period of 3 years where he/she can opt for promotions. Once an RBI Assistant is posted in one of the RBI offices, he/she will be required to 'assist' or support in many departments. One of the major tasks will be to assist the immediate boss, i.e. the Assistant Manager. As it is a clerical level job, the basic responsibilities will be similar to any other bank's clerk. Some basic duties of RBI Assistant are listed below:
Entering & maintaining all the data related to daily transaction.
Verification of documents.
Collecting and managing all receipts, files, ledger balance tally etc.
Keeping a check on the daily mails regularly.
Unlike other banks, there is no customer interaction involved here.
An RBI Assistant needs to work only five days a week.
RBI Assistant Online Course 2021
RBI Assistant recruitment is one of the most awaited notifications. Along with a good strategy plan you need correct guidance to win the exam race. ixamBee is here to help you out in your RBI Assistant exam preparation. The detailed yet crisp RBI Assistant online course covers the complete syllabus of the RBI Assistant exam. The RBI Assistant Online course consists of numerous video lessons and live online classes for doubt clarification. Some important features are as follows.
350+ Video lessons covering the entire syllabus for Phase I and Phase II exam.
Study notes in PDF format
8000+ Questions for each chapter for all the subjects to help you prepare systematically.
15 Full-Length practice tests for RBI Assistant Phase 1 and 8 Full-Length practice tests for RBI Assistant Phase 2 exam.
Live Classes for doubt clarification with the subject experts
For detailed information check out RBI Assistant online course
Recommended Courses for you
RBI Assistant Online Classes 2021: Preparing for RBI Assistant 2021 check out our online courses, online study material, online coaching classes, video course and lectures for RBI Assistant on ixamBee.

View Course