NIACL Assistant Exam Syllabus
Syllabus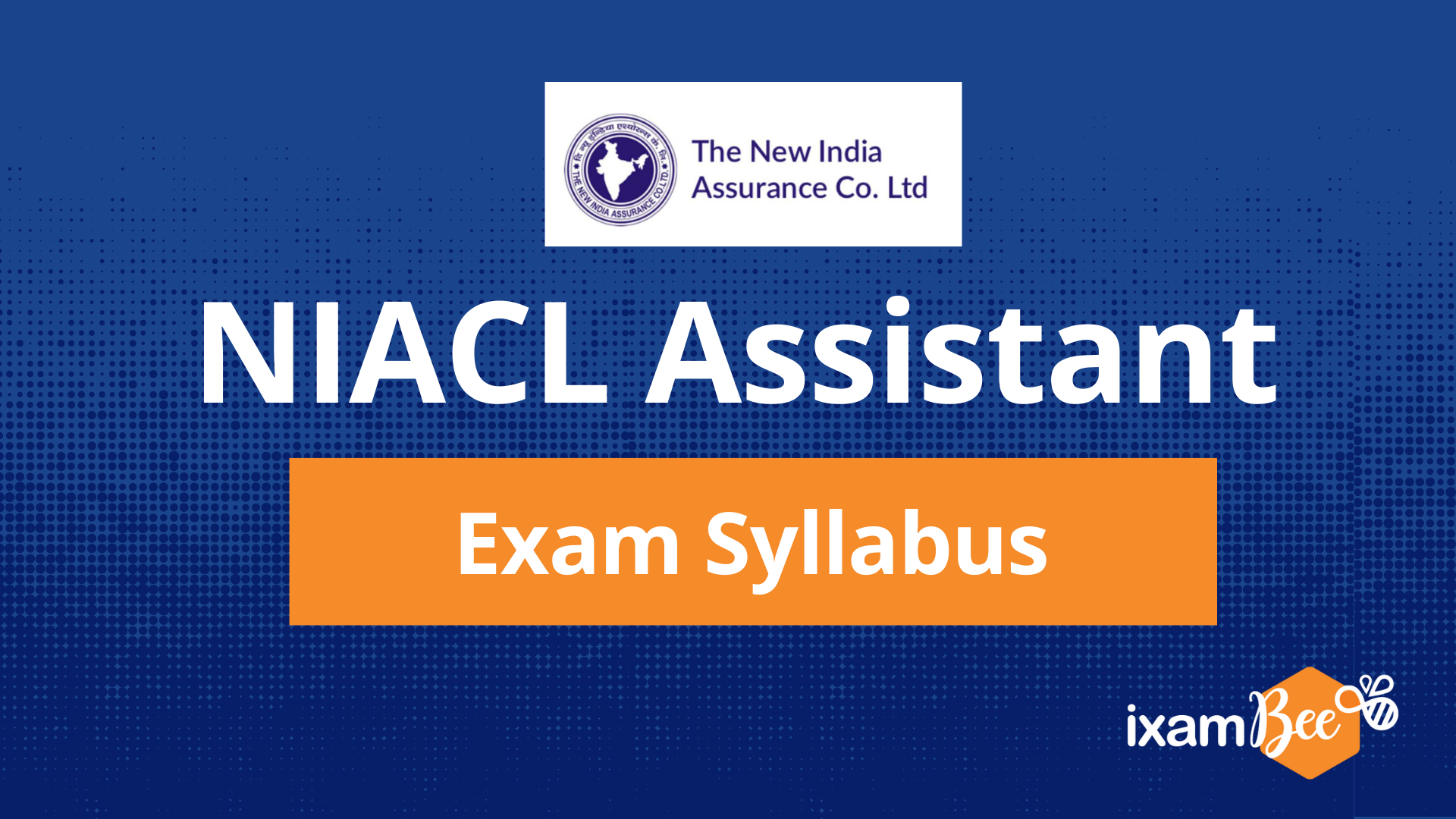 Once the candidates are done with their registration/application, the next step would be to start with the exam preparation and planning for the same. To move on with the preparation you need to know 'what' you need to study which can be ensured only when you have the complete syllabus with you. The NIACL Assistant exam is conducted in 2 main phases which have online objective tests. The Prelims or Phase 1 contains questions from three sections/subjects and the Mains of Phase 2 consists of questions from five subjects/sections. To fare well in the exam, you should have complete information on the NIACL Assistant syllabus. Check out the complete syllabus from the table below:
| Section | Topics |
| --- | --- |
| English Language | Active and Passive voice , Theme detection , Antonyms , Sentence improvement ,Vocabulary test , Spotting errors , Direct and Indirect Speech , Idioms and phrases , Double Synonyms, Synonyms , Reconstruction of sentences , Choosing the correct/incorrect sentence , Homonyms , A deriving conclusion from passage , One word substitution , Common errors , Comprehension , Sentence completion , Choosing the appropriate filler , Rearrangement of a sentence in paragraph , Passage correction ,Transformation ,Spelling test. |
| Reasoning | Figure Matrix Questions , Analogy , Coding-Decoding , Mirror Images ,Test of Direction Sense , Grouping Identical Figures , Blood Relations , Non Verbal Series , Number Series , Venn diagram , Arguments , Problems on Age Calculation , Alphabet Series , Arithmetical Reasoning, Decision Making , Inference , Number Ranking. |
| Numerical Ability | Unitary Method ,Number System , HCF , Profit and Loss , Mensuration (2D and 3D), Time and Distance , Average , Simplification , Decimal Fractions , Algebra , LCM , Time and Work , Ratio and Proportions , Simple and Compound Interest , Percentage etc. |
| General Awareness | Science ; Inventions & Discoveries , Indian Constitution , Geography , Budget and Five Year Plans , Important Financial & Economic News , History , Scientific Research , Culture , Economy , India and its neighbouring countries , Current Affairs – National & International , Sports , Economy, Banking , and Finance , Knowledge of Current Events ,Countries & Capitals ,General Politics etc. |
| Computer Knowledge | Workplace Productivity Tools , MS Windows , Database Management System , The Internet , MS Office , Data Structures ,Internet Usage , Introduction to Computer Science , MS Word & MS Excel etc , Boolean Algebra , Computer Software & Hardware , MS Word , Windows ,PC Software and Office Automation , Computer Networks , MS PowerPoint , Emerging Technologies and Web Publishing , Knowledge in operations of Computer , MS Excel |
Books
Once you have acquainted yourself with the complete NIACL Assistant syllabus, you need to ensure that you have suitable study material with you. To prepare in the best possible way, you need to make sure that you have the best material at your disposal which includes offline as well as online sources. Although there are enough online resources available today, books still hold much importance. Take a look at the best books available for the NIACL Assistant exam:
Subject
Name of Book
Author/Publisher
Quantitative Aptitude
Practice Book on Quicker Maths, 2nd Edition
M.Tyra, K.Kundan / Magical Book Series
Quantitative Aptitude for Competitive Examinations 17th Edition
R.S Aggarwal / S.Chand Publisher
Fast Track Objective Arithmetic
Rajesh Varma / Arihant Publishers
Computer Awareness
Objective Computer Awareness for General Competitive Exams
Arihant Publishers
Computer Fundamentals
P.K Sinha
General/Financial Awareness
Manorama Year Book 2021
-
Pratiyogita Darpan
-
Lucent's General Knowledge
-
Financial & Insurance Awareness with Current Affairs for Insurance & Bank Exams
Disha Experts
English Language
Objective English 4th Edition
Edgar Thorpe / Pearson
Word Power Made Easy
Norman Lewis / Penguin
Objective General English 2nd Edition
S.P Bakshi / Arihant
To stay updated in the General Awareness section, check out our Beepedia
NIACL Assistant Exam Syllabus Related Quick Links
---
Boost your preparation with Beepedia
---
High Quality Mock Test for you
---
Free Important Video Lectures
Frequently Asked Questions
Q1:
How many sections are there in NIACL Assistant Prelims?
A:
There are 3 sections of English Language, Reasoning & Numerical Ability in NIACL Assistant Prelims.
Q2:
How many sections are there in NIACL Assistant Mains?
A:
There are a total of five sections in the
NIACL Assistant Mains exam
.
Q3:
Are there any good books available for the NIACL Assistant exam?
A:
Yes. There are several
NIACL Assistant books
available that have been mentioned in detail on ixamBee.
Q4:
How can I practice well and improve my performance in the NIACL Assistant exam?
A:
To improve your performance in the exam, you can practice
NIACL Assistant free mock tests
available at ixamBee.
Would you like to rate us 5 star.
Search